It's possible that if you are the owner of a Windows VPS you get in the situation that you need to connect to Windows VPS via RDP on android to take a crucial action, but only a mobile device is accessible for you. Don't worry! There is a solution for you that satisfies your intention to take action.
With RDP technology, you can connect to your VPS server. So please be a company to comprehensively learn How to Control a Windows VPS with an Android Device Remotely. This guide is for Android users who want to connect to the VPS server with Windows Remote Desktop Connection on an Android device.
Android has indeed covered almost every aspect of a desktop or laptop. But there are still a lot of tasks, official or personal, that we can't do without our PC. It's also not possible to carry our PC anywhere. That's why Android remote desktop apps have become so popular.
Remote Desktop Access is a very essential tool for every user of the pc. And we've learned its value in 2020 more than ever before, the reason we all realize:  Work from home. Every small to large company provided the facility to work from home this year and to provide employees with full access to the company's software and mail; remote desktop access played a significant role.
Android smartphones have made it much easier for employees or users who do not have a laptop or a desktop to work on their mobile phones. Even though mobile phones have not yet been substantially successful in replacing computers, some apps do the job for the time being.
You need to use RDP (Remote Desktop Protocol) to connect to a Windows VPS. This is Microsoft's specialized remote desktop control software. It allows you to remotely control the Windows machine over the internet as if you were sitting in it.
If you're acquainted with TeamViewer, it works in a very similar way, but it's built into Windows operating systems. This means that you do not have to download or install additional applications to use it.
However, if you want to use RDP to connect to a Windows system from a non-Windows machine, you will need to install third-party software. Luckily, for most operating systems, Microsoft provides an official application that reduces the risk of your traffic being messed up.

Need a Remote Desktop?
Reliable, high-performance RDP servers with 99.95 uptime. Take your desktop on the go to all the major cities in the US, Europe, and Asia.
Get an RDP Server
Use RDP connection on an Android Device
You're a proud owner of Windows VPS where you manage your website, database, documents, etc. Suppose you have access to your VPS, but you only have a mobile device with you. What are you supposed to do? The solution is to make a remote VPS android connection from your phone to the server.
After the Windows VPS server is activated, it takes 15 to 40 minutes to load the operating system for the first time that you can connect to the VPS server using Windows Remote Desktop Connection.
Ultimate Guide on How to connect to Windows VPS via RDP on Android
As we said, Remote Desktop Protocol attributes to a variety of software that provides an easy connection between your Windows machine and any other type of operating system.
Microsoft Remote Desktop application on google play store facilitates controlling your Windows VPS on an android device. There are a few simple steps to install this useful app on your mobile phone. Let's go ahead and explain them.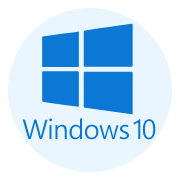 Windows 10 VPS Hosting
Get yourself an efficient Windows 10 VPS for remote desktop, at the cheapest price out there. FREE Windows 10 running on NVMe SSD storage and high-speed internet.
Check Out Windows 10 VPS Plans
Step 1: Download the application
The first step of using every application is to download it unless it is a web application. The most crucial tip to download an application is to download it from a reliable source. 
The Google Play Store website or application could be a good choice for downloading the Remote Desktop application.
Step 2: Open the application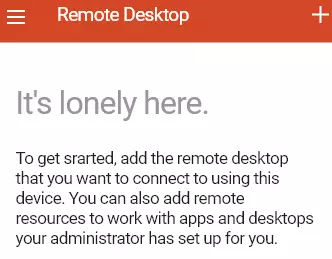 After downloading, open the application. You will see "It is lonely here" according to the image below. Just click on the plus or "+" button to go ahead to the next step.
Step 3: Get started with establishing a remote connection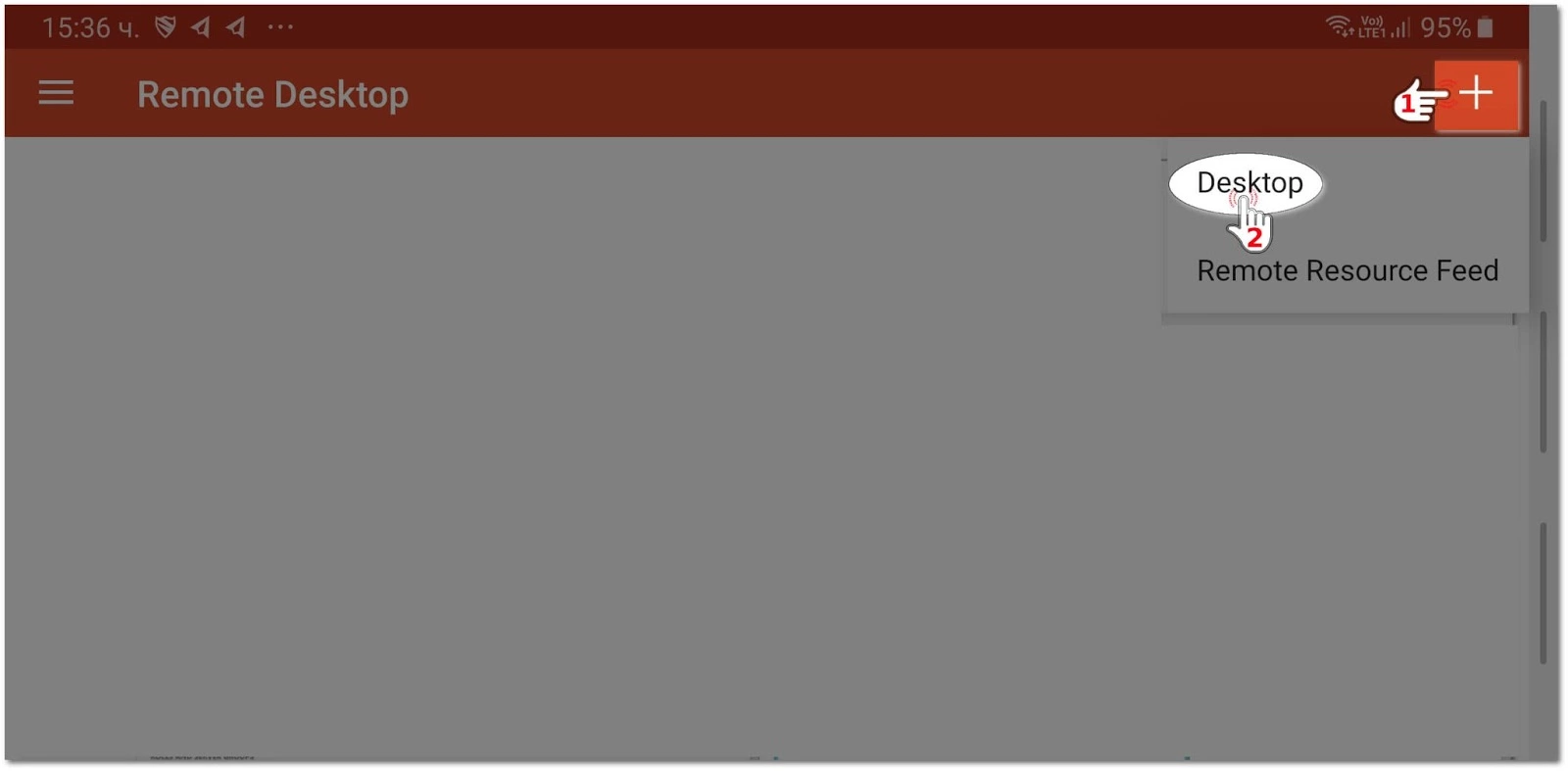 To get started, add "Remote Desktop" according to the image below. Otherwise, click on the " Desktop" button (first row) and follow the next step. 
Step 4: Enter the credentials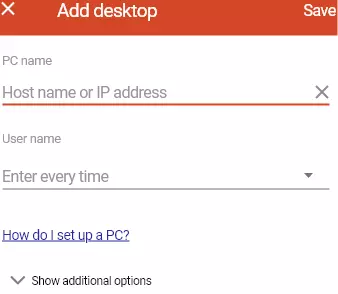 Now you will see a window like below. You should put your IP address of the Windows VPS server in the PC name field. After that, you have the option to save your credentials in the user account field. By default, it is "enter every time." These credentials will be asked in one of the next steps. If you do not have a security concern, it is good to save your credentials.
Step 5: Open your VPS server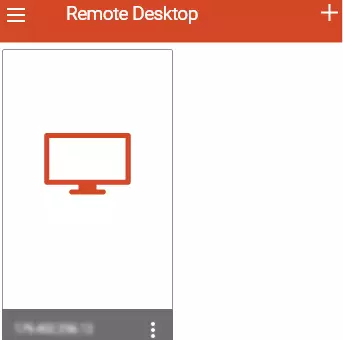 After saving credentials, you will see your desktop icon on the homepage of the application. Just tap on the desktop icon like the image below and follow just another two steps.
Tip: After tapping on saved RDP, you will see an authentication window. You should enter your credentials again before going into the authentication page; if you have not saved your credentials in step 4.
Also Read: Top RDP Provider 2022
Step 6: Accept the authentication page
Like the image below, whether you have entered your credentials again or not, you should see the authentication page.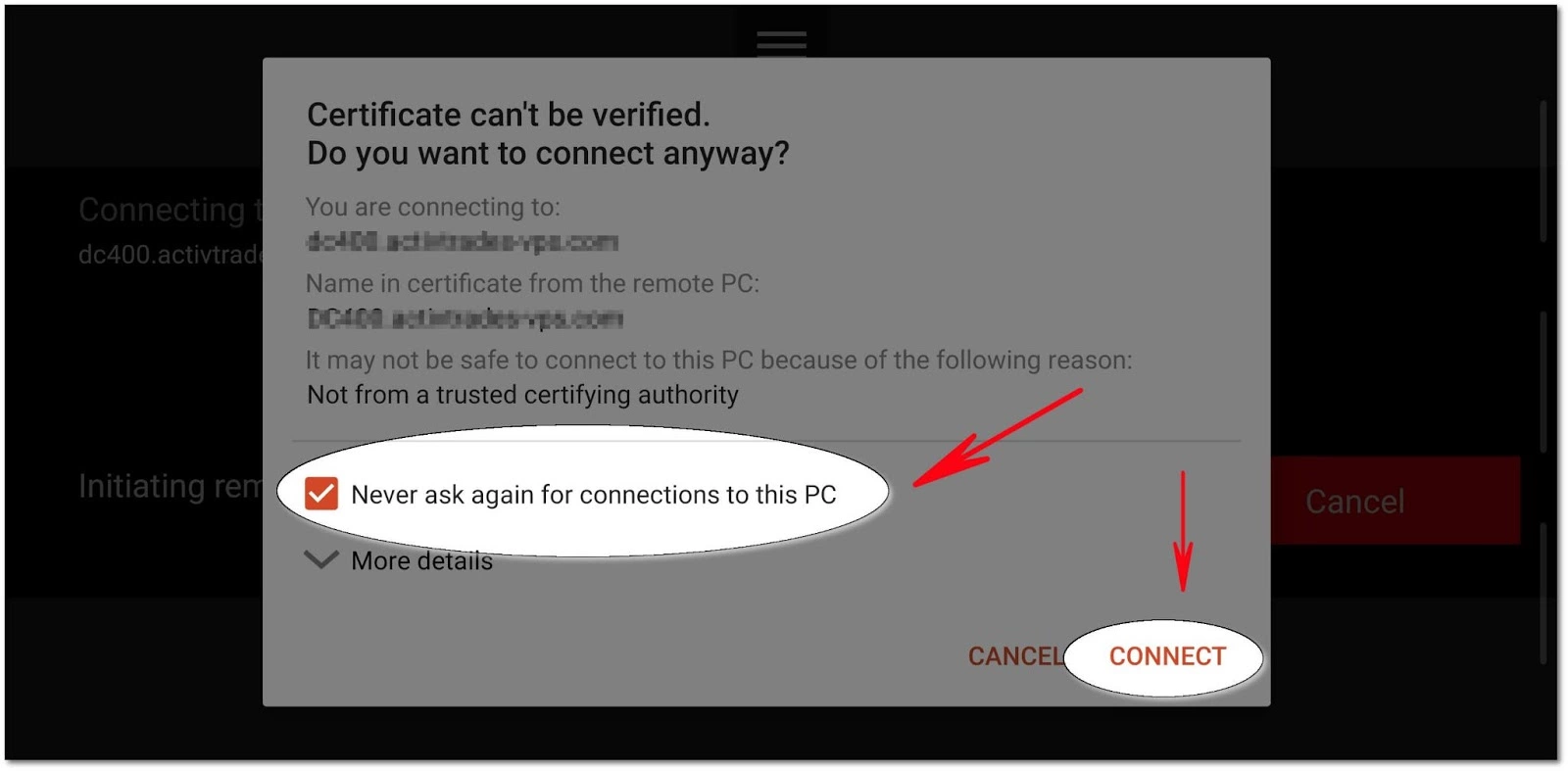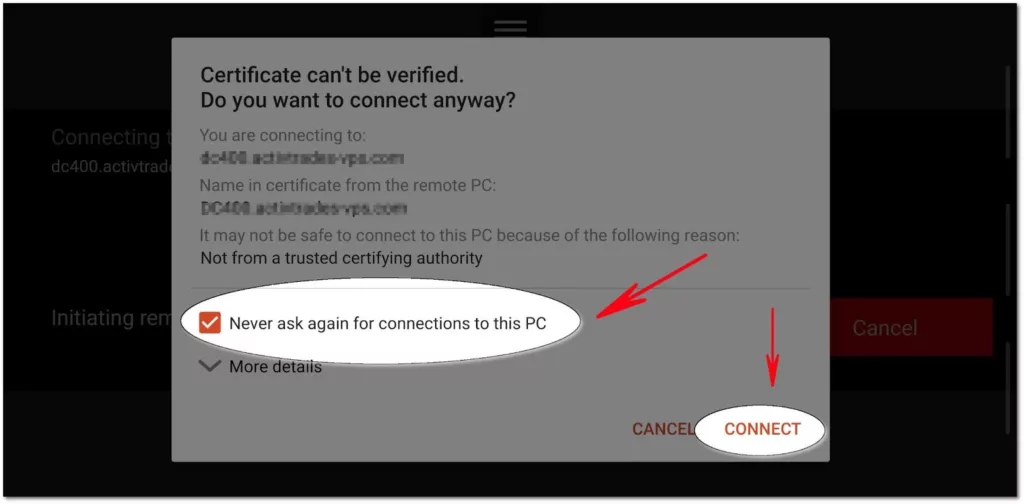 By tapping on connect, your Windows VPS will appear and be ready for you like the image below.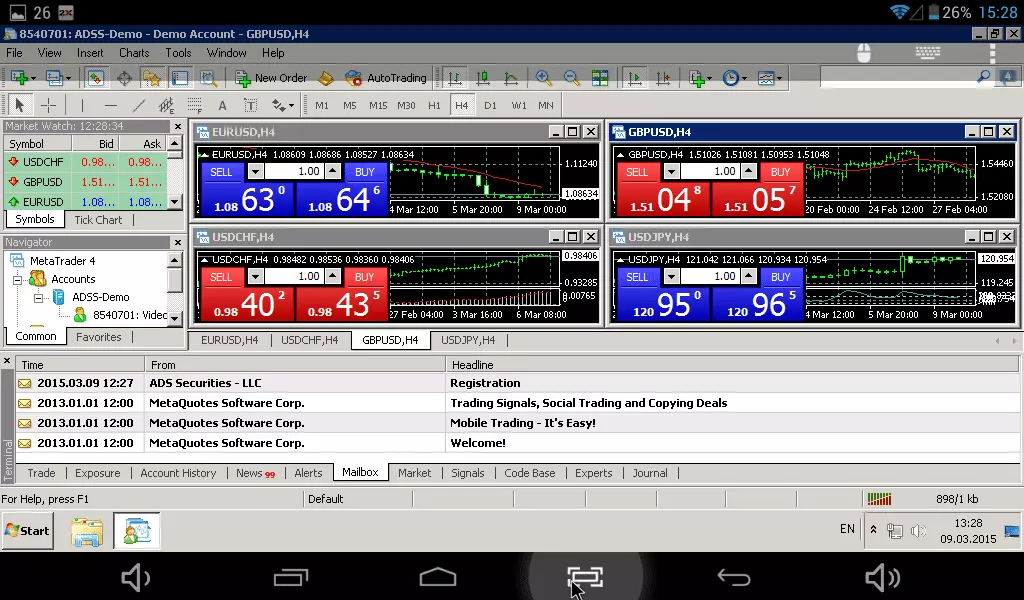 Conclusion
In this article, we presented a comprehensive tutorial on how to connect to Windows VPS via RDP on Android. So if you have read this article from the beginning, you should be able to answer the questions on how to use RDP on android. If you have any questions or suggestions about this blog post, please feel free to leave us a comment.