CentOS Linux provides a free and open-source computing platform for its clients as part of the Linux CentOS project. It is an open-source platform meaning that it is a community-supported enterprise operating system and compatible with its upstream source Red Hat Enterprise Linux from the CentOS Project. The newest version, CentOS 8, was released on September 24th, 2019.
It has brought some new features and capabilities that we will analyze in this article, and will tell you how to install CentOS 8 desktop. If you are a user of CentOS, you may want to learn how to install CentOS 8 on your system. This version was released in September 2019 and since then, it became very popular. 
What's new in Centos 8?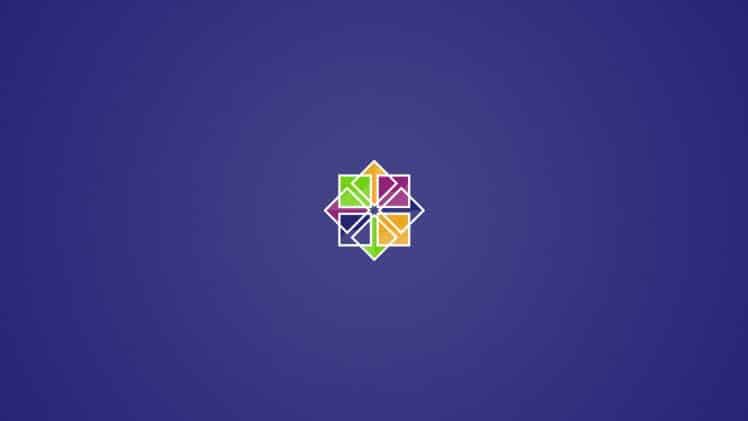 There are notable differences between CentOS 8 and 7 in Kernel, package repository format, and new features that EL-7 does not have. Some of these good features are listed below:
The Cockpit is now available by default.
CentOS 8 comes with a new version of the YUM version, which is based on DNF. This new version is compatible with YUM v3 (CentOS 7)
RPM v4.14 is distributed in CentOS 8. RPM now validates the whole package contents before starting the installation
CentOS 8 contents are available through the two main repositories: BaseOS and Application Stream (AppStream)
It supports up to 4PB of physical memory
Wayland is the default display server instead of the Xorg server in CentOS 8
XFS now supports shared copy-on-write data extents
"nftables" replaces "iptables" as the default network filtering framework
Python 3.6 is the default Python version in CentOS 8
PHP 7.2 comes with CentOS 8
Nginx 1.14 is available in the core repository in CentOS 8

Linux Hosting Simplified
Want a better way to host your websites and web apps? Developing something new? Simply don't like Windows? That's why we have Linux VPS.
Get your Linux VPS
How to Install CentOS 8?
Before we jump in to explain how to install CentOS 8 on your desktop you need to know what are the requirements to install this version of CentOS. So, before doing anything else you need to find out about the details of your system's hardware.
Requirements
A system with at least 2 GB of RAM and a minimum of 8 GB of Hard disk.
A powerful connection for the internet.
Download CentOS 8 Desktop Version
To install CentOS 8 desktop, first, you need to download it from their official websites. The following URLs will help you to download CentOS 8 Linux and CentOS 8 Stream:
Install CentOS 8 Desktop
Now that we have gotten past the pre-requirements of installing CentOS 8, let's jump right into the process.
1. Start the preferred system for installing CentOS 8. Then, change the boot order as USDB or DVD from the BIOS settings. 
2. After the system is boot up, you will get a screen such as the following. Now, click on the Install CentOS Linux 8.0 to start the configuration.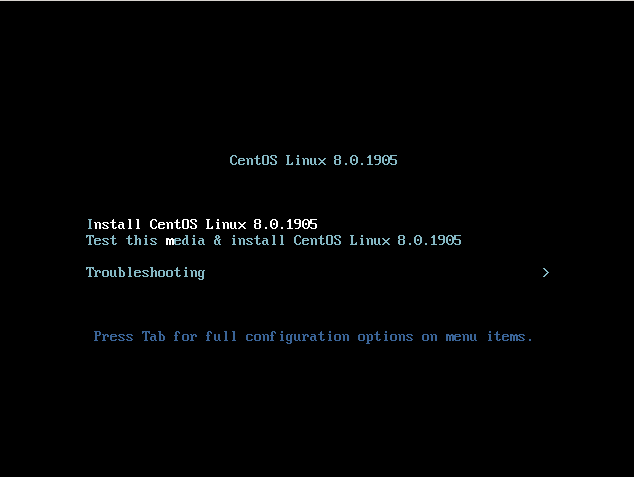 3. When this page shows up, choose your preferred language and hit the Continue button. Now, you can see the screen like the following: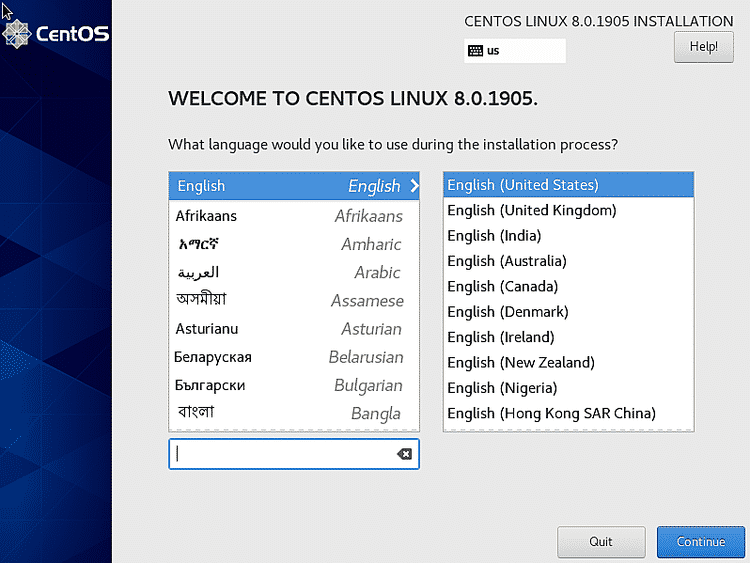 4. In this stage, you can set your desired keyboard, preferred language support, time and date, installation source, software selection, installation destination, KDUMP, network and host, and security policy. You should click on the Installation Destination to appear on the following screen.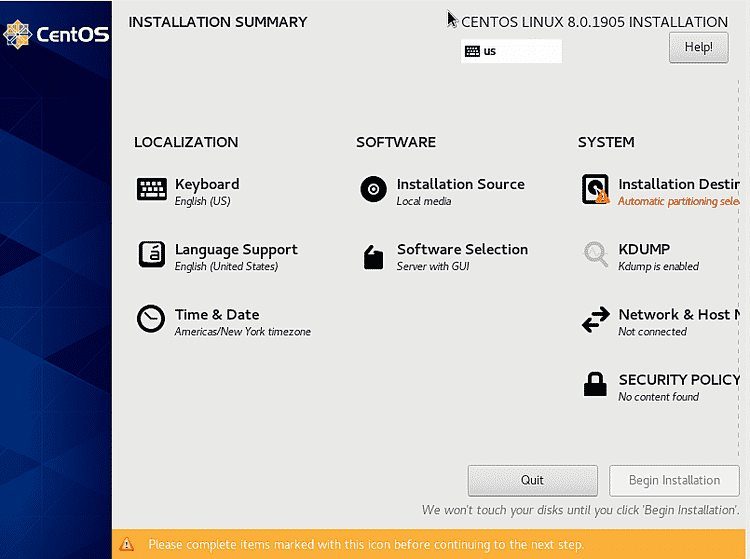 5. A new screen, select Automatic. To apply the setting, click on the Done button.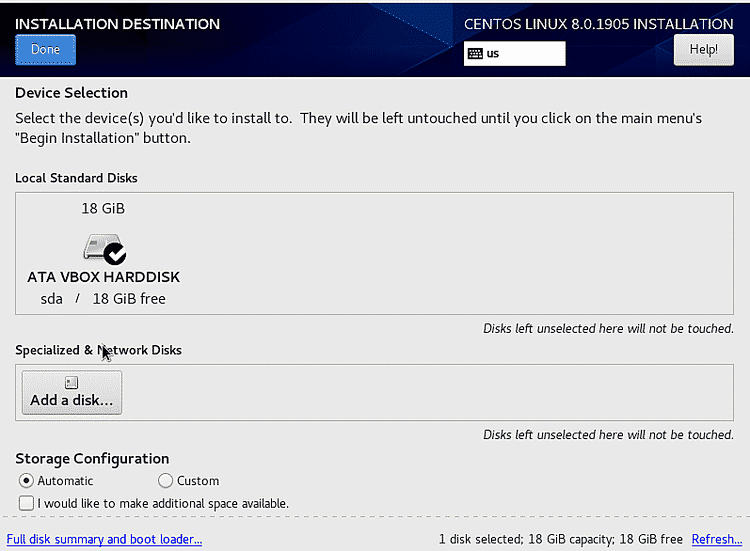 6. As you can see, you are again redirected to the Installation Summary page. Now, it's time to click on the begin Installation button. 
Also Read: "How to install Gnome on CentOS 8".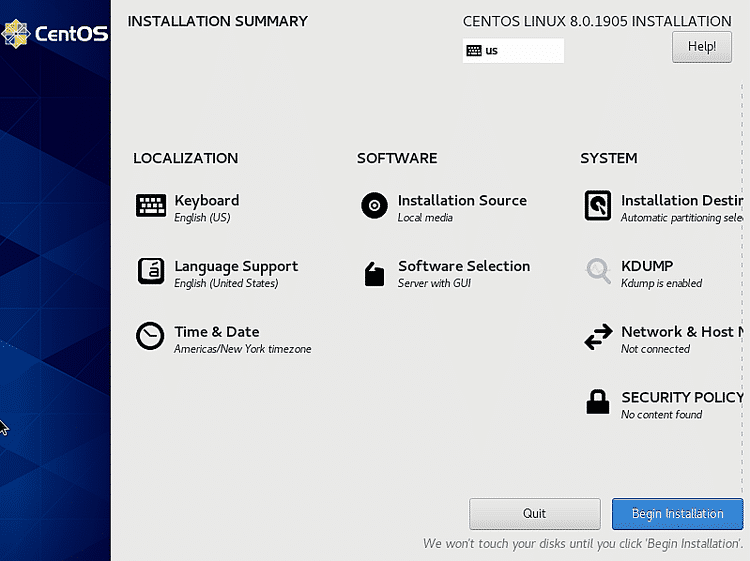 7. By starting the configuration, a new page for configuration will appear like this. To set the root password, click on the Root Password. Type a strong password with the combination of the letters and numbers, and click on the done button.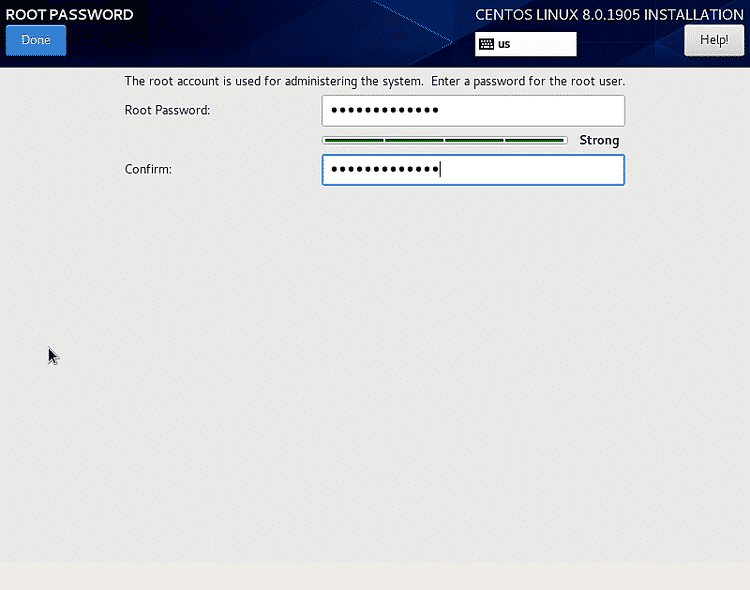 8. After accepting the password, click on the User Creation button to open up the following screen. On this page, type your full name, provide the desired username, type your password and finally click on the done button.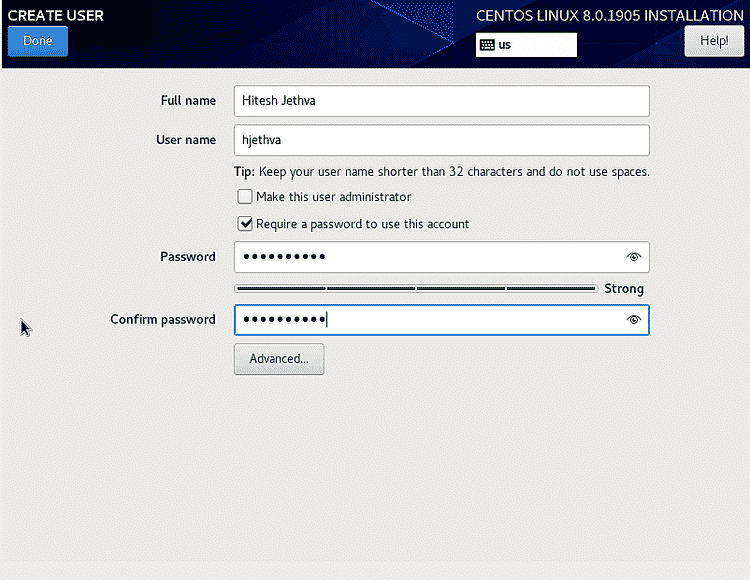 9. At the end of the installation process, you see the following screen: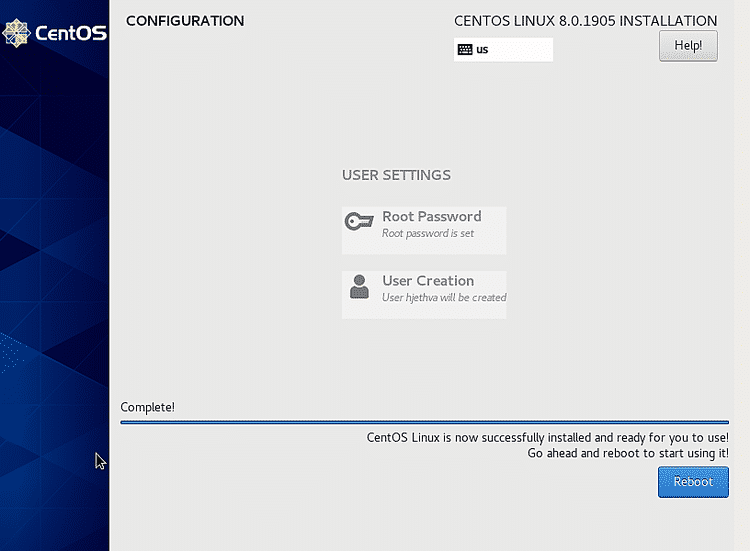 10. Now, you have to restart your system. So, click on the Reboot button to boot from the Hard disk.
Also Read: How to check My Kernel Version in Linux
11. By starting the system, you should see the CentOS License information screen as shown in the following: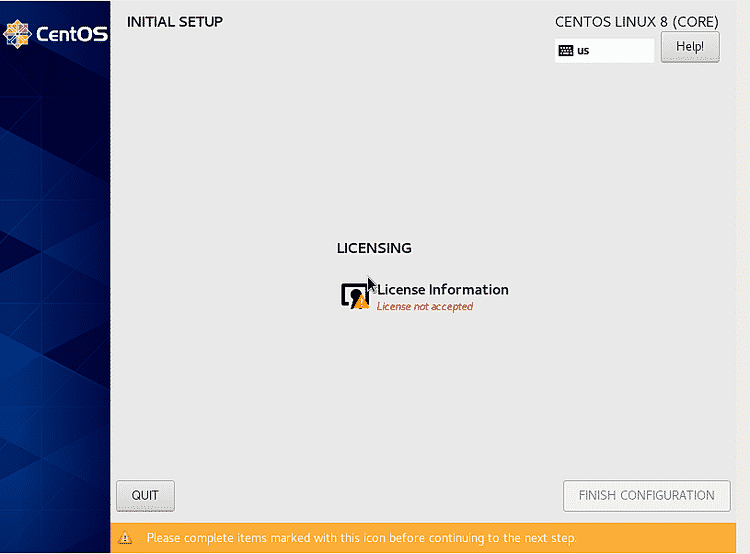 12. On the License Information page, accept the license agreement and click on the Done button to open the following page: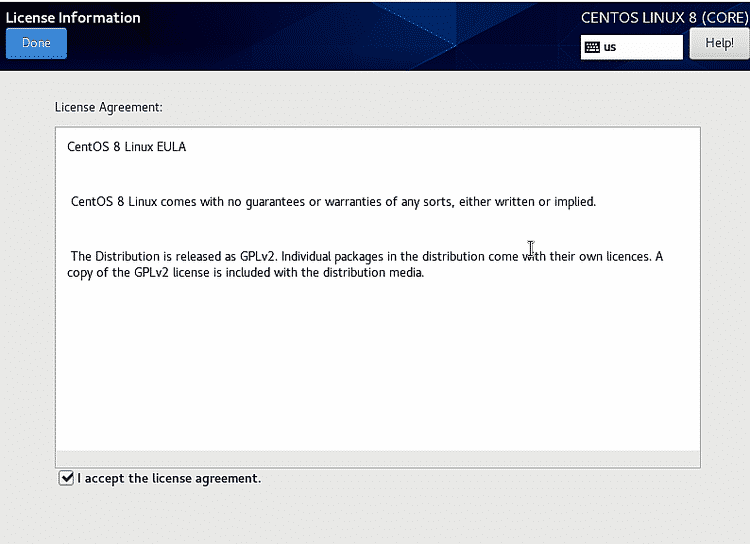 13. By accepting, you again will redirect to the Install SETUP page. Now, Click on the FINISH CONFIGURATION to complete the setup and redirect to the CentOS 8 login screen.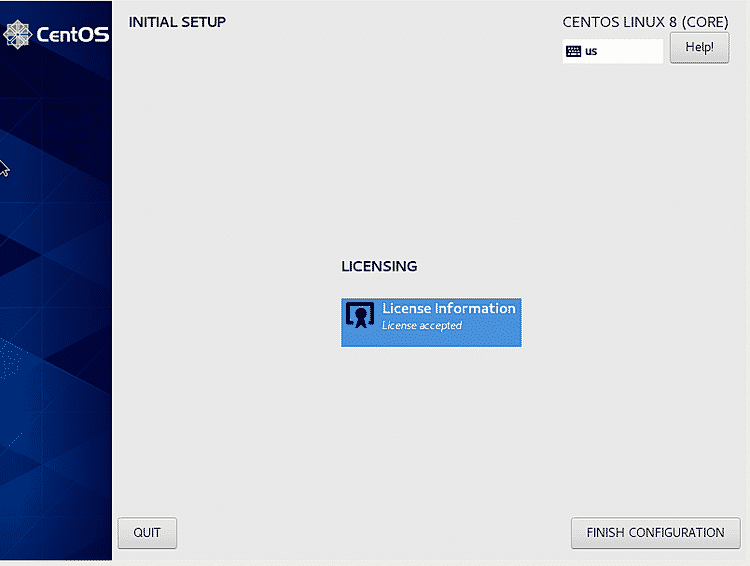 14. Fill in the required information including the username and password. Then click on the Sign In button. The Welcome screen will show as the following: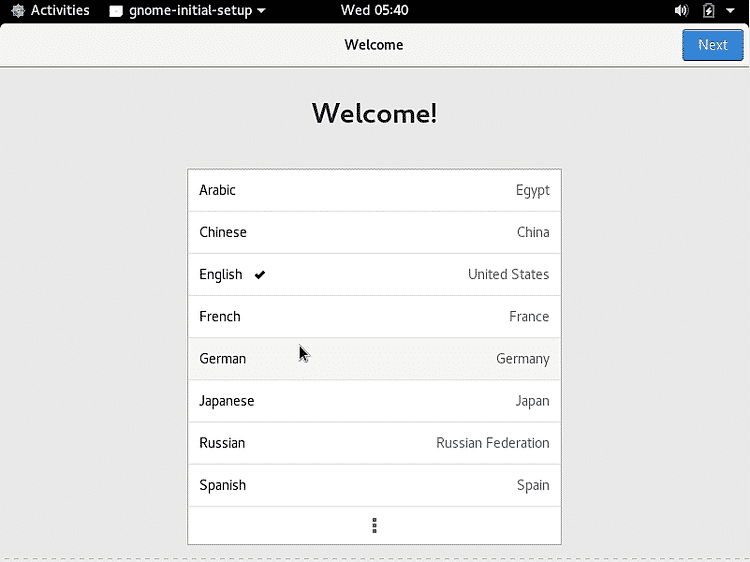 15. On the CentOS 8 Welcome screen, select your desired language and typing method. Then click on the Next button.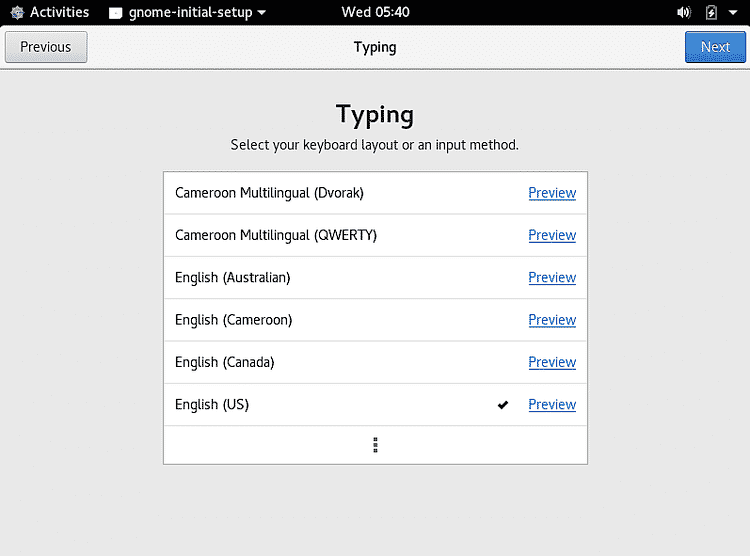 16. Enable the location services to determine your geographical location, and click on the Next button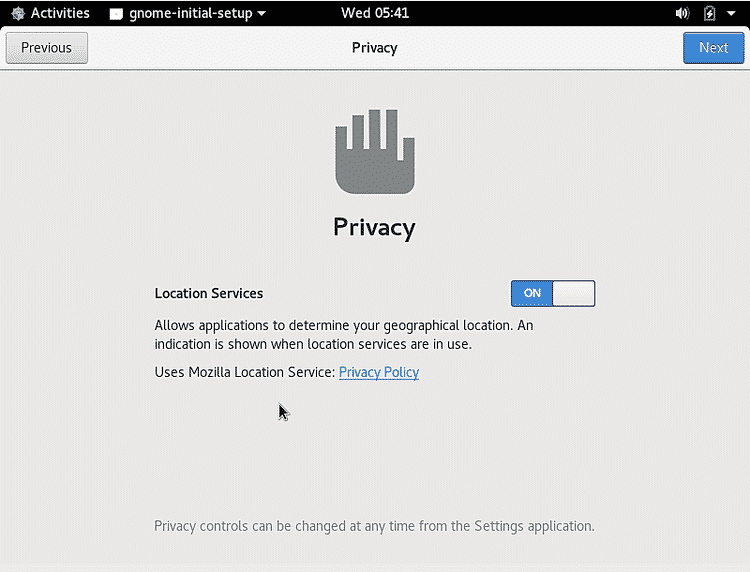 17. You will see the following screen that can easily skip.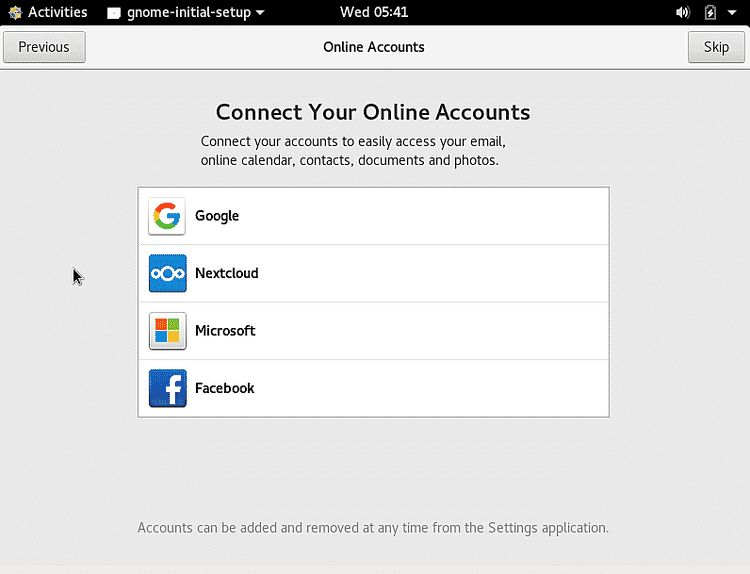 18. The screen below will appear. Click on the Start Using CentOS Linux.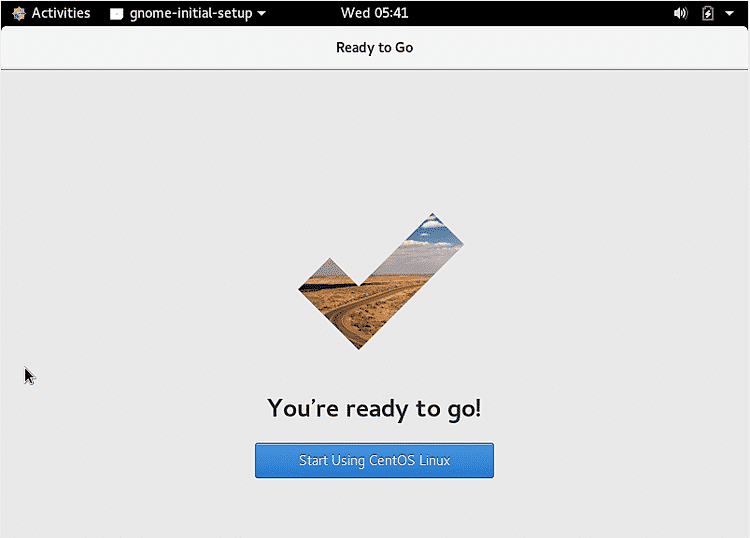 19. You should see CentOS 8 desktop on the following screen: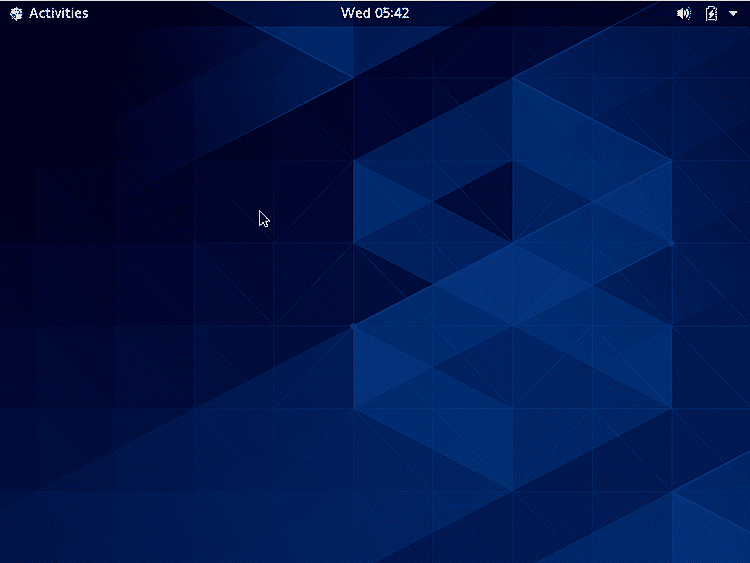 20. Congratulations. You have managed to install CentOS 8 on your system.

Linux Hosting Simplified
Want a better way to host your websites and web apps? Developing something new? Simply don't like Windows? That's why we have Linux VPS.
Get your Linux VPS
Conclusion
That was it! If you have taken the steps mentioned in this article just as we said, your CentOS 8 must be up and running now. As we talked about it earlier, CentOS 8 offers some new features compared to the last versions and you can now start figuring out what those new features are and how they can help you on your CentOS 8 operating system!