Simple Mail Transfer Protocol (SMTP) is known as the standard protocol for sending emails, and it is responsible for sending outgoing emails. However, Sometimes the functionality of a single SMTP server may not be enough for a task, meaning that you may have to configure an SMTP relay. But What is an SMTP relay? How to set up an SMTP relay for office 365? This article will answer these questions in detail.
What is an SMTP relay?
An SMTP relay is a protocol that lets email be sent through the internet from one server to another. Even though It was first developed in 1982, it remains the internet standard widely used today.
An SMTP relay is an email service that essentially functions in two steps:
Receiving the outgoing mail from the sender

Delivering that mail to the recipient's local inbox (another SMTP server)
Why use an SMTP relay?
The most significant aspect of SMTP relay is its ability to send messages to the planned recipient on behalf of a third party. Other protocols are not responsible for handling outgoing messages, so SMTP is configured across thousands of email servers. Ultimately, Email is one of the most insecure ways of communication via the internet, which is why many providers have incorporated SSL/TLS with SMTP relay connections.
It is often challenging when you want to send emails from a web application or a scanner. Because you do not want to use a mailbox and your username and password for this task, it is preferable to use an SMTP server to send the email instead. To address this, we can use SMTP Relay in Office 365.  SMTP Relay lets applications and devices send email through your Exchange Online mail server. Only applications and devices from your network can use the SMTP Relay connection as it is protected based on your public IP Addresses.
Before discussing the required configuration of SMTP relay for office 365, we should go through some steps to adjust the system's setting.
Also read: Which Email Protocol Is Capable of Sending Emails? (SMTP, IMAP, and POP)
Office 365 SMTP relay settings
To set up SMTP relay Office 365, you are going to need to follow these steps:
Find public IP address (the one used for sending the emails)

Find Office 365 domain

MX record

Open port 25 on the organization firewall

Add Public IP to the domain's SPF record
Step 1: Find Public IP address
To configure an SMTP Relay office, first, you have to know your network's public IP Address where the device is located. If you want to take advantage of SMTP Relay capabilities for your local multifunctional, open the browser and visit myip.com. Note that you have the IP Address someplace, as you will need it at the following step of configuring the SMTP relay office.
Opening the Exchange Admin Center
You need to access your Exchange Admin Center, navigate to Mail Flow, and select Connectors.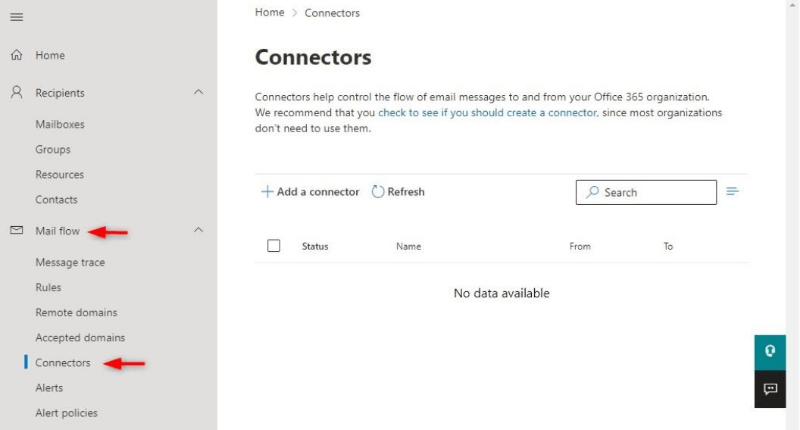 Create a new Connector
To create a new connector, you must click on Add a connector and select Your organization's email server.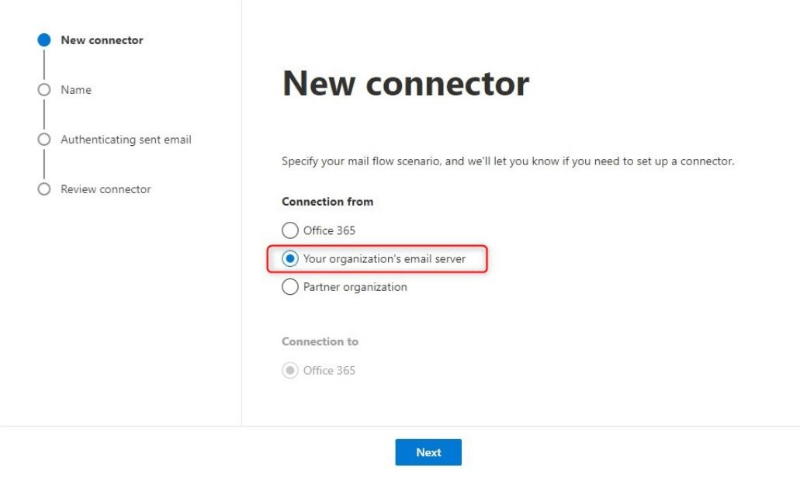 Adding a name to the Connector
Select a convenient name for your new Connector, and do not change any default options in this step.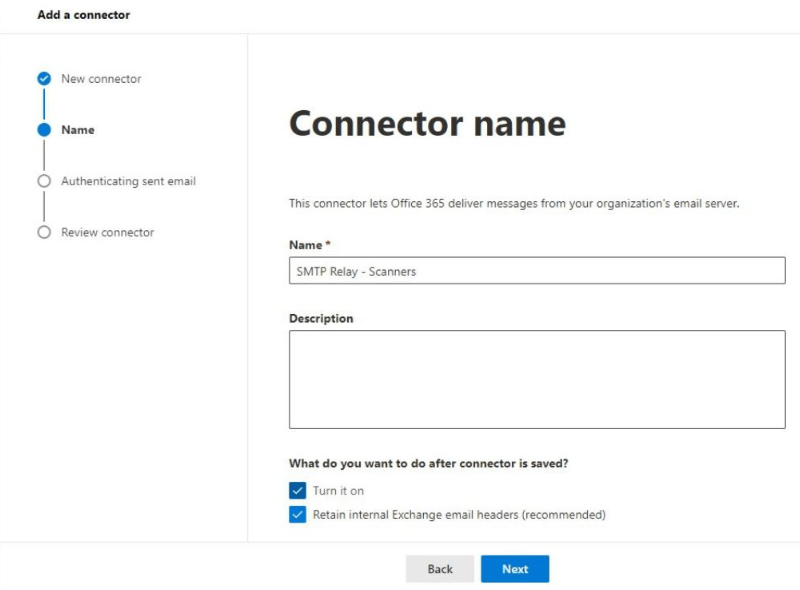 Configure authentication settings
The next step in setting up an SMTP relay for office 365 is configuring the preferred authentication. Using a certificate for authentication is possible; however, it is more common to verify based on the device's public IP Address. Additionally, You can define multiple IP Addresses for the connection, giving you the advantage when you have different offices.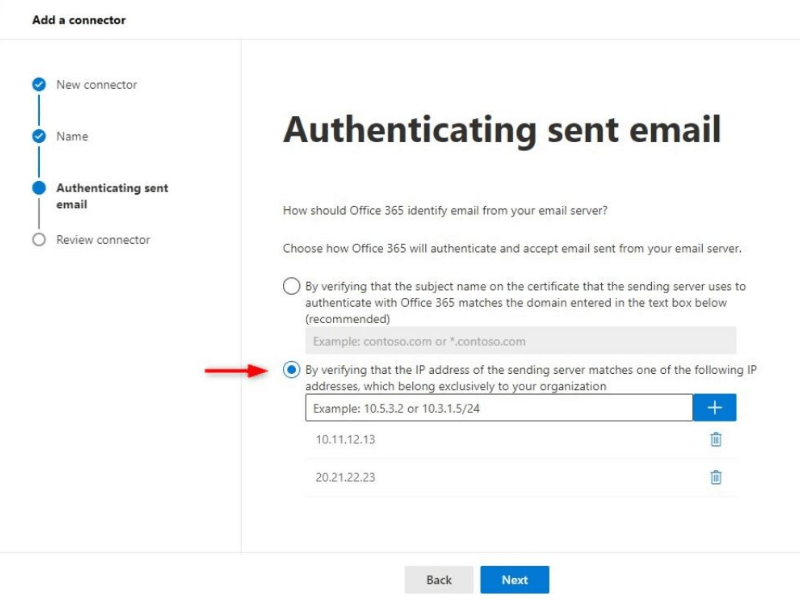 Check and create your connector
Your final step is reviewing your settings and creating the connector. Please double-check the IP Addresses so that everything is okay, and then click on Create connector.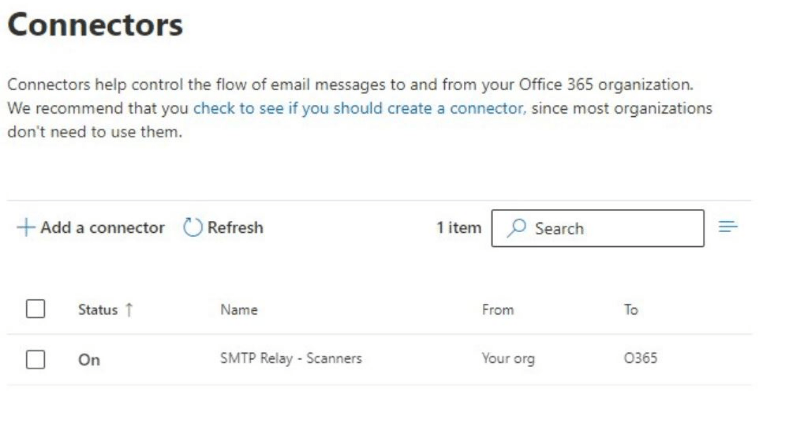 Step 2: Find Office 365 MX record
You will have to find the MX record (Mail Exchange Record) for your Office 365 to use the connector. The MX record's value is used as an SMTP Server Address on your device. In other words, You will add the MX record to the scanner or application that needs to relay SMTP in Office 365. 
Here are the steps you require to follow to find Office 365 MX record:
Open the

Microsoft 365 Admin Center

Expand

Settings

and then click on

Domains

option

Choose your domain

Click on

DNS records

Open the

MX record

via clicking on it

Copy the

Points to address or value field
The value's format is pretty standard:

Step 3: Open port 25 on firewall
To enable SMTP relay in office 365, you must open port 25 from the organization firewall to the external. The safest way to do so is only to add Exchange Online IP addresses in the destination address, which means that you do not need to add them to all addresses.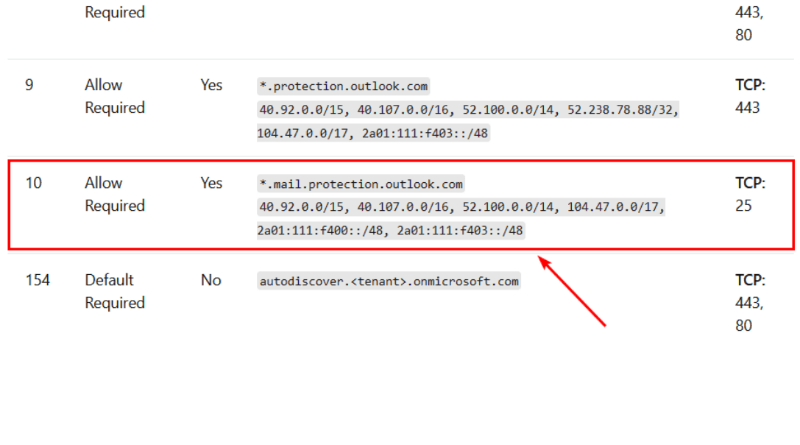 Also Read: 14 Best Mail Servers for Linux OS
Step 4: Insert public IP to domain's SPF record
At this point, you must sign in to the domain's registrar and open the domain DNS settings. The TXT record value for SPF (Sender Policy Framework) looks like this:

You need to edit the existing SPF record and add the Public IP address, authorizing the organization's Public IP address servers to send emails for the domain name. You will now see something like this as the TXT record value for SPF:

Pay attention that the change can take up to 24 hours; however, most of the time, this will resolve within 5-15 minutes. Now that the essential steps to configuring SMTP relay in office 365 are done, let's set it up.
How to Configure SMTP relay for Office 365?
To set up an SMTP relay for office 365, you must follow these steps:
Sign in to Exchange admin center

Select Mail flow > Connectors

Click on Add a connector option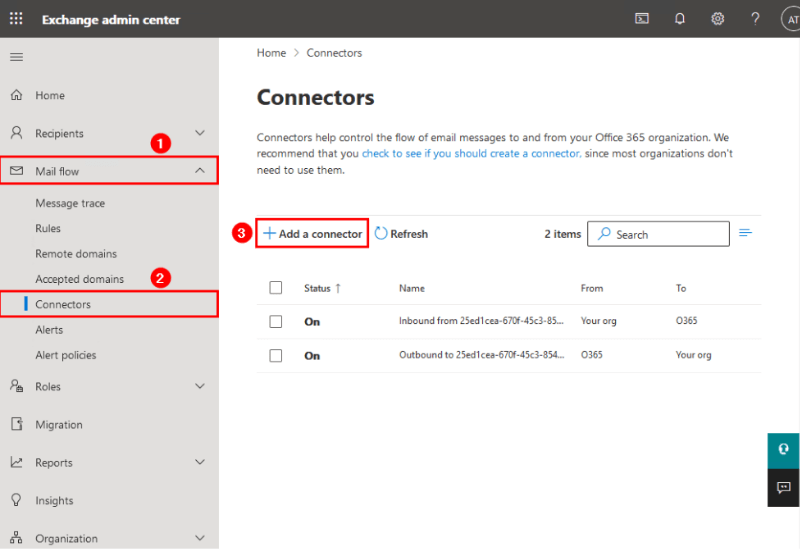 Choose

your organization's email server

and click

Next.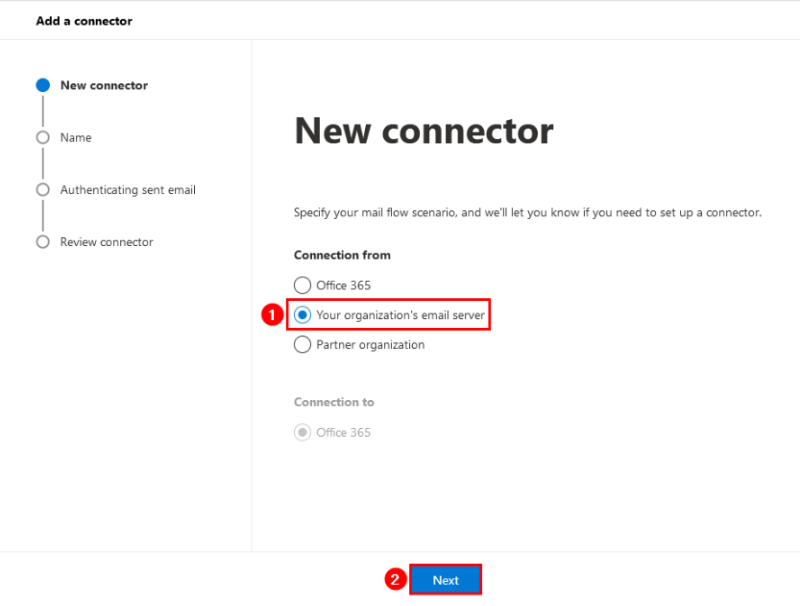 Write the connector name

SMTP relay connector

and

Turn it on

;  Then Click

Next.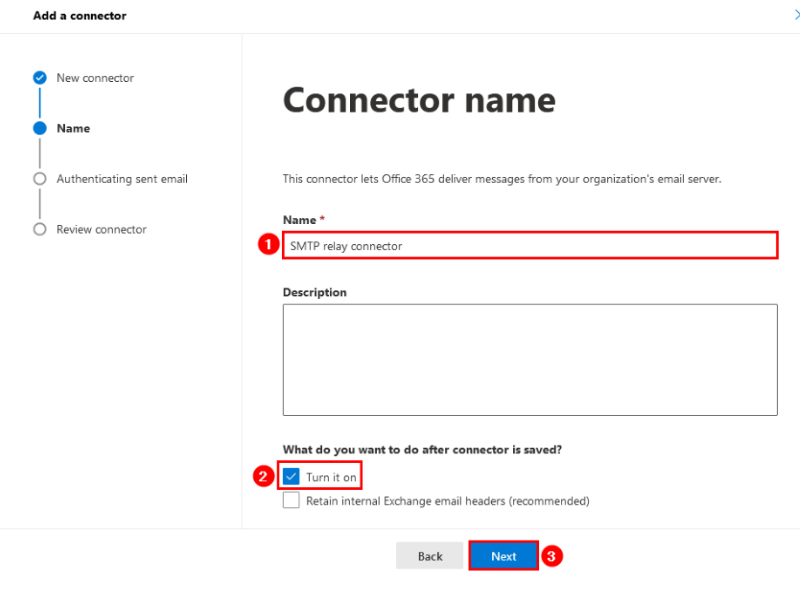 Choose the

By verifying that the IP address of the sending server matches one of the following IP addresses, which belong exclusively to your organization

option. Then add

the Public IP address

you copied from the previous step and click

Next

.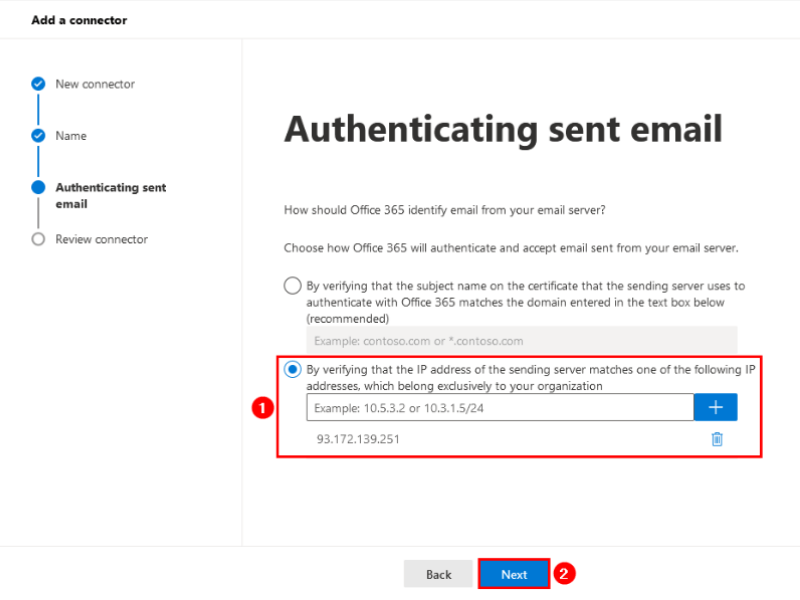 Now, Review the connector and click on Create connector.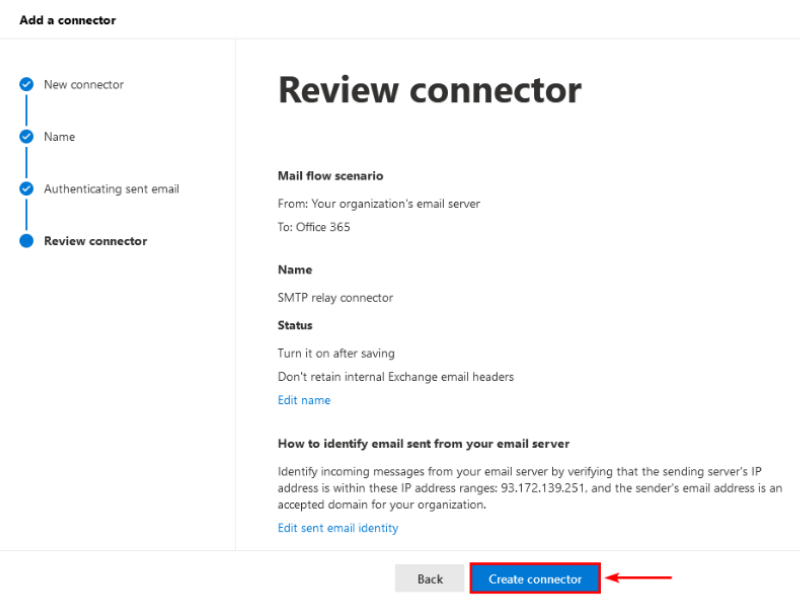 The SMTP relay connector is successfully created, so Click Done.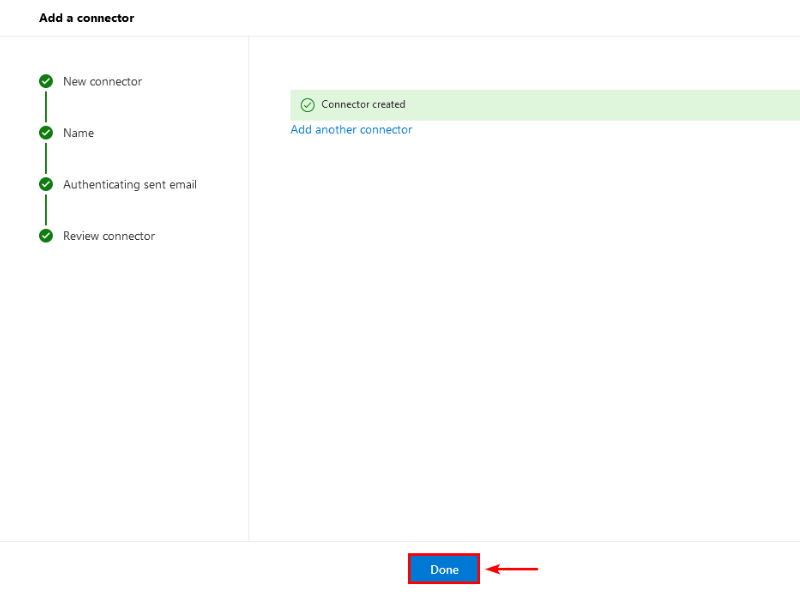 After going through the previous steps, you can now see the connector in the Connector List.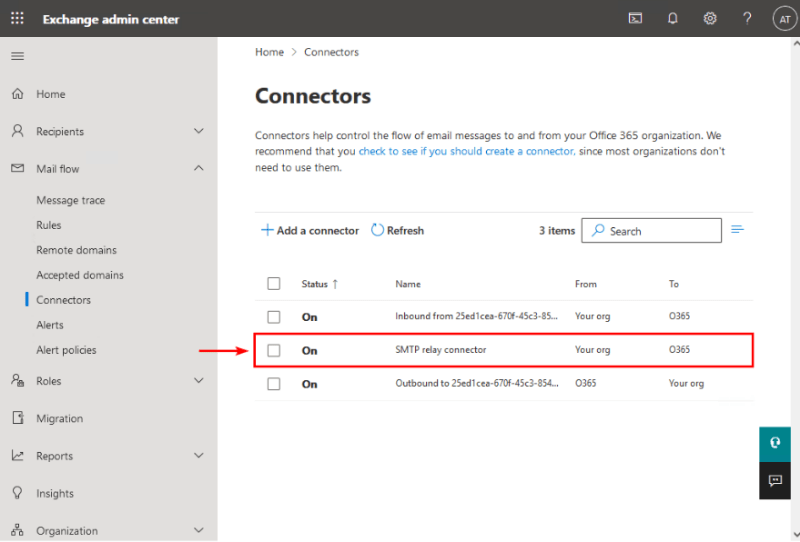 We now successfully added an SMTP relay connector in Office 365. So, it is ready to send emails through Office 365. Now let's check out the SMTP relay office in the next section.
Also Read: Best Mail Servers for Windows
How to Test SMTP relay Office 365?
Now that you have come so far in setting up the SMTP relay for office 365, you should also check to see If everything is configured correctly. An outstanding method to test SMTP relay Office 365 is to use the Send-EmailOffice365.ps1 PowerShell script. So run PowerShell as administrator and copy the below script. But before running this script, you have to change some of its fields, including To, From, and smtpServer.

You should not see an error in the output, and the SMTP relay will send the email to the inbox you added in the To field.
What are the benefits of using SMTP relay?
When sending emails, three essential factors affect us to send them successfully, including Your SMTP email infrastructure, sender reputation, and the content of your mail. Businesses use SMTP relay services to accomplish better email deliverability without worrying about the technical elements or even risking their ability to send. Here we will discuss a deeper view of SMTP relay office advantages.
Having SMTP relay providers as your sending infrastructure
Internet service providers look at your domain and IP address reputation to decide whether your emails should be routed to your recipients' inboxes or given to the spam folder. An outstanding SMTP relay service provider adds your business to the list of trustworthy, high-reputation senders and protects the IP reputation through various tools.
If you manage your SMTP server on a shared Virtual Machine (VM), you can not control sending IP's reputation, which means you could be sharing it with someone sending unrequested messages. As a result, this can potentially cause your IP address to be blocklisted, leaving you in a complicated situation.
Enables businesses to send a large number of emails
Many ISPs and webmail providers limit sending emails to keep off spam senders. These services are meant for user mail and not for application email, like order confirmations. This limitation can unnecessarily narrow your business's ability to promote, engage, and support your customer, especially if you send so many emails. The good news is that SMTP relay office services allow you to expand your email volume as required.
Expert technical support
It is only natural to aim for the best of the best. SMTP relay service providers mainly focus on delivering, monitoring, and improving their email sending techniques. In addition to assisting you to access outstanding email infrastructure, they offer you a professional, on-hand support team to help you with problematic email issues. On the other hand, It's an entirely different story when you manage your SMTP services because, in this case, you must know how to troubleshoot problems, whether your server goes down all of a sudden, or any other issues for that matter. 
Also Read: Best Linux Mail Server Antivirus 2022 
Providing a view of deliverability issues and data insights
Most of the clients who switch from their server to SMTP relay service say that they couldn't get a clear view of their deliverability before using this service. They couldn't understand how many of their emails were bouncing or why it was happening to their emails. SMTP relay services gather your deliverability data, including emails sent, bounces and their bounce's type, spam notifications, spam complaints, detailed error codes, and more details, giving you a broader picture of what is happening,
 It offers user-friendly, time-saving interfaces
In contrast to a self-managed server, most SMTP relay services provide a clean, appealing user interface (UI). A more satisfactory User Interface helps you quickly find, surface, and understand email information in your organization. Additionally, it decreases the back-and-forths and tiring activities for email info. 
Comparison of Direct Send vs. SMTP Relay in Office 365
Now that you are familiar with configuring SMTP Relay for Office 365, it is good to know the difference between SMTP Relay and Direct Send. Even though both use the MX endpoint as an SMTP server address, they have their use case.
Direct Send in Office 365 is used to deliver mails to only your internal mailboxes, which means that you can not scan a document and email it directly from the scanner to an external email address. You have to scan it to your mailbox, and in Outlook, forward it to the external contact. Aside from all this, the advantage of Direct Send is that you can use it also for third-party applications, and it does not require a static IP address for authentication.
Final thoughts:  setting up an SMTP relay in office 365
The main point taken from experiences showed that SMTP relay makes our lives much more straightforward; it doesn't matter if you use it for your business or as a digital marketer working in a big company. It still provides you with multiple benefits. This guideline described setting up an SMTP relay for office 365 using a step-by-step approach. In addition to this helpful email service, you can also utilize our various hosting plans, aiming to reach your best potential. At Cloudzy, we provide many beneficial services such as Linux VPS and Windows VPS, which you can take advantage of for personal and your company's needs.
FAQ
Does Office 365 allow SMTP relay?
SMTP relay allows Microsoft 365 or Office 365 to relay emails on your behalf using a connector; This connector is configured with your public IP address or a TLS certificate.
How can I configure SMTP relay for Office 365?
Here are required steps to Set up SMTP Relay for Office 365:
Open the Exchange Admin Center

Make a new Connector

Give a name to the Connector

Configure authentication

Review and create the Connector
What are the benefits of using SMTP relay?
SMTP relay services enable businesses to send many emails seamlessly while protecting their sender reputations and preventing them from being blocklisted.
What is SMTP relay Connector?
SMTP relay Office 365 uses a connector to authenticate the mail sent from your device or application. This authentication technique allows Microsoft 365 or Office 365 to relay those messages to your own mailboxes and external recipients.