Free Setup - No Contract.
More than 15 Locations All Over the World
Choose Whatever Location Best Suits Your Business: Get a VPS Closer to Your Users, Remove Latency
The largest crypto exchange platform in the world, Binance is known for its excessive restrictions. Binance offers or denies its services based on your IP address and geolocation data. If you want to take your trading to the next level and take part in the crypto platform that matters the most, you have come to just the right place. Our Binance VPS solutions are designed to provide you with a chance at limitless trading. Binance VPS also enhances your trade by offering minimal latency, high-performance functionality. Your orders will be processed as soon as you place them, giving you a sharp edge in the volatile market of cryptocurrency.
Guaranteed Uptime
Reliable, stable connectivity with our guaranteed 5 Nines Uptime.
High-Spec Infrastructure
Servers on top-tier infrastructure ensure your workload is processed smoothly and on time.
Zero Resource Contention
Optimized Server Solutions providing ultimate hosting isolation and zero resource contention.
Worldwide Data Centers
Servers located at 15 strategic locations around the globe.
Risk-Free
We offer you 7-days moneyback guarantee, in case you didn't like your service.
24/7 Caring Support
Your work is important. We know that and we care -- and so does our customer support.
We have designed the perfect VPS for trading on Binance. Not only does our Binance VPS allow you to bypass the restrictions Binance imposes on your country, it also increases your chances at successful trading. Binance VPS is optimized for crypto trading, with high-performance hardware, including NVMe storage, DDR4 RAMS, and a 1 Gbps network connection. Our servers are located strategically, at the hubs of international finance and major nodes of crypto exchange. With a fixed, dedicated IP address and multiple server locations to choose from, you'll never have to worry about being blacklisted or restricted ever again. So, take a look at our multiple plans and pricing, tailor-made for different traders with different trading patterns. Our prices are more than affordable given our quality of service.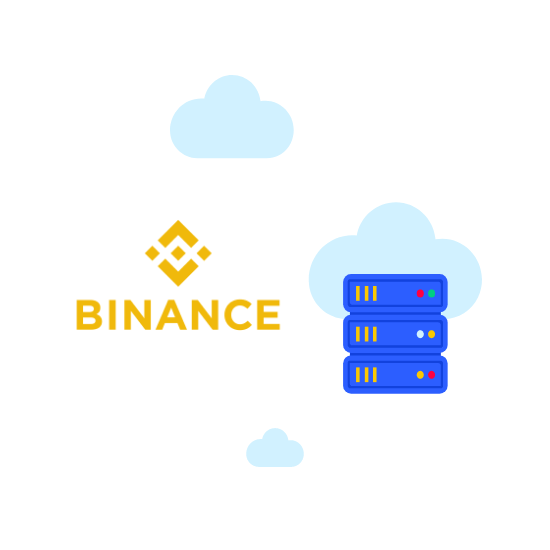 When to Choose Binance VPS
What Our Clients Have to Say
I have tried different VPS companies and I can say I am very satisfied with Cloudzy performance. They have treated me well and had a solid uptime and performance. I do recommend them A+.
Great Service, Very Reliable
Cloudzy provides fast and very reliable servers. They were very helpful when we were migrating from our old providers, quickly resolving any issues we have had. Thier support is great I can't recommend them highly enough!

Great customer support and good services at a good price
I have been using their services for about a year now, and except for a small issue, the service has worked very well all this time. Their customer service is very quick and good, and the price is good.
Increase Your Chances at Success with Binance VPS
Get a Binance VPS solution and change the way you trade forever. Overcome limitations and find your true potential as a trader.
What is Binance VPS?
As you can guess, it's a Virtual Private Server optimized for trading on the Binance crypto exchange. The fact that it's a VPS means you will have complete privacy and security, because, unlike shared hosting, VPS hosting involves fully isolated, independent virtual servers. To allow you to trade on Binance, we offer our Binance VPS solutions only at locations that have not been restricted by the company. You will still have many data centers around the globe to choose from.
Where are your servers located?
Our Binance VPS is offered in the data centers we have in countries not banned by Binance. That means our servers for Binance VPS are located mainly in Europe, including several data centers in the UK.
How can I connect to my Binance VPS?
All our Binance VPS solutions come with a free Microsoft Windows as the operating system. That means the easiest way to connect to your server and run the Binance platform is using the Remote Desktop Protocol (RDP). Based on what device you'll be using to connect to Binance VPS, you can use different software, including the Windows-native Remote Desktop, the cross-platform TeamViewer, the Linux-based Remmina, or even Chrome Remote Desktop.
How can I pay for a Binance VPS plan?
We care about your convenience. That's why we support payment using various methods, including BNB — letting you pay with the coin you use on Binance itself. You can pay for your favorite Binance VPS plan with all major credit cards, including VISA, Mastercard, and American Express. You can also use web-based money services like PayPal. Of course, you can also pay using major cryptocurrencies, including Bitcoin and Ethereum. To sum things up: you can pay the way you want.
Is my IP shared with other VPS instances?
Of course not. Your Binance VPS is a fully independent, fully isolated server — so, naturally it comes with its own dedicated, unique IP addresses. This fixed IP address is yours and yours alone, so you won't have to worry about being blacklisted or rejected because of something a different user may have done.
Is it safe to use Binance VPS to trade crypto?
We are proud to answer this question with a loud "yes!" We have tried our best to ensure your Binance VPS remains secure from malicious software or hackers using unique, AI-powered security measures. Smart DDoS protection and an even smarter Firewall protect your trading system around the clock, while our full-isolation virtualization system makes sure all your actions and data remain private — accessible only by you. So, yes, Binance VPS is very much safe to use for trading cryptocurrencies.
Can I get a free Binance VPS trial to make up my mind?
Sadly, we do not offer free trials at this point. We do, however, have something just as good. Our 7-day money-back guarantee means that if, for whatever reason, you're not satisfied with our services, you can let us know within a week and we will give you a full refund. Together with our affordable prices, this refund policy is practically the same as a free trial.
Pay with Ease
We accept payment with Bitcoin,
PayPal, PerfectMoney, and all your
favorite credit cards -- and more…
7-Days Money Back Guarantee
You'll have Nothing to Worry About.
Get Started Now