Hosting the City of Dreams
Free OS. Unbeatable Prices. Quality Connectivity
Available All Around the US!
Choose a location near you, near your customer, or even on the other side of the globe!
Get closer to ultimate success than ever! New York City is the place to make it big and we can help. Discover how next-gen VPS hosting can boost your business by giving your visitors and paying customers the best user experience possible. Our New York VPS solutions run on top-tier infrastructure, featuring cutting-edge technology. Get a high-performance server with NVMe-driven SSD storage, DDR4 RAMs, and a 1 Gbps network connection, all accelerated using Kernel-based Virtualization. Extensive peering and minimal latency mean New York VPS is ideal for trading as well as hosting websites and web apps. You know what? We'll throw in a free operating system of your choice! All that and more for unreasonably low prices starting at $4.95/Month.
Guaranteed Uptime
Reliable, stable connectivity with our guaranteed 5 Nines Uptime.
High-Spec Infrastructure
Servers on top-tier infrastructure ensure your workload is processed smoothly and on time.
Zero Resource Contention
Optimized Server Solutions providing ultimate hosting isolation and zero resource contention.
Worldwide Data Centers
Servers located at 15 strategic locations around the globe.
Risk-Free
We offer you 7-days moneyback guarantee, in case you didn't like your service.
24/7 Caring Support
Your work is important. We know that and we care -- and so does our customer support.
Whether you're thinking about starting a business or Forex/crypto trading, you'll be hardpressed to find a better place to prosper than New York City. The financial capital of the world, New York City is the place to focus your efforts. The number of high-end customers and its share of the Forex/Crypto market are impossible to ignore. If you're going to launch a website or web app, the hosting you choose will make or break your business, and that's true anywhere.
With the highly competitive market of NYC, a mistake is irreversible and that's why our NYC VPS solutions are offered on top-of-the-line servers with cutting-edge infrastructure. Experience the next-gen hosting with DDR4 memory devices and NVMe storage, and 1 Gbps network connections. With our proprietary allocation algorithm and KVM tech, these resources are guaranteed to be entirely at your disposal. Full root access, our powerful firewall, and smart DDoS protection make sure your server stays safe. If you're a trader, you'll appreciate the extensive peering, 99.95% uptime, and physical proximity of our servers to Wall Street. No matter what you need from a server, our New York VPS solutions deliver it, better and faster than any other provider, and at unbeatable prices.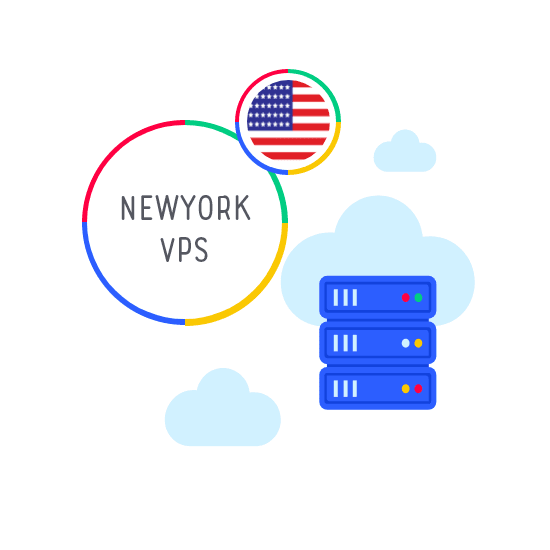 Powerful Hardware and
Reliable Connectivity

Virtualizor Management
Panel

When to Choose New York VPS
What Our Clients Have to Say
I have tried different VPS companies and I can say I am very satisfied with Cloudzy performance. They have treated me well and had a solid uptime and performance. I do recommend them A+.
Great Service, Very Reliable
Cloudzy provides fast and very reliable servers. They were very helpful when we were migrating from our old providers, quickly resolving any issues we have had. Thier support is great I can't recommend them highly enough!

Great customer support and good services at a good price
I have been using their services for about a year now, and except for a small issue, the service has worked very well all this time. Their customer service is very quick and good, and the price is good.
Find the VPS Solution that Suits Your Needs
Take a look at our wide selection of VPS hosting solutions and find the one that will really synergize with your company. You can always contact us and we'll help you find the plan you need to make your business a success. Get your VPS Solution right now!
What are the benefits of using a VPS in New York City?
Using a New York City VPS means having a dedicated IP in New York City. Getting your hands on a VPS in New York also means getting rid of latency,  increasing the speed of your website, and placing your trade orders faster.
What is the best website hosting solution in New York?
VPS hosting is the best website hosting solution in New York. Providing 99.95% uptime, ultrafast, latency-free connectivity, and DDoS protection, you can enjoy safe and reliable hosting.
What is the best VPS provider in the New York City area?
Cloudzy offers the best New York City VPS. Offering cutting-edge technology built on top of top-tier infrastructure, you get access to NVMe storage,, and 1 Gbps network speed to ensure high-performance connectivity.
Can I upgrade my system after purchasing a VPS New York?
Of course, you can! Cloudzy uses KVM pioneer technology to allocate resources to VPS servers based on changes in their traffic. That aims to ensure smooth and flexible performance, but users can upgrade or downgrade their plans whenever they want.
Will my VPS New York be backed up?
No, Cloudzy is not accountable for securing backups of your VPS servers. However, you can always rely on our 24/7 support team to assist you with any technical issues.
Pay with Ease
We accept payment with Bitcoin,
PayPal, PerfectMoney, and all your
favorite credit cards -- and more…
7-Days Money Back Guarantee
You'll have Nothing to Worry About.
Get Started Now