Free Setup - No Contract.
Available All Around the Europe!
Choose a location near you, near your customer, or even on the other side of the globe!
At the Heart of European Commerce
Get the VPS solution of your choice hosted on our top-tier infrastructure set up in Frankfurt, Germany. Give yourself and your company a better chance at success by establishing a direct presence in Europe's financial center. We offer high-performance Windows and Linux VPS solutions accelerated by NVMe storage and 1 Gbps network connections. Experience reliable functionality with 99.95% uptime, minimal latency and extensive peering at DE-CIX, the world's largest Internet Exchange Point.
Guaranteed Uptime
Reliable, stable connectivity with our guaranteed 5 Nines Uptime.
High-Spec Infrastructure
Servers on top-tier infrastructure ensure your workload is processed smoothly and on time.
Zero Resource Contention
Optimized Server Solutions providing ultimate hosting isolation and zero resource contention.
Worldwide Data Centers
Servers located at 15 strategic locations around the globe.
Risk-Free
We offer you 7-days moneyback guarantee, in case you didn't like your service.
24/7 Caring Support
Your work is important. We know that and we care -- and so does our customer support.
Ultrafast VPS Solutions in the Global City of Frankfurt
Want to set up a business in Germany or the EU? Need less latency and better peering for your European customers? Do you want something more than just average? We've got just the thing! Get a next-gen Windows or Linux VPS running on the latest, top-tier servers with superior hardware, accelerated using KVM tech, NVMe-powered SSD storage, and 1 Gbps connections. Experience the real meaning of minimal latency and 99.95% uptime with our infrastructure located at DE-CIX, the world's largest Internet Exchange Point.

Order your favorite VPS plan today and get instant activation and a free operating system of your choice, whatever version you want. All that and more for as low as $4.95/Month.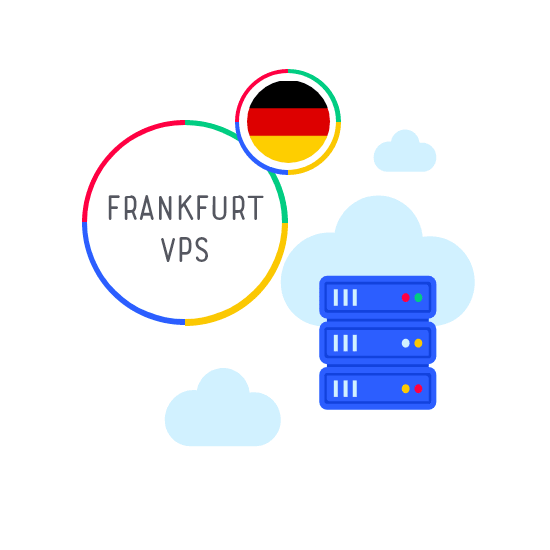 Powerful Hardware and
Reliable Connectivity

User-friendly Hosting Panel

When to Choose a Frankfurt VPS Solution
What Our Clients Have to Say
I have tried different VPS companies and I can say I am very satisfied with Cloudzy performance. They have treated me well and had a solid uptime and performance. I do recommend them A+.
Great Service, Very Reliable
Cloudzy provides fast and very reliable servers. They were very helpful when we were migrating from our old providers, quickly resolving any issues we have had. Thier support is great I can't recommend them highly enough!

Great customer support and good services at a good price
I have been using their services for about a year now, and except for a small issue, the service has worked very well all this time. Their customer service is very quick and good, and the price is good.
Find the VPS Solution that Suits Your Needs
Take a look at our wide selection of VPS hosting solutions and find the one that will really synergize with your company. You can always contact us and we'll help you find the plan you need to make your business a success. Get your VPS Solution right now!
What is VPS hosting?
Virtual Private Servers are a hybrid hosting solution offering the best of two worlds – the affordable prices of shared hosting and the performance and security of dedicated servers.
What is Frankfurt VPS hosting?
It's a VPS hosting solution offered by Cloudzy, featuring affordable, high-performance VPS solutions hosted at Frankfurt, the financial and corporate heart of Europe.
Is a Frankfurt VPS right for me?
Well, it really depends on what you plan to do with your VPS. Take a look above for some cases where a Frankfurt VPS solution can come in handy.
Where are your servers located?
Our Frankfurt VPS servers are located at DE-CIX, the world's largest Internet Exchange Point, connecting hundreds of ISPs, Content Delivery Networks, and hosting providers. We also have other data centers throughout Europe and beyond.
My customers are mainly in Berlin. Do you have a server there?
Not at the moment, unfortunately. Frankfurt is the closest data center we have, but it is practically next door to Berlin. We are constantly adding new servers to our list, so make sure you check it out every once in a while.
I live in Florida but I want to host a gaming server for my German clients. Where should I host my VPS server?
If most of the players will be connecting from Germany, it's best to host your gaming server over there as well. Using Frankfurt VPS hosting for your online games means a better gaming experience for everyone. The super-low latency of our Frankfurt VPS hosting solution means there won't be any irritating lags and the high bandwidth and fast connections will ensure reliable gameplay.
Can I pay for a Frankfurt VPS plan with Bitcoin?
Definitely. We value your right to stay anonymous. That's why we support payment with Bitcoin, Ethereum, and other major cryptocurrencies.
I'd like to pay with my Mastercard. Do you accept that?
Sure. We accept payment with all major credit cards, including VISA, Mastercard, and American Express. Don't waste time on complicated payment methods – just pay with your favorite credit card and your Frankfurt VPS will be instantly activated.
How long does it take you to deliver my VPS?
Almost no time at all! Once payment is confirmed, your Frankfurt VPS will be instantly activated, and you'll receive an automatic email with details on how to connect to your VPS. Please do not share that information with anyone as it may pose a security risk.
I've paid for my Frankfurt VPS hosting with Ethereum, but the invoice still says "unpaid." What should I do?
Crypto payments can take a bit longer to be confirmed so it's probably because of that but if your invoice still reads "unpaid" in 10-15 minutes, please contact our 24/7 customer support staff.
Pay with Ease
We accept payment with Bitcoin,
PayPal, PerfectMoney, and all your
favorite credit cards -- and more…
7-Days Money Back Guarantee
You'll have Nothing to Worry About.
Get Started Now