If you have siblings, you must have played the shadow game. In the shadow game, you repeated what your sister or brother said. Now, an emulator is a fancy word for a piece of tech that mimics this kind of behavior but in a specific way.
Let's touch on the basics before covering the details about the emulator for low end PC, so we're all on the same page.
What Is An Emulator?
Let's say you have a Mac but want to avoid putting extra load on your system's resources by installing and playing heavy video games. You have two options: buy an additional device just for playing games or use an emulator to create the virtual software you need.
An emulator is a hardware or software that enables users to use any application or device without having physical access to them.
Now you might say, I can install any program I want on my existing operating system; why do I need an emulator?
For starters, there's a limit on how much load your operating system can handle, even if it is as powerful as Linux. So the most important reason you need emulators is to reduce performance issues.
Another reason is that you might not be able to install and use some applications or programs on your original OS because of incompatibility issues.
Our tech-savvy audience might have another question: I have a VM for all the things you mentioned; why should I use emulators?
Let's examine the two most important aspects of a VM (Virtual Machine) and an emulator.
CPU usage
Specific purpose and activity
An emulator runs codes independently without relying directly on CPU capacity, so there are fewer CPU draining and performance issues. On the other hand, a virtual machine actually needs CPU virtualization features to function.
Emulators use your device's hardware resources indirectly by creating a connecting bridge. Virtual machines latch on to your hardware directly to create an isolated environment.
With emulators, you are not limited to a single virtual environment; you can create multiple environments that run on different operating systems. So although emulators and VMs are similar in features, they are meant for totally different purposes.
We will discuss emulators in the following sections, but for a deeper understanding of virtual machines, you can read our in-depth guide on Different Types of Virtual Machines.
What Are Emulators' Use Cases?
Emulators can mimic hardware devices such as printers or scanners or specific applications and software programs that are not compatible with your OS, such as console-based games or legacy applications.
Say you have a Windows operating system but need to use Linux applications not supported on Windows; an emulator is a perfect tool for the job.
Even if some applications are supported on all operating systems, because of different codes in their programming, they might malfunction or crash over time. With an emulator, you can access any hardware or software you need without changing your operating system or installing new drivers that would take a toll on your device's resources.
Also, emulators are perfect tools for developers who need to test and compile software for different operating systems. They can develop multiple programs on Linux, Windows, and mac all at the same time.
Different Types of Emulators
Emulators come in 10 general categories:
Central processing units
Computer system emulators
Full system simulators
Mobile phones and PDAs (Personal Digital Assistants)
Multi-system emulators
Network emulators
Operating system emulators
Printer emulators
Terminal emulators
Video game console emulators (Amiga, Arcade, Atari, Nintendo, SNK, Sony)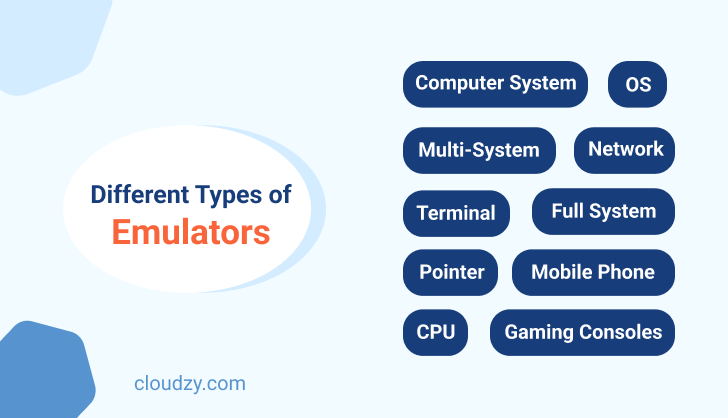 What Is An Android Emulator?
Android emulator can be used as an emulator for PC, software that allows users to install and run Android applications on their OS. The best Android emulator for PC offers unique benefits for both gamers and developers.
Not all gamers can afford expensive Android phones, so using an Android emulator for low end PC is their best option to play games on a big screen without worrying about battery life and performance issues. Also, testing apps on an Android emulator is a much faster process than testing them on mobile phones.
Basically, an Android emulator for low end PC is the cheapest and fastest substitute for an actual Android device.
How Does An Android Emulator for Low End PC Work?
In most cases, an Android emulator for low end PC uses QEMU (Quick EMUlator) to emulate different operating systems and programs. QEMU is an open-source virtualization software that allows users to run guest devices on their original operating system. You might think that QEMU or other emulators take forever to load programs. Still, they use a unique type of software called Hypervisor to speed up the virtualization experience.
The best Android emulator for low end PC can translate the Application Binary Interface (ABI) of the target device_the one you want to emulate_ to match your actual device. However, if you want your emulator to run as fast as possible, make sure your guest device has the same infrastructure architecture as your own device.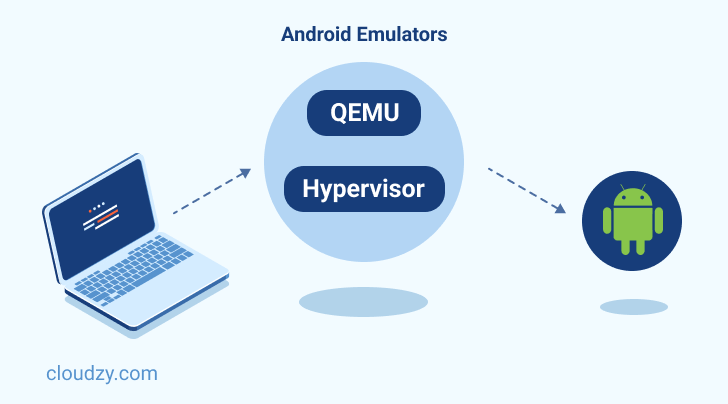 Requirements for Running An Android Emulator for Low End PC
These are not the minimum requirements to use an Android emulator, but if you are thinking about buying the best Android emulator for low end PC and want to experience its optimal performance, here are the system requirements you must have:
OS: 64-bit Windows, macOS, Linux
RAM: 8GB-16GB
Disk Space: 16GB
Emulator for Low End PC
Now that you know what an emulator is, it's time to dive into the main topic of this article and introduce the best emulator for low end PC. But first, let's cover a brief introduction to low end PCs.
What Is A Low End PC?
A low end PC is built with minimum components, such as 2GB of RAM, 2GB of memory, and a Ryzen 3 or i3 processor. For gamers and developers, these types of PCs are still budget-friendly options, and by using the best emulator for low end PC, you can turn them into highly efficient devices.
Best Android Emulator for Low End PC
1. BlueStacks
If you're looking for an all-in-one emulator that is specifically designed to run Android games on Windows 10 at the highest level, BlueStacks is the perfect option. Even though BlueStacks is relatively new, it has become super popular among professional and beginner gamers. The only drawback to BlueStacks is that it doesn't perform well on devices with less than 4GB RAM. BlueStacks unique features include Key Mapping, Instance Manager, and Eco Mode.
Bonus Point: This is your lucky day because, in the final section of this article, we introduce a product that enables you to run the BlueStacks emulator on even the weakest operating systems.
So stay tuned.
2. MSI Emulator
MSI emulator is probably the most popular lowend PC emulator on the market. MSI is the best Android emulator for low end PC and functions similarly to the latest version of BlueStack. MSI emulator minimum requirements are 2 GB of RAM, 5GB of hard disk, and Graphics card OpenGL 2.1 intel. You can use this lowend PC emulator on Windows 7, 8, and 10.
3. Android Studio
Android Studio is the best emulator for developing Android apps like a pro. Even if you're a complete beginner, they offer training courses that make the whole process super easy. You can test your Android app on responsive layouts and use Build Analyzer to fix any performance issues within your app. Android Studio's unique features include Wear Devices: Pair multiple watch emulators, Jetpack Compose: The best design toolkit for UI development, such as Material Design and animation, and Live Edit: Testing and improving codes in real-time.
4. NoxPlayer
NoxPlayer is the best Android emulator for PC that has a minimum of 2GB of RAM. NoxPlayer is free and is the best emulator you can use if you play heavy Android games daily. The best thing about this emulator is that it supports Windows and Mac. However, NoxPlayer is not the lightest Android emulator, so don't expect to run multiple apps on it simultaneously.
5. LDPlayer
LDPlayer is the best emulator if your device has no GPU and is operating on 2GB of RAM. LD Player is known to be the most customizable emulator for gamers, offering shortcut keys, a game key mapping option, and mouse and keyboard support. LDPlayer comes with an APK shortcut that allows users to install and use apps without logging into their accounts. There is also a unique built-in app store LDPlayer offers that makes it a popular choice among lowend PC emulators. So if you want a high-performance and ad-free emulator, LDPlayer is a great option.
6. MEmu Play
MEmu play is the best Android emulator for PC if you are looking for a resource-friendly version of BlueStacks. All you need is 2GB of RAM, 5GB of hard disk, and Windows 7, 8, or 10. Smooth keyboard mapping, AMD and Nvidia chips support, and drag-and-drop APK files are some of this lowend PC emulator's features.
7. LambdaTest
If you want a powerful Android emulator for low end PC for testing purposes that supports a wide range of Windows and Mac operating systems, LambadaTest is the best option. LambadaTest offers live testing for geolocation and web hosting and is easily integrated with popular task management tools such as Asana, Slack, Trello, Jira, etc.
8. KoPlayer
KoPlayer falls in the best Android emulators category because it allows users to have multiple accounts and record videos of their gaming experiences. KoPlayer has a built-in app store, and you can easily access Google Play Store to download any apps you want. The only drawback to KoPlayer is that you might experience freezes sometimes, but besides that, it is a fairly good emulator for low end PC.
9. Remix OS Player
Remix OS Player creates a unique OS-emulating experience like no other. Developers and gamers like this emulator because it has the most authentic look an emulator can have. You can play Android games and run different apps on Remix OS Player as smoothly as you would on your original OS.
10. BlissRoms
BlissRoms offers the best emulator for low end PC called Bliss OS. Bliss OS is all about providing the most secure OS experience that doesn't drain your battery one bit. Also, this Android emulator is the best option for beginners because of its simple user interface.

Top 10 Best Android Emulator for Windows 10
| | | | | | |
| --- | --- | --- | --- | --- | --- |
| Android Emulator | Cloud Version | APK Files Installation Support | Unique feature | Best Use | Free |
| Android Studio | ✅ | ✅ | "Apply Changes": change running apps resources without restarting | App Development | ✅ |
| BlueStacks | ✅ | ✅ | "Multi-Instance": Play multiple games simultaneously | Gaming | ✅ (Includes Paid Version) |
| Droid4x | ❌ | ✅ | Keyboard Mapping to use multiple controls simultaneously | Gaming/App Development | ✅ |
| GameLoop | ❌ | ✅ | "Built-in Nimo TV" (Live game streaming platform) | Gaming | ✅ |
| Genymotion | ✅ | ❌ | "Disk IO Throttling" to improve performance | App Testing | ✅ |
| LDPlayer | ❌ | ✅ | Keyboard-free gamepad | Gaming | ✅ |
| MEmu Play | ❌ | ✅ | "Custom Macro": Advanced key-mapping | Gaming | ✅ (Includes Paid Version) |
| NoxPlayer | ❌ | ✅ | One-click Keyboard Mapping | Gaming | ✅ |
| Andy | ❌ | ❌ | GPS location spoofing | Running apps | ✅ |
| Remix OS | ❌ | ❌ | Built-in RAM management software | Gaming | ✅ |
Based on the table above, choosing the best Android emulator for Windows 10 comes down to Android Studio or BlueStacks. Let's go over their pros and cons so you can choose the best fit for your needs.
Android Studio Pros & Cons
Pros:
Code editing system (Detects code errors and completes codes based on previous code patterns)
You can test and develop apps for all types of Android systems, including mobile, TV, tablet, etc.
The Code Templates feature allows you to write complex codes faster and easier
The Lint Check feature allows you to check code structures for any weaknesses
Supports C and C++ programming languages
Customizable UI system
Command line testing to target specific modules
Multiple devices testing
Cons:
It needs at least 4GB of RAM and a powerful CPU to function properly, so not suitable for multitasking
Slow emulator interface
Occasional crashing and freezing
Contains bugs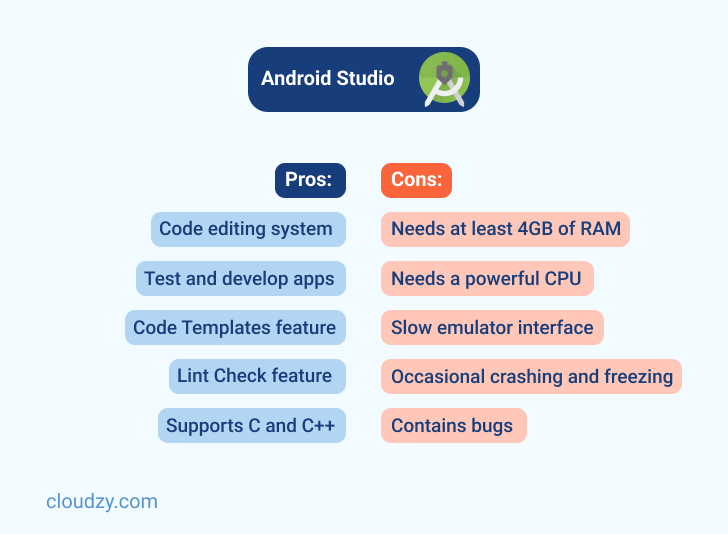 BlueStacks Pros & Cons
Pros:
Easy and fast installation process without registration
BlueStack Tweaker feature allows you to transfer, delete, or rename files
Supports multi-touch screens
Sideloading app feature allows you to test apps not yet released in Google Play
Cons:
It needs at least 4GB of RAM to function properly
Compatibility and update issues
It doesn't support Linux
The free version has popup ads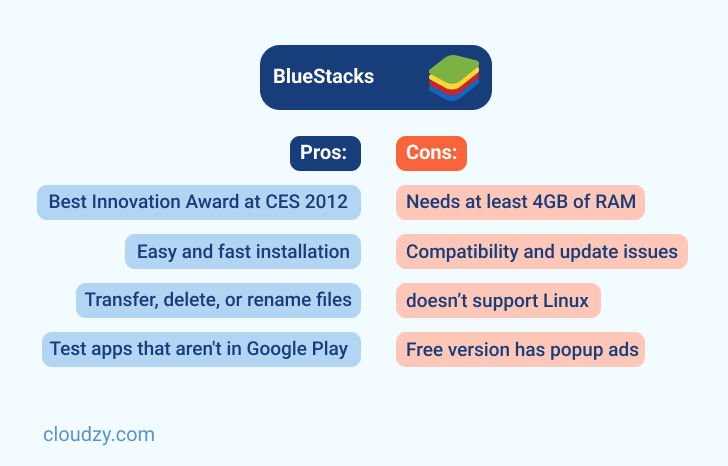 There's a way to get the most out of BlueStacks without experiencing lagging or other performance issues, even if your PC has only 2 Gigabytes of RAM.
Check out the next section to find out how.
Run the Best Android Emulator on Your Oldest System with Our Exclusive Product
Say you want to use the most popular Android emulator_BlueStacks_, but you have an old PC that is much weaker than a low end PC, an ancient one, if you will. What can you do? Or, can you even run BlueStacks on your belongs-in-the-museum of a device? The answer is yes.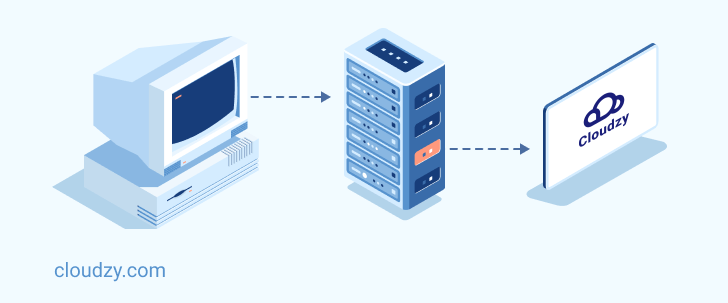 BlueStacks is the best and most user-friendly Android emulator for many users, so we perfected a product that allows them to run BlueStacks on a high-end processor without relying on their operating system resources: BlueStacks VPS.
With our BlueStacks VPS, you can host Android robots and play Android games at the highest speed possible, all running on high-performance DDR4 RAM. By using VPS to run BlueStacks, you can use all the apps and games you want on SSD, a much more durable and faster storage device than traditional hard drives.

Android Emulator VPS
Get Cloudzy's Android VPS and easily launch your facorite Android apps on a high-powered VPS backed with the best technologies for a seamless experience!
Start Right Here
So, the bottom line is that buying a VPS for Android is your best alternative option to avoid performance and freezing issues when running your Android emulator.
FAQ
Which emulator is best for a very low-end PC?
MSI Emulator is one of the best Android emulators that only needs 2GB of RAM but offers a smooth emulating experience with minimum bugs or performance issues.
Can BlueStacks run on a low-end PC?
BlueStacks needs at least 4GB of RAM to function properly. But if you want to avoid crashes and experience the best level of performance_gaming or app development_ it's best to upgrade to 8GB of RAM or buy a Bluestacks VPS to run it with no pain!
Can I run BlueStacks without a graphics card?
Yes, you can use BlueStacks offline installer and third-party software such as Orca software to install BlueStacks without a graphics card. However, some errors might pop up due to RAM issues, so make sure your device has at least 4GB of RAM installed.
What are the minimum system requirements for BlueStacks?
The minimum requirements for running the BlueStacks emulator for a low end PC vary based on your operating system, but if you want to experience the highest level of performance, your device should have the following:
Intel/AMD Dual-Core Processor
4GB of RAM
SDK (Software Development Kit) version: 26.1.1 or above
Which is the lightest Android emulator?
Droid4x and MEmu Play are the lightest Android emulators that allow users to play multiple games simultaneously. If you want to enjoy great customization features, Droid4x is the better option because it offers key simulation and GPS simulation.
Which is the best Android emulator for Windows 10?
BlueStacks. The best thing about the BlueStacks emulator is that you can experience its optimal performance even if your PC has less than 2GB RAM. Check out the last section of this article to find out more.