If you are here, then I guess you already have a solid understanding of what a mail server is and how businesses can use it to their advantage. You need to create your own mail server for free to work out and set out your businesses to the next level of performance and effectiveness.
Popular email providers like Gmail, Outlook, and Yahoo are the most common email servers you undoubtedly have already known and worked with. While for more privacy and security, it is required to benefit from a private mail server to make sure you've done it all right with different risks.
Weak control over your mail security, privacy intrusion, and reliability risks cause issues like sharing a server. We discover these main factors are the most critical ones to take the prominent step into configuring a confident mail server. Now, to help you make sure you haven't missed anything, we provide you with a complete guide that is essential to consider before setting up your own mail server. So without further delay, let's cut to the main point.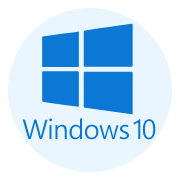 Windows 10 VPS Hosting
Get yourself an efficient Windows 10 VPS for remote desktop, at the cheapest price out there. FREE Windows 10 running on NVMe SSD storage and high-speed internet.
Check Out Windows 10 VPS Plans
Pre-requirements to create your own Mail Server for free
To set up a personal email server, you will need to
1GHz processor.
4GB+ RAM.
Static IP
5GB Disk Space
VPS mail server or a dedicated server
DNS registration and installation
Choosing a free mail server software
Why should you use VPS for Mail Servers?
As I mentioned above, there are two options to configure your own mail server. You can benefit from a VPS in many ways. Gone are the days when business owners run their services on dedicated servers(local machines). So that, it is highly recommended to run a personal email server on a VPS to host your email server software.
A VPS hosting mail server can store information as fast as possible from a variety of geographical locations. In fact, using VPS servers with dedicated high-quality resources can offer you the reliability, performance, security, and stability you need. Now, you need to know which Windows VPS hosting to choose to bring the desired result.
Also read: Best Mail servers for windows
Windows VPS Hosting Solution
Whenever you purchase the VPS server based on the preferred operating system, you can set up your VPS for the mail server. Finding the right VPS is the first and important step of establishing your own mail server.
Windows10 VPS server is the best option with different useful benefits to set up your VPS mail server. It delivers multiple services in one package that align with your business requirements, such as Remote desktop, Mail server, Remote storage, VPS cloud hosting, and online market.
Windows VPS host advantages:
Offers Money Back Guarantee
Support More than 15 worldwide locations
Include remote protocols including SSH, RDP, and VNC
Costs $7.95/Month
Fast and secure
Note: Undoubtedly, you can use local servers (physical machines) as a mail server solution to turn it into a hosted email solution; but you should know that it costs you a leg and an arm. Regarding this topic, the ideal way of having a personal email server is to use a VPS server at an affordable price.
Also Read: Best mail servers for Linux
What is a mail server?
A mail server works like a post office that manages the sent and received emails across a network. Mail servers receive emails from clients and transfer them into their recipients vice versa.
Most of the time, Personal web and mail servers settle down in one server. However, public email services (e.g., Gmail and yahoo) might use particular hardware for transmitting emails. The whole process is complicated on the back of the scene, which occurs at a glance.

Linux Hosting Simplified
Want a better way to host your websites and web apps? Developing something new? Simply don't like Windows? That's why we have Linux VPS.
Get your Linux VPS
How to simply create your own mail server?
First of all, you should comprehend email protocols and understand that each performs differently. In general, there are multiple methods to create your own mail server on your VPS, but we are going to cover the simplest way to help you achieve what you wish. HMmailserver is one of the most popular, free, and open-source mail servers for the Windows operating system.
It can cover all business sizes with different use and needs with its easy configuration, golden features including security and built-in spam protection by SpamAssassin. Hosting your personal email server on a VPS allows you to host all your personal emails without your ISP interference.
Let's dive deep into steps one by one to create your own Mail Server through hMailServer
Step1: Download and click run for hmailserver installer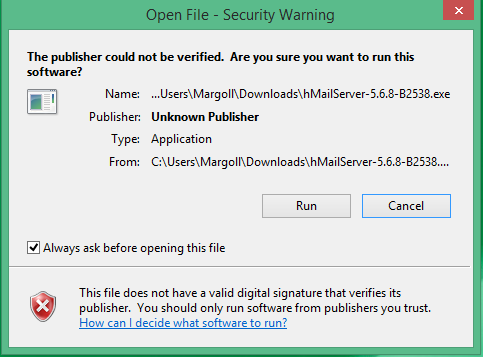 Step2: Click Next to continue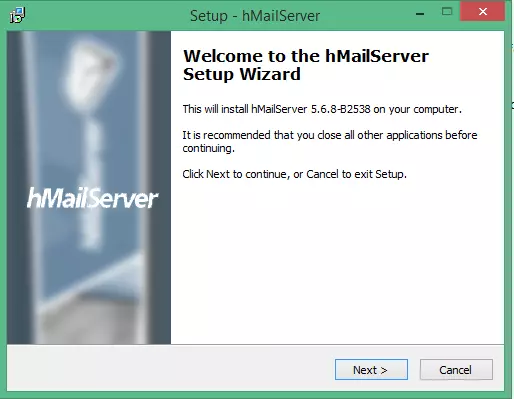 Step3: Choose the first option to accept the license agreement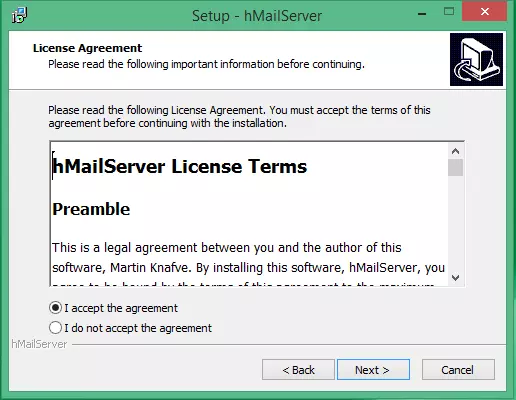 Step4: Choose a destination for your hmailserver installation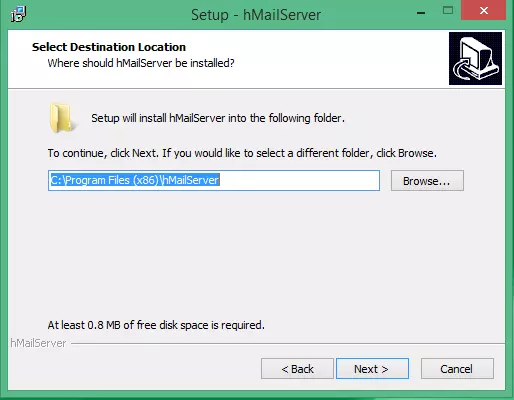 Step5: Check the Server checkbox to make your local computer into the server or Administrative tools to manage the server remotely.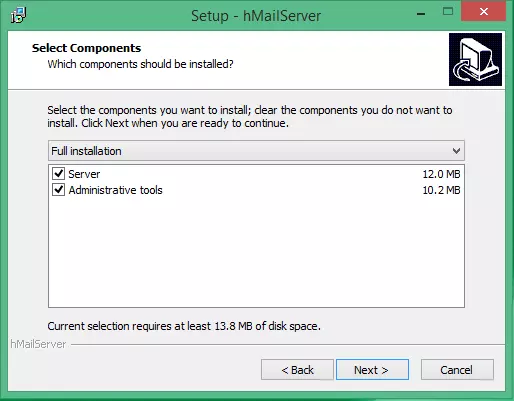 Step6: Select Next, then specify your database type.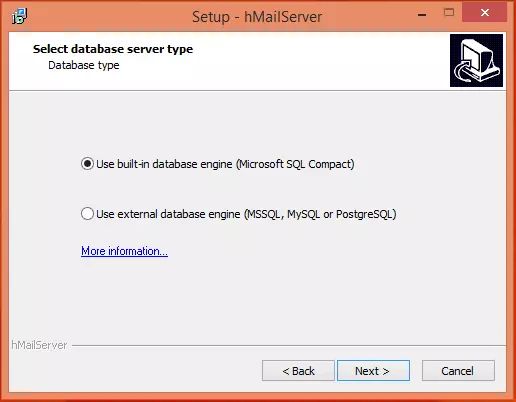 Step7:Click on browse to select the folder location for your program's shortcuts. Click Next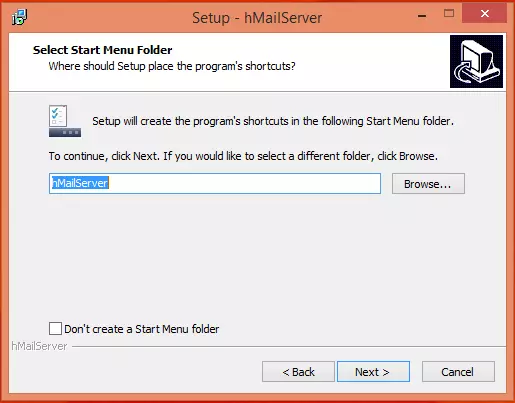 Step8: Enter the primary password to manage your hMailServer configuration (keep it somewhere for next use).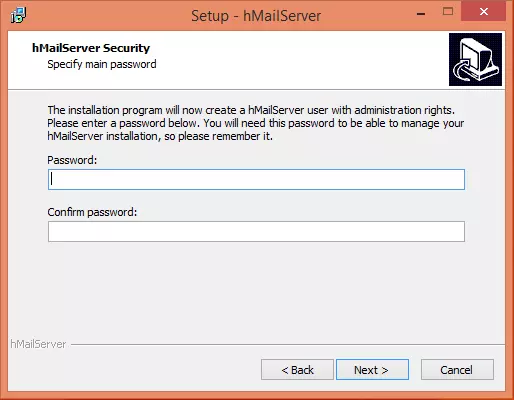 Step9: Click Next and then click Install to load hMailServer on your VPS.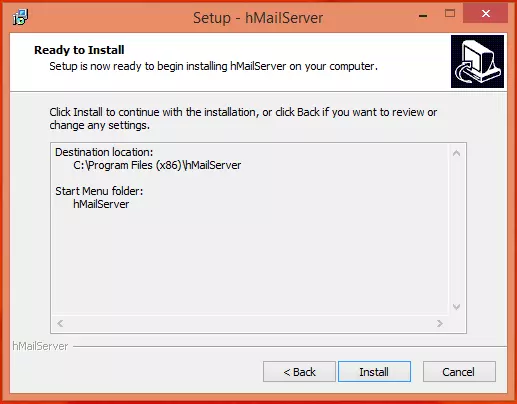 Step10:When it is finished, check to enable the Run hMailServer Administrator box and click Finish.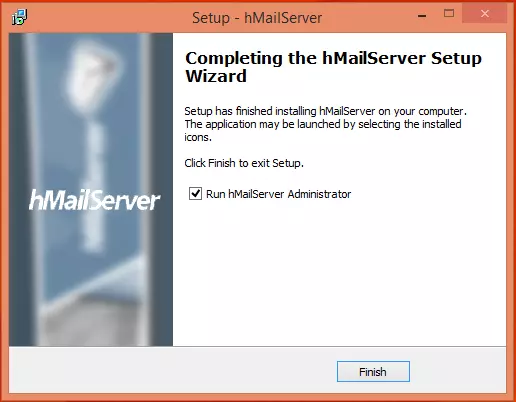 Step11: The hMailServer Admin window appears now click Connect.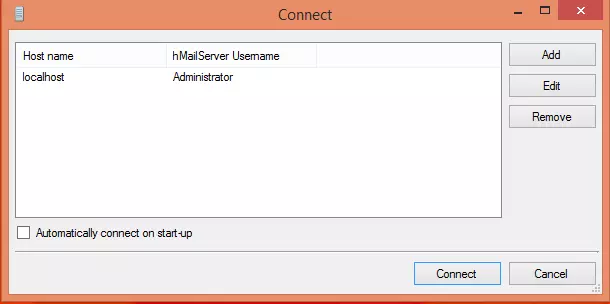 Also Read: Configuring SMTP Relay For Office 365
Step12: Type the password you have already chosen in the installation process.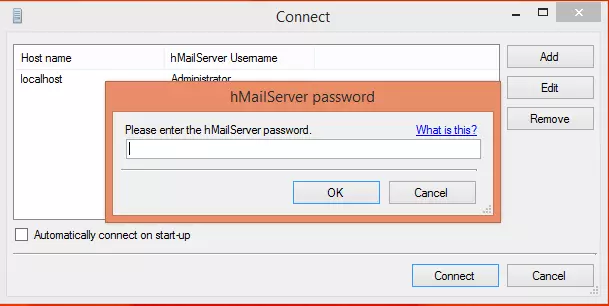 Step13: Now, you can run your SMTP server by clicking on Add domain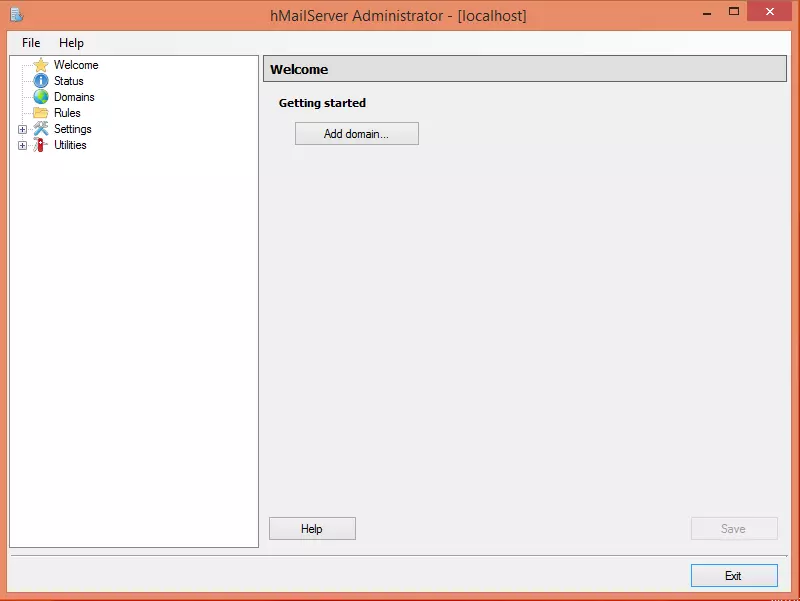 Step14: Under the General tab, put in your domain name (DNS) and click Save.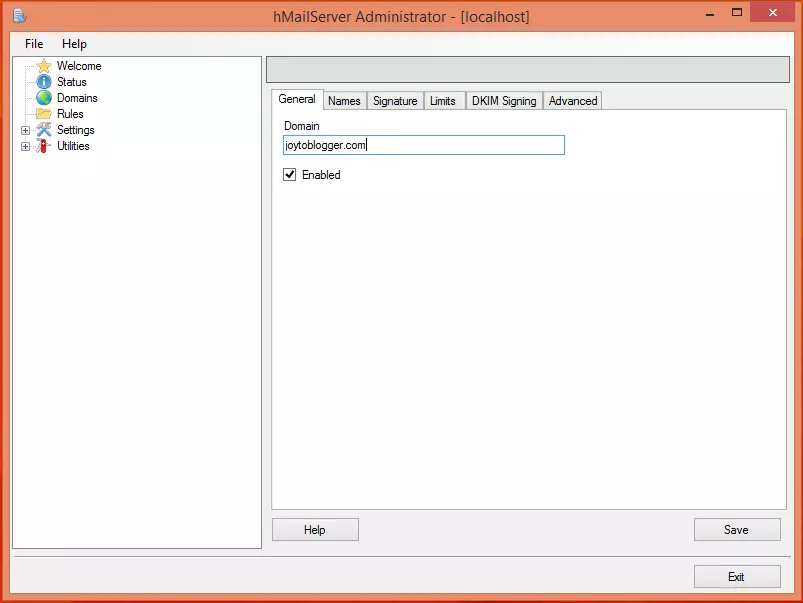 Step 15: On the left side, select Domains, then Accounts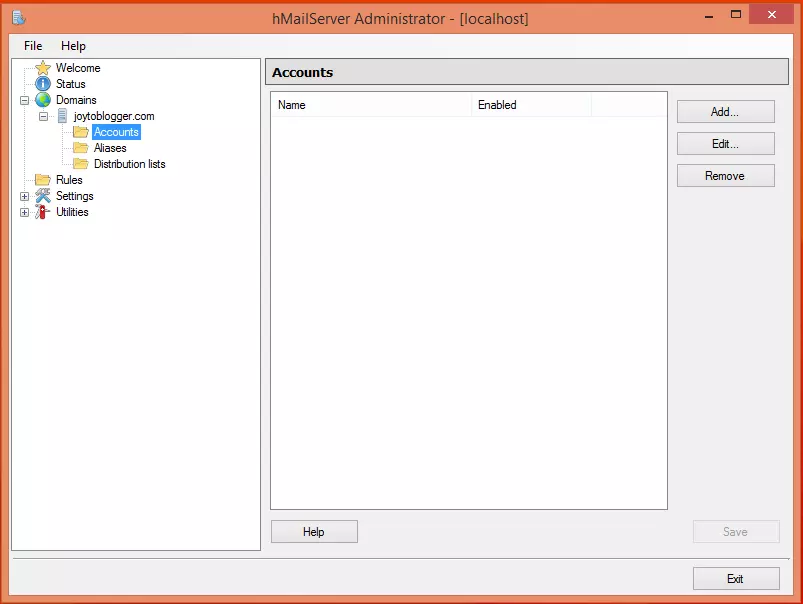 Step16: Click ADD to enter a name in the address field and a password, then click Save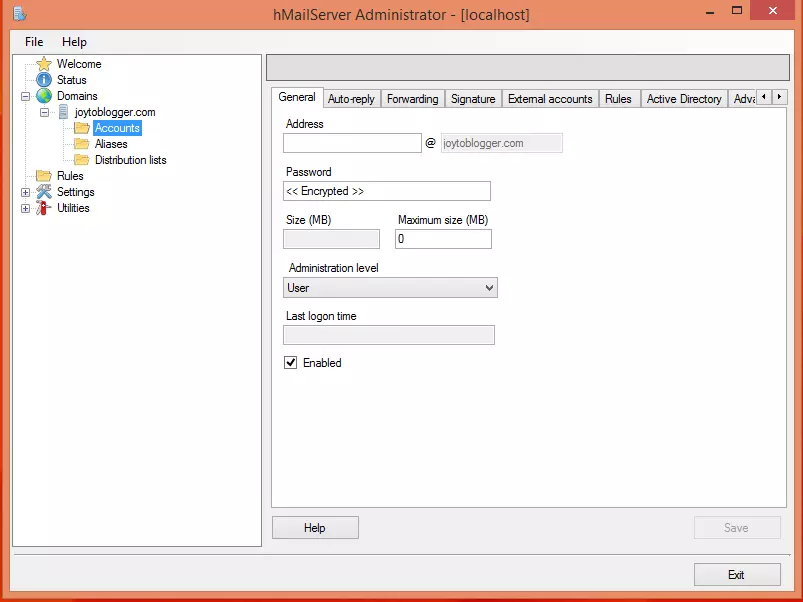 Step17: Now go to the Settings subfolder and choose the Protocols and select SMTP (uncheck the POP3 and IMAP boxes)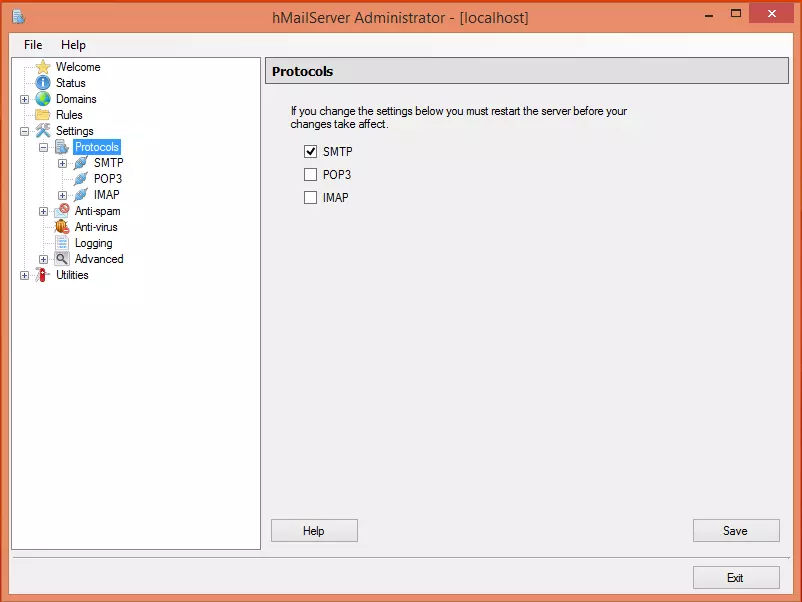 Step18: Click Advanced and type" localhost" in the Default domain field. Click Save.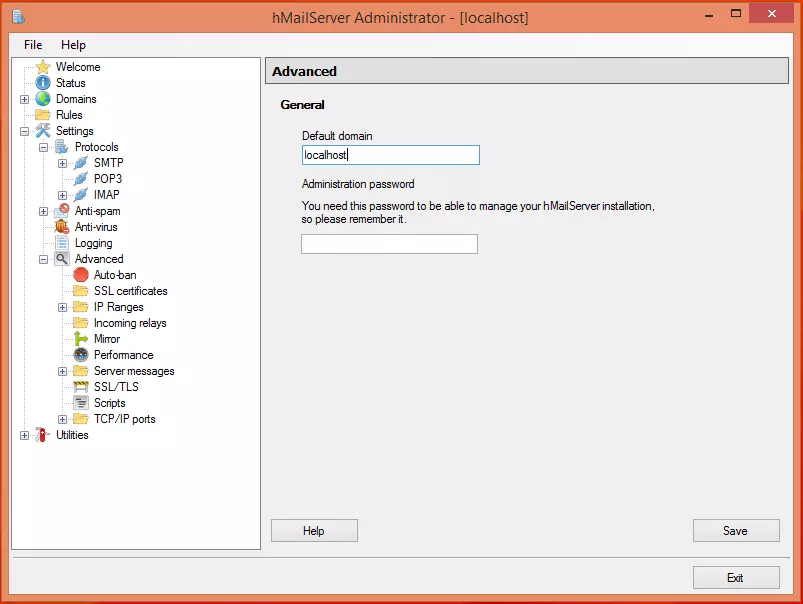 Step19: Expand the Advanced option and then click Auto ban. This feature blocks IP addresses after several failed login attempts.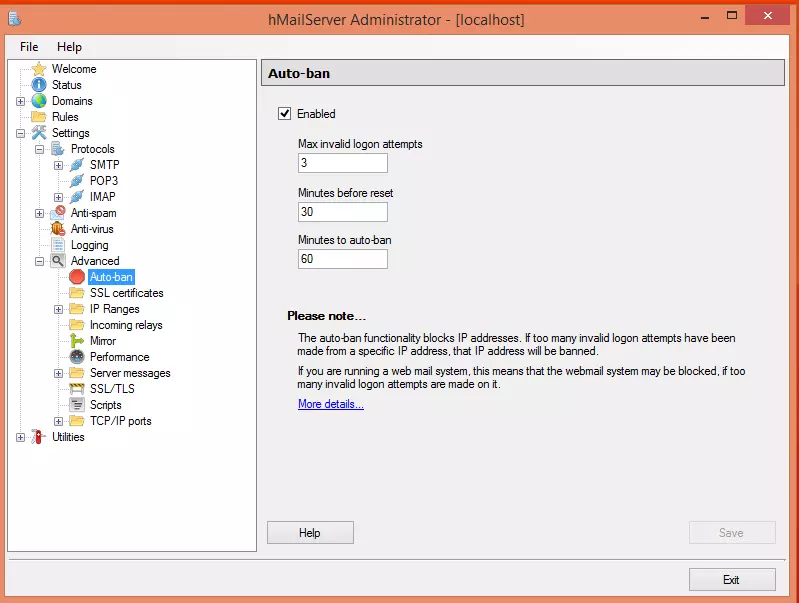 Step20:Disable the Enabled check box and click save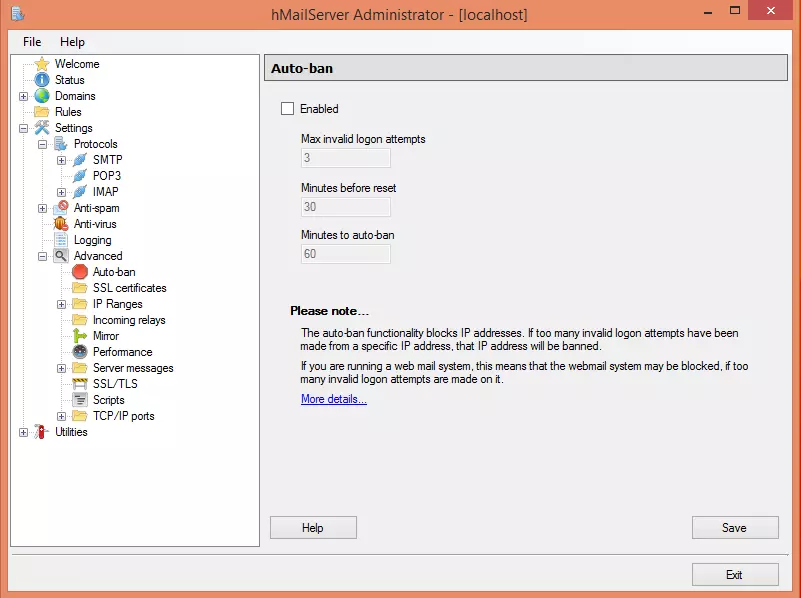 Step21: Expand IP ranges and c

lick

 

TCP/IP ports

dedicated for SMTP587, IMAP 25, POP3 110, and IMAP 143.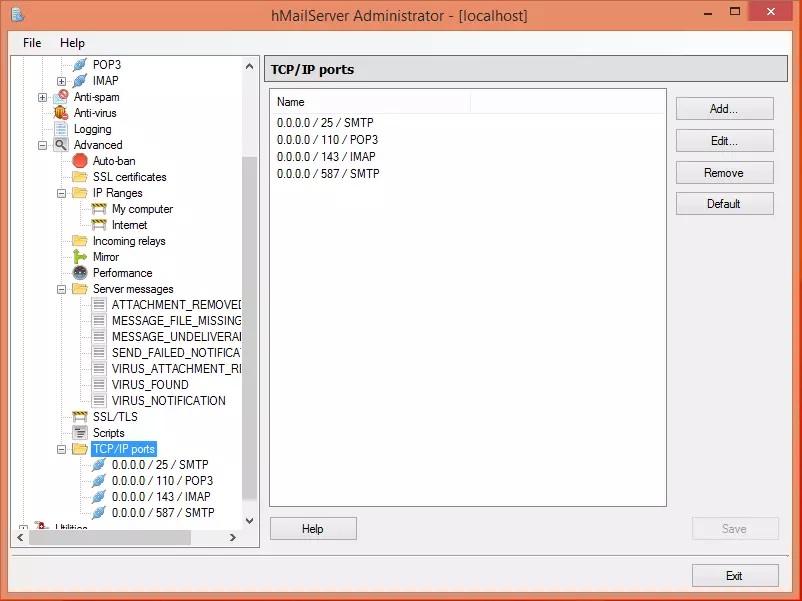 Step 22: checkout these ports to make sure the email server can receive and send mail.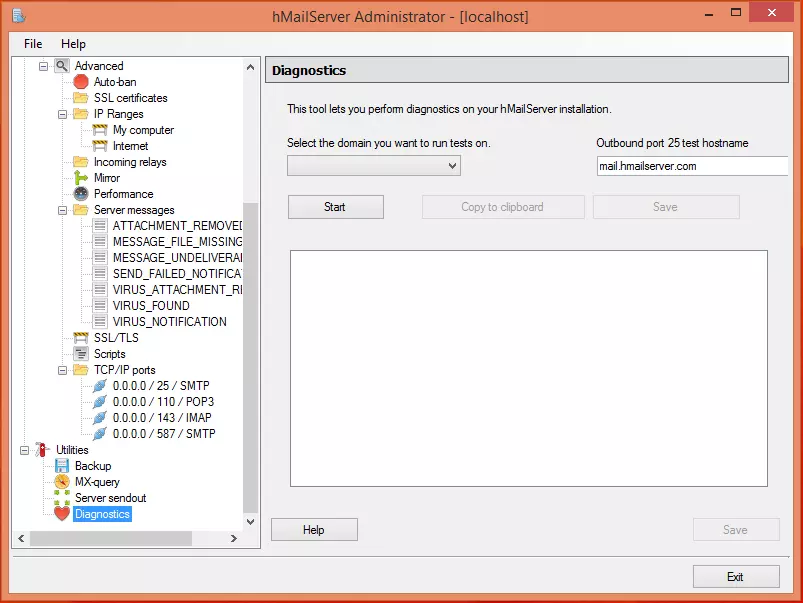 Note: Enable several options, e.g., forwarding, auto-reply, DNS blocklists in hMailServer.
Step23: At the end, expand Utilities to see the options and then click on Diagnostics to give your configuration a try.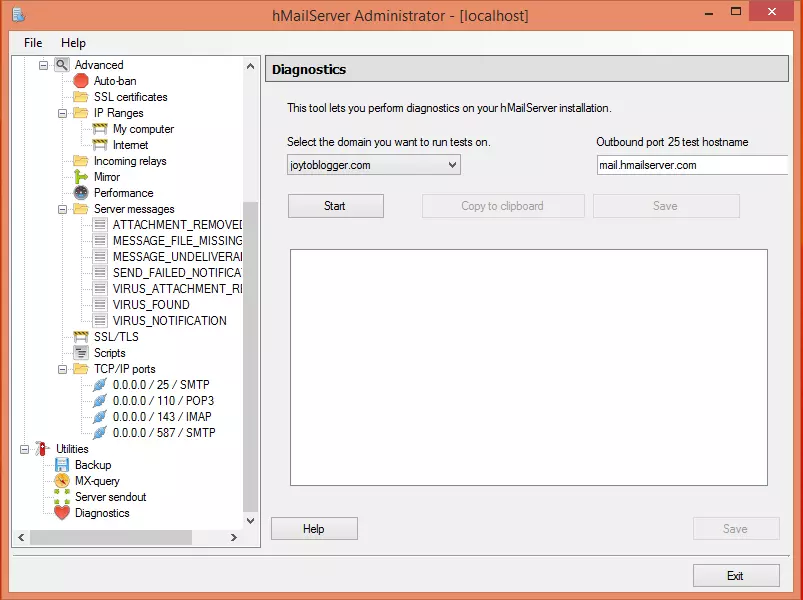 Step24: Open the Combobox "the domain you want to run tests on," select the domain you have already entered and click Start.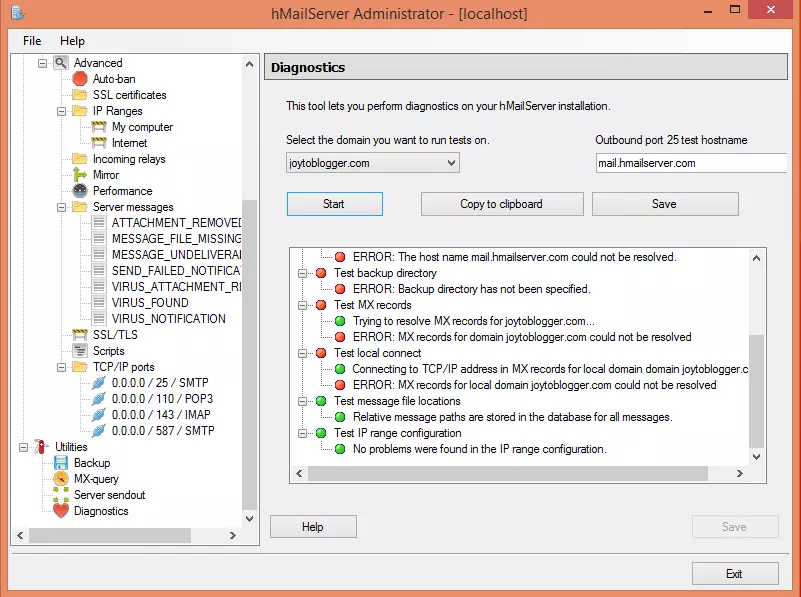 Step25: Your hMailServer is ready to use with basic settings and options.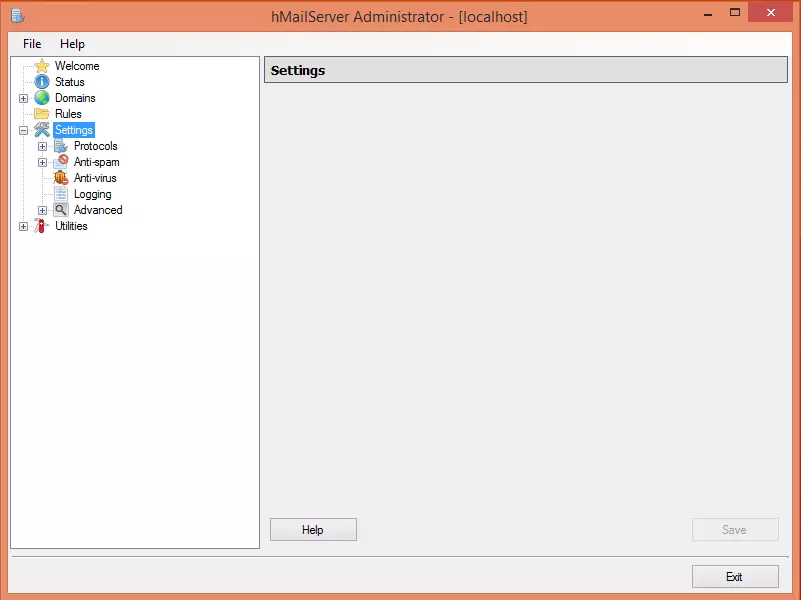 Note: Head into Collect server details to checkout the hMailServer version and database type.
You can test the outbound port; if you face an error here, it means there is a fault in your SMTP server communication. So it needs some troubleshooting.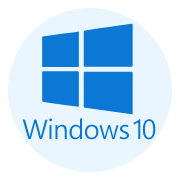 Windows 10 VPS Hosting
Get yourself an efficient Windows 10 VPS for remote desktop, at the cheapest price out there. FREE Windows 10 running on NVMe SSD storage and high-speed internet.
Check Out Windows 10 VPS Plans
Conclusion
As you can see create your own mail server was not that complicated and complex, from comping up with the right Windows VPS to configuring a mail server. Using VPS with mail servers has a significant impact on your business performance since it offers faster response and a more scalable email infrastructure than public email service.
If you have a business that sends and receives a backlog of emails daily, then the idea of having a personal mail server free sounds effective and interesting. Hmailserver is the best free mail server that Microsoft Windows suggests to bring you flexibility, security, and complete control over spam protection.