For over a decade, MetaTrader 4, known in short as MT4, has acted as one of the premier electronic trading platforms. The platform's easy-to-use interface and great design that features many useful features such as charts, graphs, as well as deep financial analysis have made it immensely popular for both retail and professional investors alike. MT4 was released in 2005. And despite the fact that Metaquotes Software released a successor in 2010 (MT5), MT4 has retained its popularity with speculative market traders ever since. For over fourteen years, retail forex traders in significant areas ranging from continental Europe to the Southeast Asia region have an undying loyalty to the MT4 platform.
Despite all its glory, MT4 is infamous for its complex updating procedure. Updating MT4 is generally considered to be important, especially due to security reasons. The program's huge popularity also has led Metaquotes Software to constantly release new versions. In turn, many users that are otherwise happy with their trading experience on MT4 are left frustrated when it comes to keeping their favorite trading platform up to date. Unfortunately, the program runs on very old algorithms. This means that applying newer concept updates on it usually involves an update coming in several batches, which can be even more annoying. However, in this article, we will offer an in-depth analysis of why, how, and when you should update the MT4 platform. But before that, let's go over the basics.
What is MT4?
MetaTrader 4 is one of the most popular tools designed to assist traders in improving their financial performance and increasing the frequency of successful transactions on foreign exchange platforms. The program has a plethora of features and possibilities, ranging from vibrant and colorful charts to in-depth and intricate financial analyses. MetaTrader is still in the process of being improved. As a result, the most recent versions of the program have fewer minor defects and more new features introduced to the platform.
MT4 was first released in 2005 to a hugely positive reception. However, at first, the program was exclusively for Microsoft Windows. With time they also developed the program for other operating systems and on phones as well. Today MT4 and its derivatives run on Windows, MAC OS, Android, and IOS.
MetaTrader 4 became a household name. Although many would question the main factors behind the platform's success, regional preferences appear to be the obvious starting point. Simply said, MetaTrader 4 has become the preferred platform for trading in many regions of the world. An achievement it continues to bear to this day.
MT4 vs MT5 :Head-to-Head

As previously mentioned, Metaquotes Software released a successor to MT4 in 2010 in the form of MetaTrader5. But what are the principal differences between the two platforms? And which one should you choose?
In general, MT5 has a greater diversity of offered services and better optimization. However, MT4 has unintentionally become more popular with time, and its limited services now act as a niche market appeal. So its vast user base doesn't actually use it for its overall superiority to MT5. But they do so because MT4 simply does its limited portion of selective services better. Or at least it has become too familiar to move on from.
MT4 is made to be used almost solely in CFD forex instruments. MT5, however, acts as an all-in-one, state-of-the-art multi-asset trading platform. MT5 covers both centralized and non-centralized financial markets, including stocks, futures, and FX trading instruments. MT5 uses a modern 64-bit architecture and employs multiple CPU threads. As a result, it runs considerably faster. Although MT4 uses an older 32-bit architecture and only runs on a single CPU thread, it still maintains its user base.
MT5 certainly has features that MT4 is missing. Many traders, especially beginners, prefer to jump straight into later versions of MetaTrader. MT5 appeals to diverse traders who use different methods such as hedging and multi-account trading. MT4 has a much easier learning curve. And if a reliable CFD forex instrument is about all you need, then it's probably the better choice of the two programs.
If MT4 seems like your cup of tea in trading platforms, check out our guide on how to trade using MT4.
Should you Update the MT4 Platform?
Many MetaTrader users may be content with their pre-existing MT4 experience and be dissuaded from updating the MT4 platform. Recent analysis shows that abstaining from updates not only will make you miss out on newer features it also poses security threats to your trading operation. Metaquote Software has also done its best to make the process of applying newer updates easier by making MT4's MQL4 code language upgraded enough to act similar to MT5'S MQL5. Not only does updating your MT4 enhance the performance of your trading platform by upgrading its source code, but it is also crucial for your security. Now we all know that security in forex, as well as all other trading formats, is of paramount importance. If security is in any way lacking, then you might as well dismiss all the other potential advantages a trading platform offers.
These days VPS trading platforms are also rising in popularity quite fast. It is quite well-known that older MT4 versions are quite laggy both when offered by VPS services and when you use them through a VPS. Newer versions, however, have added an advanced virtual hosting cloud tool that erases these problems. So whether you are a VPS provider or plan to use MT4 via a VPS yourself, it is highly advised that you keep your MT4 updated to the latest version.
MT4 updates ensure their security through these updates by two main methods. The first method is upgrading the program source code to be more secure and reliable. The second method, however, does not have to do much with the new version but more with the older version. Newer versions naturally get much more developer attention and support compared to older versions. Therefore, running your trades on an older MT4 version is equivalent to running it on a platform with insufficient support and faultier code, which is easier to exploit.
In fact, Metatrader's developers, Metaquote themselves, alerted their user base to this fact when they announced that effective from the beginning of October 2021, all the versions predating the 1320 build will no longer receive any support and will be discontinued. To conclude, the sole "advantage" of not updating your MT4 is avoiding the hassle of doing so. Whereas updating it has all the mentioned pros, and it can be argued to be necessary.
Where to Find the Latest MT4 Versions?
Now that we have established why you need to update your MT4 platform let's get technical. Finding MT4's latest versions on prominent mobile operating systems is as easy as going to their respective stores. For Android, head into the Play Store, and for IOS, boot up your App Store, and the latest version of the program is automatically placed there for your to download by Metaquote Software. However, updating the program on Windows and OS poses considerably more complex challenges.
Both Windows and MAC OS versions of MT4 have an in-built automatic platform in their terminal versions. Running this auto-update program usually is enough to find the latest version for you. It will also prompt you to install it after it finds the new version. However, the MT4 auto-update client is known to sometimes bug out and don't miss the new version. If this happens, you have to manually go to the Metatrader release note page. Here you'll see a list of all the latest versions for different platforms and their release information and changelog.
How to Update your MT4 on Android?
As already mentioned, going for a routine MT4 update for prominent mobile operating systems is rather straightforward. You can find the latest version both in Android's Play Store as well as on Metatrader's home page. Play Store will download and install the program for you once you prompt it via clicking the "Install" button. This button will appear when you don't already have it installed. Once clicked, it will install the latest version. If you have an older version of MT4 already installed, Play Store will instead present you with an "Update" button. Once again, clicking it will replace the older version with the latest MT4 release.
If, for whatever reason, you choose to download the APK file of MT4 for Android from Metatrader4's official website, then the installation process will involve a few additional steps. Usually, when you download a third-party APK file, the phone will block its installation for security reasons. You can bypass this by following these steps:
Step 1: Go to Settings
On Your Android device, find the Settings app, in some devices this app is located at the bottom as one of the essential apps.
Step 2: Tap on Security
Once in settings, find and tap the "Security" tab
Scroll down until you see the "Unknown Sources" option, tap on it.
Step 4: Trust the Third Party Sources
Here a message prompt will appear. Tap on" OK" and thenTick the "Trust" Option. Now you should be able to go back and install your latest MT4 version from a third-party source.
Related Articles: How to install MT4 on VPS?
How to update your MT4 on IOS?
IOS also has the same Metatrader4 update routine as Android. You need to go to your App Store. Look up MetaTrader4 in the search bar, find the app and click install to get the latest version of the famed trading platform on your iPhone. If you already have an older version installed, then similar to the Play Store, you will see the update button, which will update your MT4 to the latest version.
MT4's official website also lists the file for the IOS version if you wish to not use Apple's App Store for whatever reason. It can also be found on other third-party websites, but we advise you to stick to MT4's official website as far as third-party providers are concerned, mainly due to security reasons. IOS also needs to be prompted to "trust" third-party application sources before you can install the app on your iPhone. Follow these steps once you have downloaded the app:
Step 1: Open the Settings App
Grab your iPhone, and head into the settings. Like in some Android phones, this app is usually stickied to the bottom as one of the essential apps.
Step 2: Go to General
Now that you're in settings, navigate to "general"
Step 3: Find the Profiles
Here you need to scroll down and find the "Profiles" section (in some versions, this tab is instead listed as Device Management)
Step 4: Tap on Enterprise App
In the profiles section you''ll find a section named "Enterprise App"
Step 5: Choose MT4 from the List
Here you will find the untrusted apps that are usually from a third party source and as a result, your iPhone suspects them of posing security threats. Choose Metatrader4 from the list. This will prompt the device to trust it.
Step 6: Verify App 
If prompted again by the device, tap the "Verify App" option. Now you can head back to the home screen and find your own MT4 version on iOS the same way as if you downloaded it from App Store itself.
How to Update your MT4 on Windows?
While installing Metatrader 4' latest version on both Android and IOS is mostly an easy task to do, the story is much different when we go on the platform that MT4 was originally designed for: Microsoft Windows. Ideally, the update on PC should be even easier as we can use the MT4 terminal's auto-update tool. However, there's a decent chance that the auto-updater doesn't work as intended. That's when we have to take matters into our own hands. But let's first go over how to automatically update the MT4 platform, and then we'll cover how to do it manually. If you don't already have a version of MT4 installed, then this guide will help you get started with MT4.

Want to Improve your Trading?
Give yourself a better chance at the Forex market by hosting your trading platform right next to your broker.
Get a Forex VPS
Automatically Update your MT4
By default, MT4 is set to automatically download the latest versions of its client. Usually, users don't actually notice that the download has happened as the procedure goes on in the background. To know if a new version is downloaded, you need to check the "Journal" section of your MT4 folders. Follow these steps.
Step 1: Check for Updates
On your MT4 terminal navigate File, and then click on Open Data Folder. Then head into the opened folder and open the log folder and then you will see a numbered file. OPen it to access terminal if there are any updates available, they are detected and are downloading at the moment. You'll see the following log note
10:13:37.730 LiveUpdate: new version 4.00 build 1340 is available
Step 2: Check the Download Progress
Once you see the following log not, it means that the updates have finished downloading:
10:14:17.180 LiveUpdate: finished
In case you want to know all of your downloaded files will be located by default at the following directory:
C:\Users\username\AppData\Roaming\MetaQuotes\WebInstall
Step 3: Restart the MT4 Terminal
Now you should restart your MT4 terminal, and the new updates will be applied automatically.  Now you have the latest version of MT4. Enjoy!
Note: Check your MT4 version from time to time to see if you have the latest version. If you don't, chances are you might want to disable the auto-update feature and do it yourself.
Manually Update your MT4
As noted above, you'll want to check the version of your current MT4 platform installed on your Microsoft Windows-powered PC. Then check your version build with the release log and see if it is the latest version of MT4. If it's not, then we need to reinstall the latest version to override the older version and update it manually this way. To do this, follow these steps for Windows 10:
Step 1: Go to Windows Settings
Click the Windows logo at the bottom left corner of your desktop and click the cog icon to access settings.
Step 2: Go to Apps and Features
Here you need to click  on "Apps & Features". Where you will find a list of installed apps; look for "Metatrader4."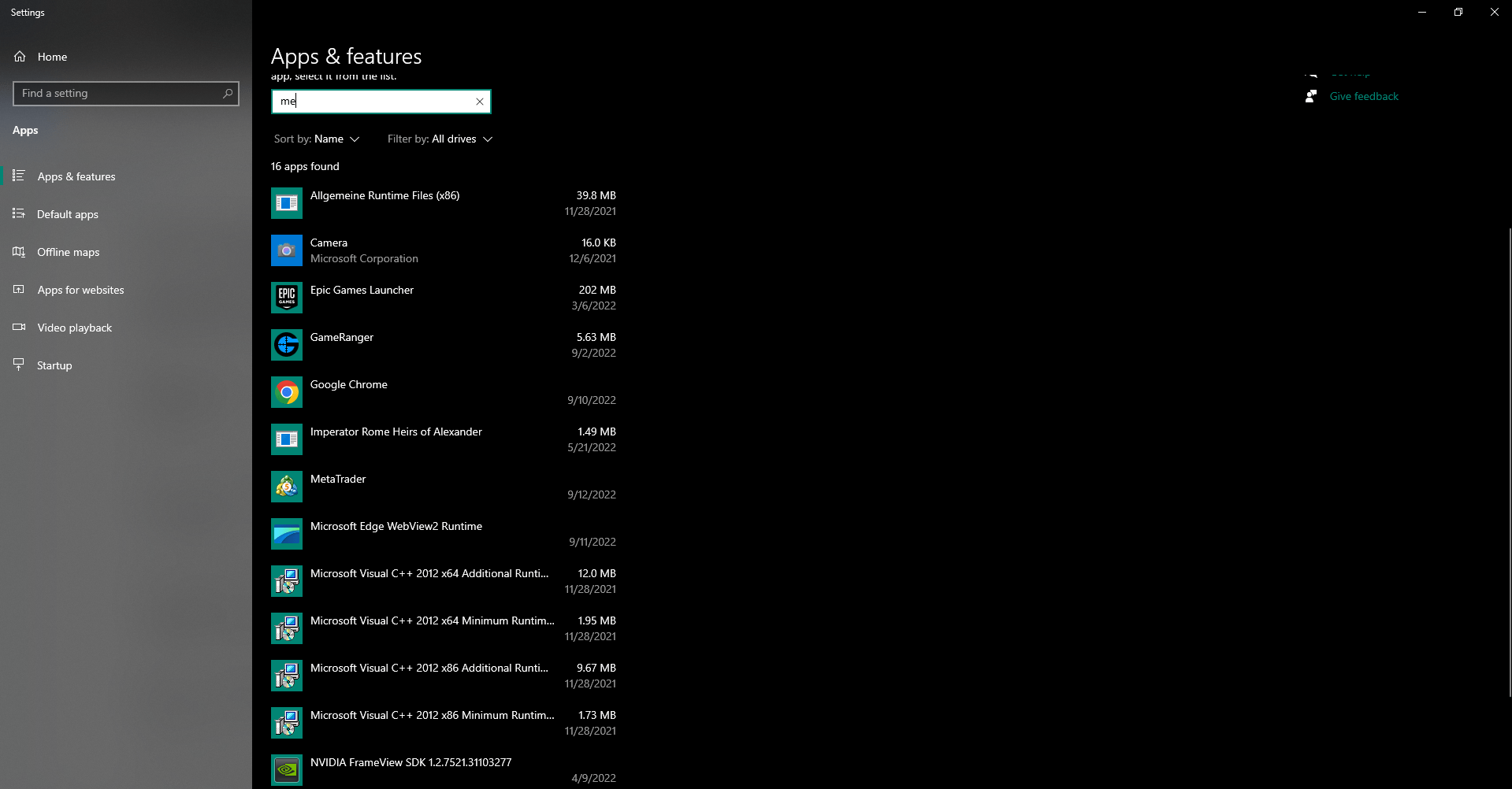 Step 3: Uninstall MT4
Click on Metatrader4 and choose the "Uninstall" option and wait for the wizard to finish the uninstallation process.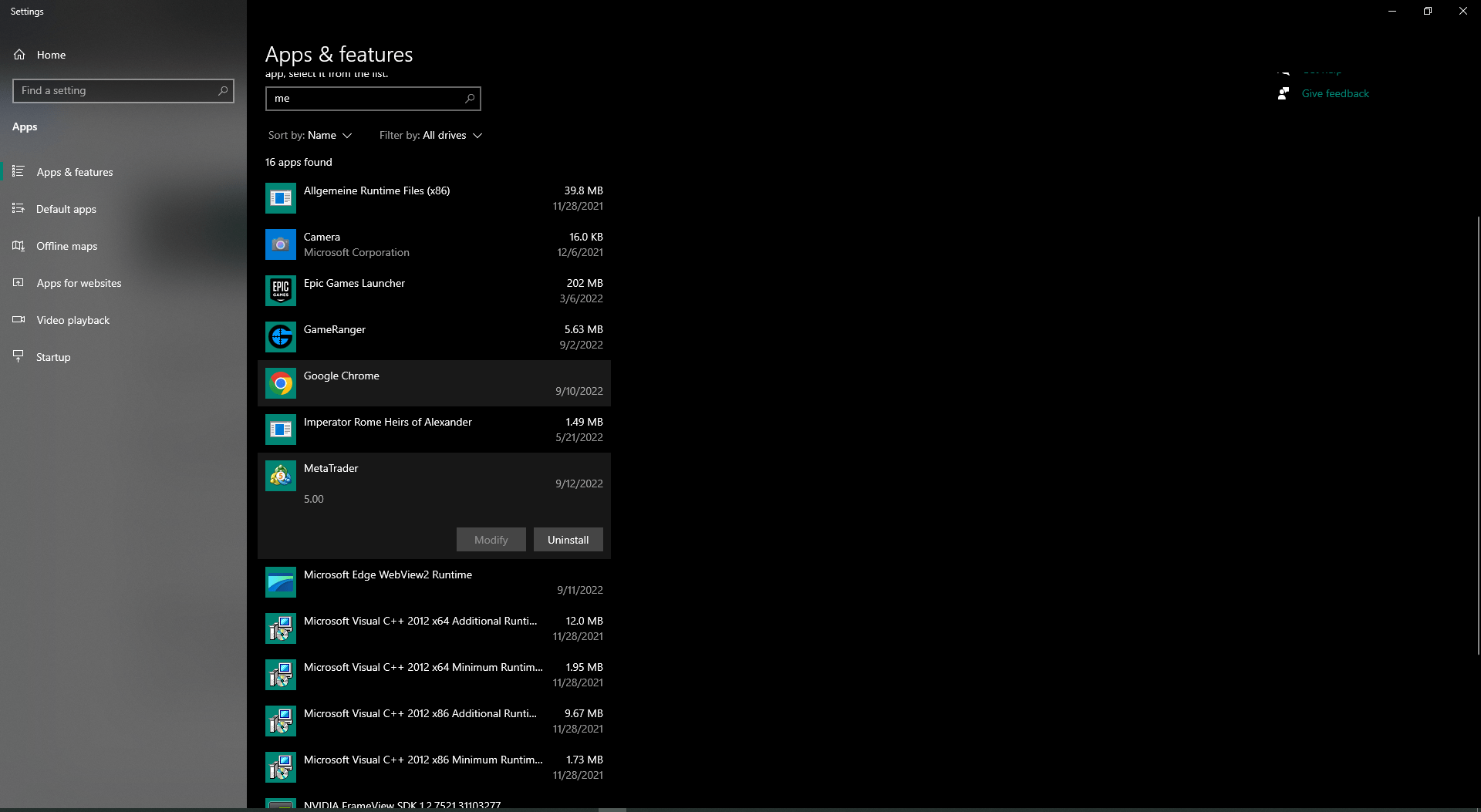 Step 4: Go to Metatrader4's Official Website
Bring up your browser of choice and head into Metatrader4's official website. Here you'll see the logos of the different platforms that support MT4.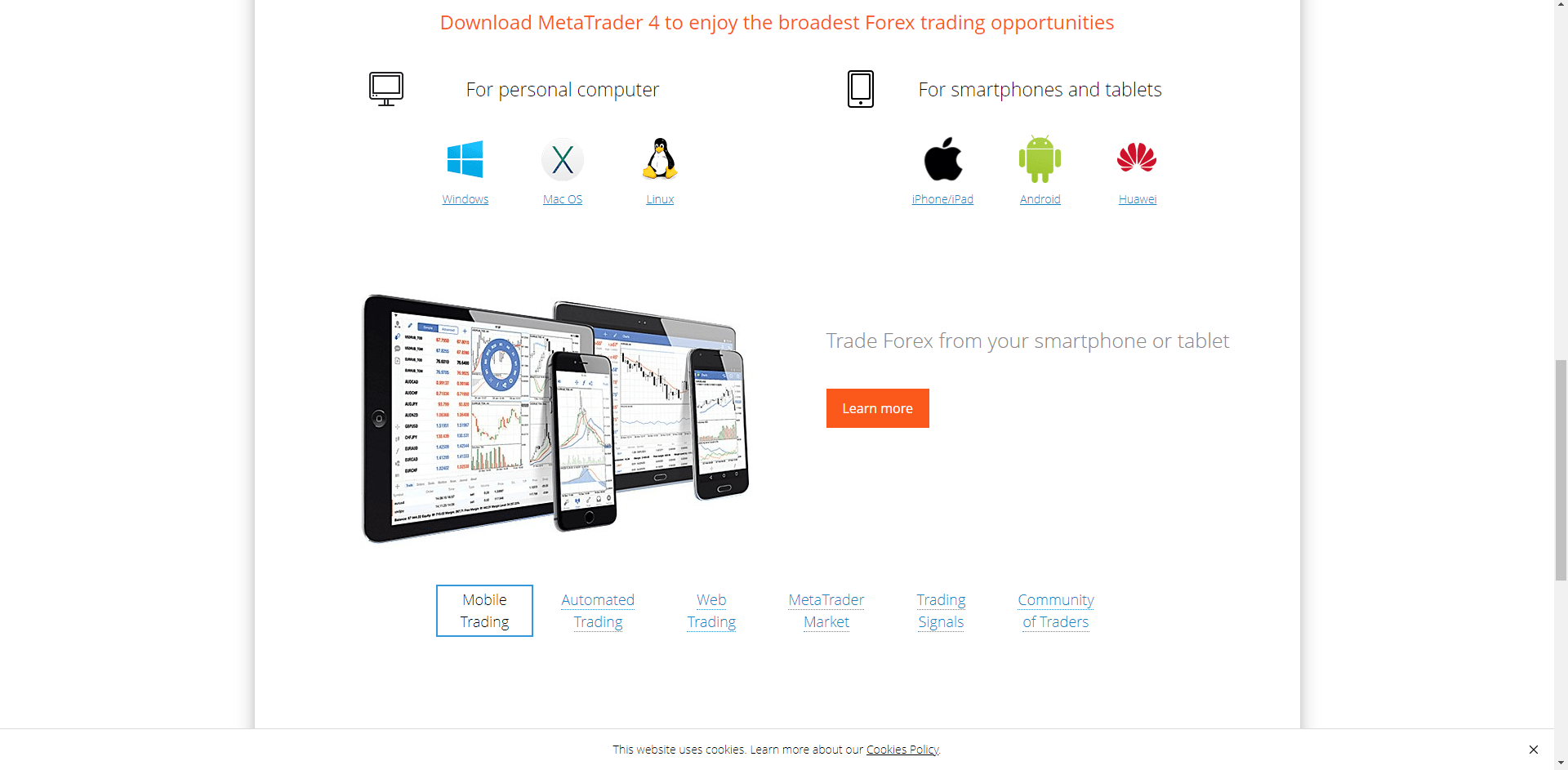 Step 5: Download MT4 Again
On this tab. click on the Windows logo to initiate the download of the latest MT4 version.
Step 6: Install the Program
Run the downloaded file as an administrator. Confirm any prompts the Windows might give you and wait for the program to install.
Now you have the latest version of MT4 installed, and the chances are that this whole reinstallation process also fixes your previously broken auto-update feature!
Conclusion
Now that we have the latest version of Metatrader4 on our PC, the world of online trading is ready to welcome us. No doubt, with close to 15 years of successful service provision, MT4 has cemented its legacy as one of the very best online trading platforms out there. With that said, an excellent trade platform is not everything you need to technically satisfy a successful trader.
Virtual Server Hosts have risen to the occasion to overcome many of these difficulties. Cloudzy is one of the leading examples of a VPS service that specializes in providing services to professional and retail services alike. Cloudzy offers a host of strategic service locations featuring many of the most renowned hubs of international finance. You can access these locations via our Forex VPS service, featuring minimum latency and maintenance time, as well as competitive prices and special offers. Boot up your shiny new MT4 version on our VPS hosts and get to trading smooth and seamlessly.
FAQ
Does Window 11 Support MT4?
Yes. Both MT4 and MT5 trading platforms are supported on Windows 11. Although these programs were not initially written for Windows 11 and their performance is based on Windows 11's legacy support.
Which MetaTrader Version is Better for Beginners?
Both MT4 and MT5 have worked hard to simplify their user experience via a string of updates aimed at boiling things down to the basics. However, if you are a beginner Forex trader who's looking for a simple trading platform, then MT4 is still your best choice, even though it is a 14-year-old program.
Is MT4 Safe?
Yes. One of the main reasons that MT4 has stood the test of time is its impeccable security. It masks your IP address while trading and encrypts your data. Keep your own system secure and your MT4 updated, and you shouldn't be worrying about any security breaches on MT4.