The difference between VPS and cloud hosting is the main thing you need to know to speed up your efforts and make the right decision for starting or developing your business. You are here to choose and pay for the right hosting product to take the first step more realistic.
As the majority of people are wondering about these two web hosting technologies, features, and factors, then considering each technology is crucial to your business success to take the right and secure path to work very well independently.
This article will provide you with all the details you need to learn about VPS and cloud hosting. It'll cover six features for each platform so you can make the best possible choice.
What is VPS?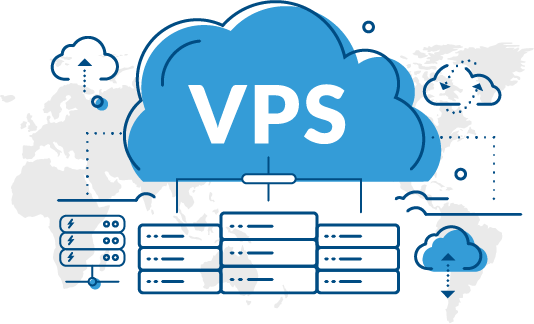 VPS is a virtual private server that uses virtualization technology to serve all users with your website information. When it comes to VPS, it means you will host a website on a specific part of the hardware of a single physical machine includes dedicated storage, CPU, RAM, and bandwidth.
In this hosting type, a powerful physical computer divides into multiple separate virtual private servers to share its resources with these virtual servers. Now a VPS refers to the dedicated section of the physical computer that configures its operating system and runs a set of required services.
This changes into a private space for you that, unlike VPN, won't share your data and files with any other users or team members because it separates your files from other users on the OS level. If you're a small business with a limited budget, VPS can works perfectly for you at a lower price.
What is cloud hosting?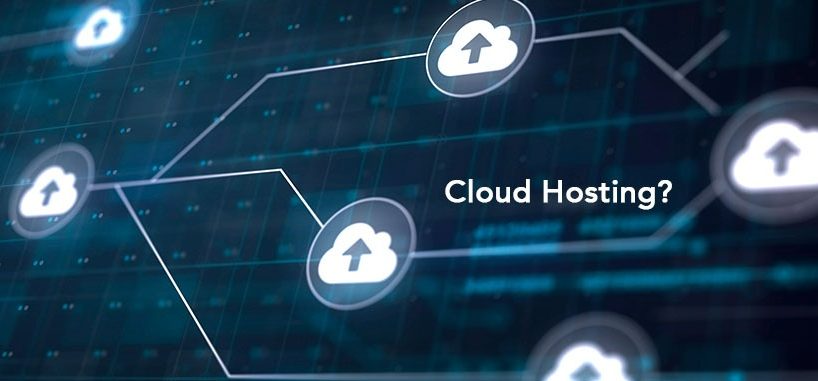 Cloud hosting is one of the most recent technologies for web hosting solutions. The cloud hosting concept points out to web servers division in different geographical locations to supply your website's required hosting resources and support. All web servers execute the same operations and tasks to fulfill your website demands and needs.
Cloud hosting is more popular and useful because the websites using cloud vps hosting are accessible anywhere to host different web hosting services, such as files storage, SSH, FTP, SFTP, and other services on multiple servers simultaneously. Cloud hosting refers to connected virtual and physical cloud servers hosting the application or website, ensuring greater flexibility and scalability.
If you require a reliable hosting service and want to scale up your business anytime and anywhere, then cloud hosting is the smartest move.
Which one is better, cloud hosting or VPS hosting?
That depends on which capability is essential for your business stability and efficiency. If you are looking for greater availability and scalability, then cloud hosting is the best choice. Otherwise, VPS can work for you to launch your business gradually.
Cloud hosting offers broad access to server resources and provides ultimate flexibility with a high level of security and functionality. On the other side, VPS is recommended for those who just want to host a website so that it can be helpful to startups and emerging businesses. VPS does not guarantee up-time should your website fails due to high traffic or a technical glitch.
The difference between VPS and Cloud hosting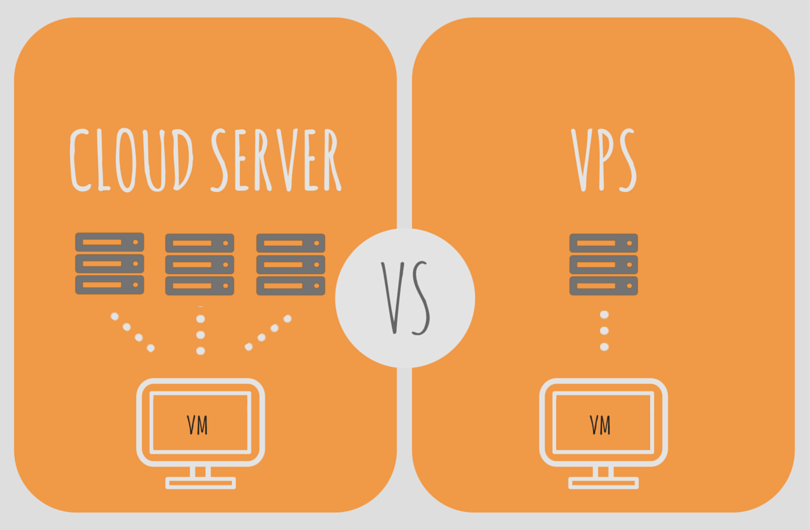 VPS VS cloud hosting: Performance
Performance is the first essential factor that lets you come up with the right hosting platform.
VPS
VPS best resonates with the limited resources, low traffic and speed, and static websites. VPS hosting platforms usually have low performance because they use a dedicated amount of server resources on a physical server.
Other websites on that physical machine won't allow you to get more out of the resources; in that case, your website performance will be affected.
Cloud hosting
Cloud hosting uses a clustering architect that divides all websites loads and required resources into multiple different servers on the network.
Using cloud hosting helps you handle high demands and keep your performance consistent across a cluster of multiple servers because every cluster contains a part of data that will increase your server performance.
VPS VS cloud hosting: Price
VPS and cloud hosting are more cost-effective than dedicated servers and let you benefit from each valuable feature like security, performance, and scalability.
VPS
VPS is affordable than a dedicated server, and its price varies based on multiple factors includes Storage space, Bandwidth, RAM, CPU strength, Self-managed vs. managed VPS Control panel. Therefore, it offers a predictable monthly cost based on the plan and the number of resources you receive every month.
Cloud hosting
Cloud hosting has more useful options and features than VPS so that the monthly pricing can be more expensive. Heavy bandwidth usage storage, CPU cores, and memory required for the server are the parameters that directly impact the cloud hosting price.
VPS VS cloud hosting: Scalability
Several times, it can happen for some businesses that need to increase or decrease their scale and IT resources for different reasons. If you suddenly need more hardware to access extra bandwidth, storage capacity, processing power, and networking, you can get it all by a scalability hosting product.
VPS
VPS is not recommended for scalability; you can make the most of the pre-defined specific resources to cover your primary needs, but you can not expect to extend your resources based on the increasing demands.
Cloud hosting
Cloud hosting supports the scalability feature to expand your server's size, handle added operations, and increase traffic. In this cloud-based environment, you can scale up or down your data requirements according to your business scale. It sounds impressive to experience flexibility in resource management and cost-efficiency.
VPS VS cloud hosting: Customization
Customization is another key feature that website owners should notice to benefit from high available options to deploy their desired business needs.
VPS
VPS is highly customizable. It lets you use advanced capabilities by having root access includes access control, resource management, firewall setting, and choosing the operating system. It enables you to customize and configure your server partition as you wish.
Cloud hosting
It would be difficult to customize settings across multiple distributed servers. With this in mind, Web developers and programmers can not customize the essential options like backend infrastructures control, server shell access, and updating management.
VPS VS cloud hosting: Security
Security comes as a top priority when sharing your information with strangers. Then the importance of selecting the hosting platform that can provide the best privacy, keep your files safe, and protect your website data would be critical. So with hosting security, you can maximize a part of your website security that matters in avoiding hacking, data loss, and malware attacks.
VPS
VPS offers a great security solution to bring privacy, independence, and isolation in compression to the dedicated servers. Since your VPS is separate from other VPS on a server and uses a shared segment of a physical server, the probability of security issues will be minimized even if other websites on other VPSes are hacked.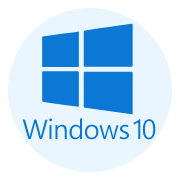 Windows 10 VPS Hosting
Get yourself an efficient Windows 10 VPS for remote desktop, at the cheapest price out there. FREE Windows 10 running on NVMe SSD storage and high-speed internet.
Check Out Windows 10 VPS Plans
Cloud hosting
Cloud hosting also maintains a high-security level to ensure your data safety and availability. The different types of risks can be decreased due to using a firewall, encryption algorithms, etc. These factors assist you in storing sensitive and personal data safely.
VPS VS cloud hosting: Configurability
VPS
A managed VPS includes a pre-defined configuration that causes your hosting provider to watch out for your operating system and every other software to serve a better VPS performance. Direct access to the hardware is the big restriction because every VPS is separate from the others on the server and acts like a dedicated server with a few off-limit configurations.
Cloud hosting
Cloud hosting needs more advanced technical solutions for configuration and starts using. It is right that it supports on-demand scalability and flexibility. However, it has a complicated setup, has no root access. It gives you complete control for customers and is used exclusively with Linux and cPanel.
| | | |
| --- | --- | --- |
| Features | VPS | Cloud hosting |
| Use a segment on a single physical server | Yes | No |
| Use multiple different servers | No | Yes |
| High-Security level | No | Yes |
| Great custom Infrastructure | Yes | No |
| Basic customization options | No | Yes |
| Dedicated resources | Yes | No |
| Unlimited resources | No | Yes |
| Scalability | No | Yes |
| High-Performance | No | Yes |
| High Availability | No | Yes |
| Unlimited storage | No | Yes |
| Cost-effective | Yes | No |
| Flexibility | No | Yes |
| Easy Configuration | Yes | No |
Conclusion
Take into consideration that knowing the difference between VPS and cloud plays a crucial role in launching a successful and productive business. To come up with the best hosting platform, you need a vivid mind map to compare various features and advantages of each host individually to extract the best business infrastructure for better performance and security.
Use the above comparison table to find which one best matches your needs and business size, a VPS either a cloud hosting. There is no doubt that cloud hosting is the best one and offers more capabilities and values, and has no simple management knowledge. Then after choosing one way, I suggest tracking your business performance and measure how easily your business tasks will be done.
FAQ
Is VPS the same as cloud hosting?
In short words, VPS is the same as cloud hosting. The main difference between VPS and cloud hosting is their infrastructure and the way of serving. A VPS plan serves your website on one dedicated server; however, cloud hosting serves your website on multiple divided resources from different physical machines.
What is the difference between web hosting and VPS?
Using VPS delivers you dedicated resources on the part of a physical machine that the activity of other websites won't interfere with yours while web hosting gives you specific storage space to store your website data.
What are the benefits of VPS hosting?
Low-cost
Generates a better root access
Makes reliable environment
Increase your performance