Anonymous Hosting, Anonymous Payment
Free Setup - No Contract.
We accept several different and modern methods of online payment, including PayPal, and anonymous payment methods such as Bitcoin payments, Litecoin, Ethereum, as well as many other altcoins and cryptocurrencies, in addition to Perfect Money. If you are a digital citizen, if you are a Forex trader who dabbles in cryptos, if you want to make anonymous payments, or just like the idea of paying with bitcoin and Ether, you have come to the right place.
Best of all, we provide a cheap Windows VPS plan at a very competitive price of $7.95 a month, which comes with a free Windows too! You can choose any version of the Windows OS you want, from Windows XP to Windows 10, or Windows Server up to Windows Server 2019.
We also offer Linux distros and Unix-based operating systems, offering 1 CPU and 1GB of memory, super-fast NVMe SSD storage, and 1Gbps internet connection for only $7.95.
More than 15 Locations All Over the World
Choose Whatever Location Best Suits Your Business: Get a VPS Closer to Your Users, Remove Latency
You don't have to reveal anything you don't want to. We respect your right to privacy and that's why we've made it optional to fill out the personal info on our ordering forms. You won't even have to worry about the payment. Get an Anonymous VPS and pay with the super-secure "privacy coins" like Monero or more common cryptocurrencies like Bitcoin or Ethereum. We will not send you any emails, we won't place any cookies on your computer, and we won't sell your data to third party companies. Your information is your own.
Guaranteed Uptime
Never stay behind the doors. Always be there for your customers.
Reliable Connectivity
A good datacenter never lets their connections drop or waver.
Fastest Hardware
With fast, dedicated resources, your services are never throttled.
Dedicated Resources
Dedicated resources ensure you will never compete for computing time.
Small Distance to Exchange Servers
Located at several hubs of the Internet around the world.
No Outages, No Failures
Never-failing powerful new hardware, backed with emergency power sources.
Caring Support Team
Your work is important. We know, we care, and we support you.
We know how hard it can be to get decent VPS hosting without giving out your email address and credit card information. Some VPS hosting companies accept Bitcoin and a few other cryptocurrencies, and their services are hardly worth the extra transaction fees. When we mention Anonymous VPS, we mean business — not only do we support more than 30 major cryptocurrencies, we also support payment with super-secure "privacy coins," including Monero. True, their transaction fees are a bit higher than usual, but what's that against keeping your privacy? Get Anonymous VPS hosting and discover how our top-tier NVMe storage, DDR4 RAMs, and 1 Gbps bandwidth can propel your business to a whole new level. Get your Anonymous VPS set up in one of our 15+ global data centers and enjoy minimal latency and extensive peering.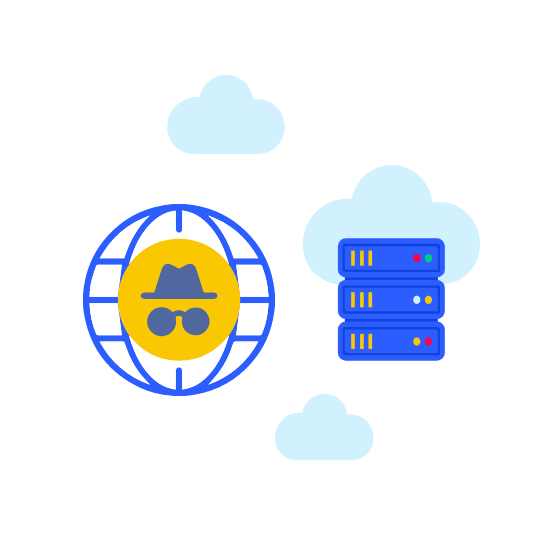 When to Choose Anonymous VPS Hosting
What Our Clients Have to Say
I have tried different VPS companies and I can say I am very satisfied with Cloudzy performance. They have treated me well and had a solid uptime and performance. I do recommend them A+.
Great Service, Very Reliable
Cloudzy provides fast and very reliable servers. They were very helpful when we were migrating from our old providers, quickly resolving any issues we have had. Thier support is great I can't recommend them highly enough!

Great customer support and good services at a good price
I have been using their services for about a year now, and except for a small issue, the service has worked very well all this time. Their customer service is very quick and good, and the price is good.
Find the VPS Solution that Suits Your Needs
Take a look at our wide selection of VPS hosting solutions and find the one that will really synergize with your company. You can always contact us and we'll help you find the plan you need to make your business a success. Get your VPS Solution right now!
What is DDoS secure VPS?
VPS stands for Virtual Private Server. It is a hosting solution between shared servers and dedicated servers that provide the same user experience as dedicated servers at the same price as shared servers. Anonymous VPS is hosting that you can buy Anonymously with cryptocurrencies and perfect money and hide your identity as a buyer.
How can I buy a cheap Anonymous VPS?
Cloudzy takes a variety of payment methods, accepting cryptocurrencies such as Bitcoin, Litecoin, and Ethereum. You can also choose regular payment methods, such as Mastercard, Visa, American Express, Discover, and Paypal.
Can users host multiple websites on secure Anonyomous VPS hosting?
Yes. Users can host multiple websites and web applications on an Unknown VPS. But it would be good to think that it ultimately reduces the performance of websites.
Can I get my money back after buying Anonymous Hosting?
Yes, you can. Cloudzy helps you make the right decision by providing a 7-day money-back guarantee. You can request a refund up to seven days after purchasing an Anonymous VPS hosting and get your money back in full.
Will my IP be shared with other VPS hosting?
No. All VPS servers with Cloudzy receive private IPs that are not shared with any other hosting on that server. That means complete control over your privacy and online activities.
What is the difference between Anonymous VPS and dedicated servers?
A dedicated server, as you describe yourself, is focused on managing your data. It is very expensive, and you have to manage the technical management and support. Cheap Anonymous VPS hosting by Cloudzy offers you the same fast, secure and smooth performance at a far lower price, starting at $ 7.95 per month.
Is my IP been shared with the neighboring VPS hostings?
Not at all. Getting Anonymous VPS hosting means privacy and complete control of your data as a dedicated server. You will receive a different IP that is not assigned to neighboring hosting.
Will the OS be installed on my VPS hosting storage?
Yes, it will. Depending on the OS you choose, Linux or Windows, your 120 to 300MB of storage will remain. You should consider this and choose a VPS hosting plan with the proper storage.
Can I change my VPS hosting plan over time?
Yes! While getting Anonymous VPS hosting means you already have a flexible, smooth performance in your palm, you can upgrade it whenever you think it is needed.
Does Cloudzy take backups from my Anonymous VPS server?
No, Cloudzy does not handle that. As the owner, you are responsible for obtaining backups from your Anonymous VPS hosting. However, you can always rely on our 24/7 support team for any technical issues that may arise.
What is the difference between an Anonymous VPS server and a shared server?
Neighboring hostings always negatively affect the performance of a shared server in the event of an increase in website volume. They all share the same IP that makes everyone face each other's tasks. Resources are fully allocated to inexpensive Anonymous hosting through Cloudzy, and you get a unique IP.
Will my Anonymous VPS hosting be done soon?
Yes, it will. We know that "time is money" in the field of technology. That's why we offer fast performance on our Anonymous hosting.
Pay with Ease
We accept payment with Bitcoin,
PayPal, PerfectMoney, and all your
favorite credit cards -- and more…
7-Days Money Back Guarantee
You'll have Nothing to Worry About.
Get Started Now