Many organizations are turning to the cloud to address their IT business challenges. Two desktop virtualization options commonly used for that purpose are Microsoft Remote Desktop Protocol (RDP) and Citrix XenDesktop. Which one is going to be the most fitting for your work?
Remote Desktop Services (RDS) formerly known as "Terminal Services" is a collection of technologies developed by Microsoft to offer thin client solutions. Using the Microsoft Remote Desktop Protocol (RDP), RDS enables users to connect to server-hosted apps or virtual desktops. Before we get to compare Citrix vs RDP, we need to clarify a few things. So, be patient!
What is Desktop Virtualization?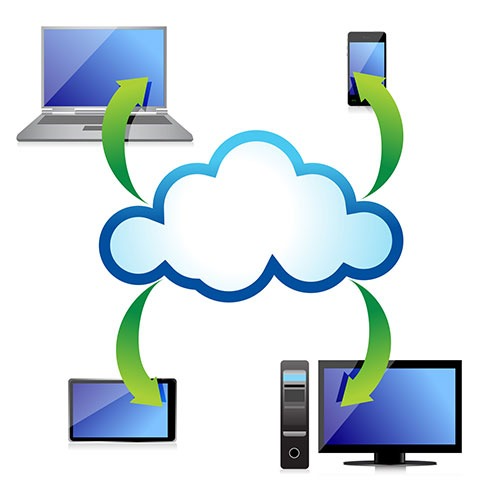 Desktop virtualization is a system that enables users to replicate a load of workstations to control a desktop from a connected computer, remotely, or locally. If an operating system is running on a network machine and uses hardware virtualization, it's called local desktop virtualization. Here all processing and workloads run on local hardware.
Remote desktop virtualization is a typical use of virtualization in a client/server computing environment. Utilizing Remote Desktop virtualization helps users to run operating systems and programs from a server inside a data center, while all user interactions occur on client computers. A client computer may be a laptop, a thin client device, or a smartphone.
As a result, IT divisions have more unified power over software and desktops and can optimize their investment in IT hardware by remote access to shared computing resources. Desktop virtualization is a core feature of digital workspaces that focuses on the virtualization of applications.

Need a Remote Desktop?
Reliable, high-performance RDP servers with 99.95 uptime. Take your desktop on the go to all the major cities in the US, Europe, and Asia.
Get an RDP Server
What Is a Remote Desktop and what is it used for?
Windows Remote Desktop Connection service allows users to connect to a remote Windows PC or server over the Internet or on a local network, giving them complete access to the applications and apps on it. Main peripheral devices like your keyboard and mouse are shared with the remote computer, allowing you to use and monitor it as if you were sitting right in front of it.
This is made possible by Microsoft's Remote Desktop Protocol (RDP). Only certain versions of Windows support RDP connections. This specialized protocol competes with the open-source Virtual Network Computing (VNC) protocol .
For an RDP connection to work, you need two components — the RDP server and the RDP client applications. A standard RDP server is a Windows PC or Windows Server that you connect to and monitor. The RDP client is a PC or mobile computer with an RDP client program installed from which the server is controlled.
The following section will review some facts about the remote desktop, helping you understand how it functions more thoroughly.
Some facts about remote desktop
A centralized server is a server that hosts the remote desktop connection. It is often referred to as the "remote desktop server." User accounts are essentially the portions of the central server dedicated to each user/employee.
A session is created when you initiate a remote desktop connection and ends when you log out.
In typical desktop computers, all the processing power takes place inside the tower, where the hardware, operating system, and software all reside. You interact with mouse and keyboard inputs, and the computer interacts with you through the screen.
For a remote desktop computer, the tower is far away. You connect to it using certain protocols over secure connections.
You have the freedom to log in on your virtual machine from essentially anywhere. All you'll need is a web browser with a connection to your firm's centralized server, then log in. Alternatively, you can use the remote desktop software on your Windows or Apple machine. In most instances, this appears to work faster than a web browser. In today's technological world, remote desktops give people the freedom of working remotely.
What is Thin Client Technology?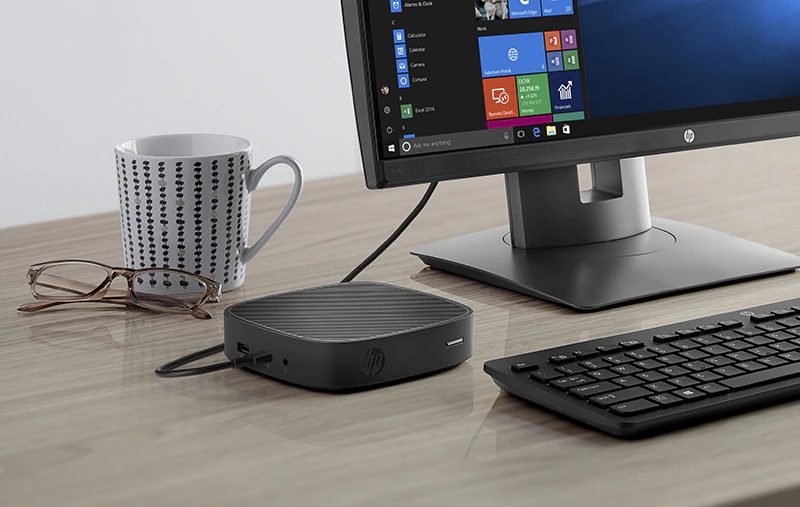 In short, A thin client is the opposite of a fat client's strategy. The Fat Client processes applications locally; that is the standard for most computers. However, when users access a search engine, a search request is submitted to a server in a data center where very robust machines search billions of data segments to match them with the user's request. The result is then transmitted back to the user's device, where the user's web browser shows the information.
Instead of delivering web pages to the user's computer, thin client technology deals with apps and the presentation of these apps. When a program like a word processor is used on a thin client, it exists, is processed on a strong collection of remote machines in a data center, and is portrayed to the user on the thin client.
We have discussed some introductory concepts; we will now get familiar with Citrix and explain how it works.

Need a Remote Desktop?
Reliable, high-performance RDP servers with 99.95 uptime. Take your desktop on the go to all the major cities in the US, Europe, and Asia.
Get an RDP Server
What Is Citrix and How Does It Work?
Even though the term "Citrix" has been widely used for various products over several years, Citrix is primarily the name of a global organization that produces tech products bearing similar names, such as Citrix Virtual Apps and Citrix Virtual Desktops. Citrix Systems, headquartered in Florida, USA, is a technology vendor that enables remote access functionality for apps and computer desktops.
Citrix System is a US-based corporation working on virtualization technologies. Citrix offers technical virtualization services through its virtual applications (XenApp) and virtual desktops (XenDesktop). Citrix wrote the original RDS code and licensed it to Microsoft. Citrix's central management tools make expanding and monitoring infrastructure simpler than ever before. It ensures the user experience is more significant than a conventional desktop. The industry leaders for Thin Client applications are Citrix Systems and Microsoft Corporation.
Citrix produces a range of leading technologies that many world-famous companies use.  They concentrate mainly on Thin Client and Virtualization but have also extended to other fields, including networking technologies. Through thin client technology such as Citrix Virtual Applications, we can use our computer to remotely monitor an application installed on another machine. Applications are processed remotely on that separate remote device.
Comparison of Citrix vs RDP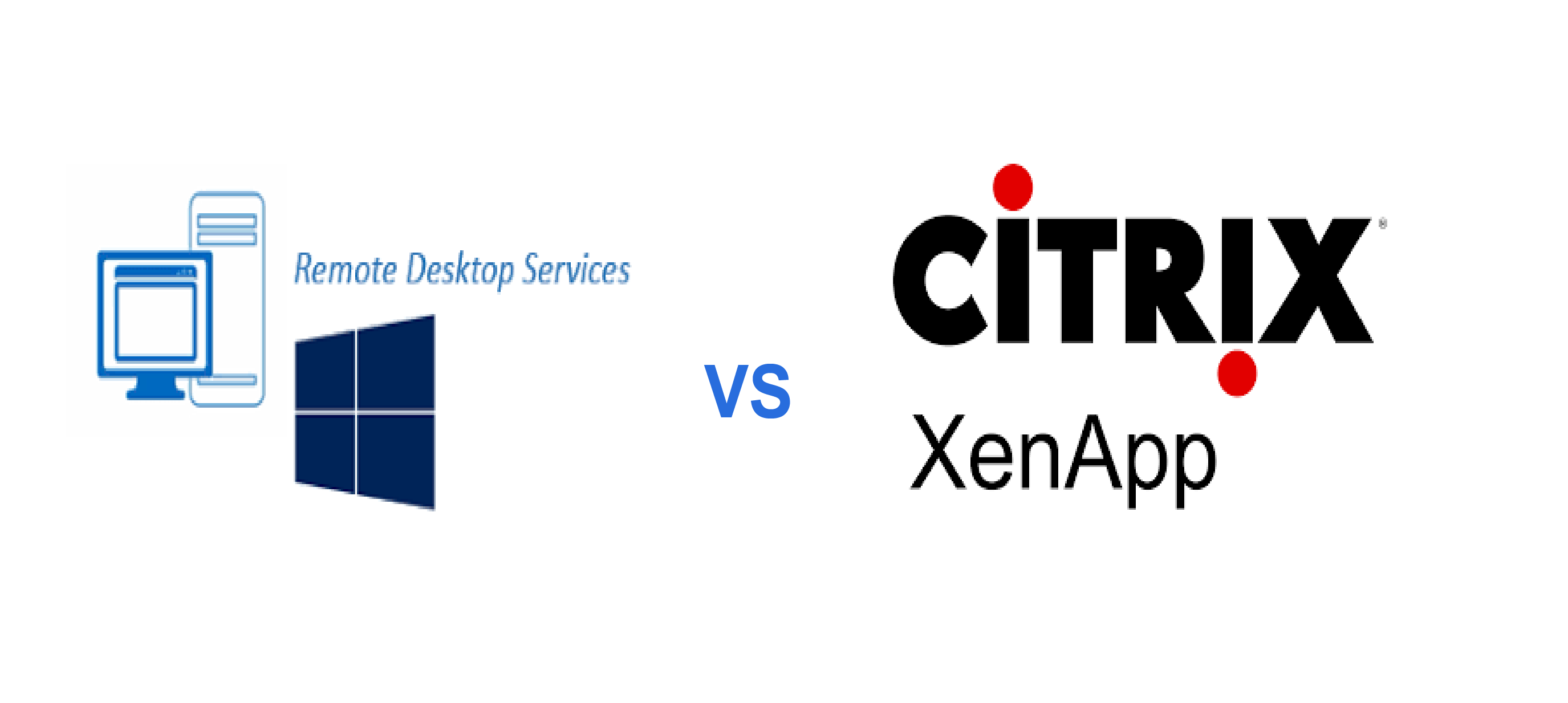 We are going to compare Citrix vs Remote Desktop or more specifically RDS (the services based on RDP) from several aspects.
Citrix VS RDP: Underlying Protocols
Microsoft's Remote Desktop Services uses Microsoft's Remote Desktop Protocol, or RDP, naturally. The only thing you need for a remotely controlled Windows desktop is a PC running an RDP-capable version of windows, an RDP client software on your device, and a stable internet connection.
RDP provides a high level of flexibility in that aspect. Citrix has its own decent protocol (HDX) that minimizes bandwidth requirements, enabling you to use Citrix Virtual Apps and Desktops for offices or machines with slower internet connections.
Citrix VS RDP:Performance
When using RDS, every user directly works with Microsoft's RDP on the server. This is the reason that RDS doesn't scale well. All users share a finite amount of resources on a single RDP server. So, the more users are online, the worse the experience gets.
As we mentioned above, Citrix does a better compression of data when transmitting, therefore works better for slower connections. On the other hand, Citrix users interact with the HDX protocol on top of the RDS. So, this protocol acts as a buffer between the users and the server, compressing the data in the meantime as well. It's no wonder that Citrix provides a faster and more seamless experience.
So in short, Citrix XenDesktop performs better than RDS:
RDS users fight over server resources
Citrix scales better than RDS
and Citrix does a better job at compressing data transfers.
Citrix VS RDP:Scalability
There's one more problem in scaling with RDS: when a server reaches its max capacity, new users are dropped and they can't connect. Even worse, existing users may be cut off without warning! When a Citrix solution gets near its max capacity, you just need to request more resources. No hassle. So in short, XenDesktop does better at scale than RDS.
Also Read: Connect to Windows VPS via RDP on Android
Citrix VS RDP:Usability
Another drawback of RDS or RDP is that you will need third-party apps and client software for accessing the remote desktop from most devices. More damage to a performance that wasn't that great, to begin with. Most of the time, you need to disable a lot of Windows features just for the RDS to start working. This makes RDS better suited for application virtualization, rather than full desktop virtualization.
This is an area where Citrix really shines with years of experience producing virtualization technologies professionally. In the usability of RDS vs Citrix, Citrix provides better usability.
RDS is resource-intensive
RDS relies on third-party client software on many devices.
Citrix has an optimized experience delivery
Citrix VS RDP:Management
The RDP operator must be very skilled. Without essential reserve assistance to be provided in the event of a framework failure, the consequences may be severe. On the other hand, Citrix Virtual Apps and Desktops have a fantastic management interface that gives precise control of both the apps and desktops. Users can use their own devices, whether a handheld device or a PC.
Citrix VS RDP:Reliability
RDS requires an always-on connection. If your remote desktop connection fails, your session will too. No warning. No saving. Citrix, however, has a feature called Session Reliability. This feature keeps users active even on fluttering connections.
Citrix VS RDP:Cost
RDP shines in cost, especially for smaller use-cases, like for someone who just needs a VPS and a simple remote desktop. RDS has free versions for both personal and business uses. On the other hand, Citrix has no free version, even for personal use.
Citrix vs RDP in a glance
Performance
Speed

 

Usability

 

management
Cost

 

RDP

More users less functionality

Needs fast internet connection

RDS relies on third-party apps

Needs skilled operator 

It is cheaper and has free versions

Citrix

Faster and better for multiple users

It is usable with a slow connection

Citrix has optimized experience delivery

Easy to use for normal users

It is more expensive and does not have free versions
In addition to the Citrix vs RDS comparison, it is good to know the right features of a proper Remote Desktop technology. The following section is about helping you choose the most suitable remote desktop technology.

Need a Remote Desktop?
Reliable, high-performance RDP servers with 99.95 uptime. Take your desktop on the go to all the major cities in the US, Europe, and Asia.
Get an RDP Server
How to choose the Best Remote Desktop Technology?
Here is the list of features that make your remote desktop experience great.
Unattended Access
Aside from RDS vs Citrix comparison, If you use a remote desktop technology as a support technician, you may often need to connect to a client's computer when no one's physically present at the remote end. So, At this point, you will need unattended access; With this feature, you don't disrupt the client to grant control whenever they need help.
Instead, you can enjoy having single-click remote access to the client's PC anytime.
Multi-Window Control
In situations where you must support several users simultaneously, being able to open several remote desktop control windows can be very helpful. Some remote desktop technologies let you easily switch between multi[le remote control windows or even transfer files between them using its built-in drag-and-drop file transfer feature.
Built-In Chat
Generally, instant messaging is very important nowadays, and even above our Citrix vs remote desktop comparison, instant messaging for remote tech support is a great facility. As soon as the remote connection is made, the chatting capability will enable you to send each other messages and be aware of what's happening remotely.
Multi-Session capability
Even though some of the remote desktop tools have certain limitations on the number of support sessions that you can run simultaneously, some people need to be able to multitask. This feature provides a convenient way to switch between sessions in the process.
Beginner-friendly interface
As remote desktop technology, an essential characteristic of a remote desktop technology should be how it looks. Can it be easily used by all customers, even the ones who are not professionals? As Not all customers are necessarily technical-wise knowledgeable, it is very crucial that your remote desktop tool has a pleasant interface and is beginner-friendly, making it easy to use. The point is, whether you go either Citrix Remote desktop, you should choose the one you feel comfortable working with.
Security
When you want to get familiar with the RDS vs Citrix similarities and dissimilarities, you should choose one, knowing that Part of a good service is sufficient security. Being assured of the security features means that the data remotely accessed will always need to be fully protected. So, you must ensure you select the solution that guarantees you total data security, like Cloudzy. Of course, Before picking a solution, you must go beyond comparing Citrix vs remote desktop against each other and check all essential factors deeply. For example, What measures has the provider taken to ensure security? 
After reading this Citrix vs RDS comparison article, you can also check out the reviews. In particular, you should Look for users' opinions on the web or ask your question about the software directly from someone you know has already been using the product. Research until you gather enough information to be sure the tool will meet your security expectations. 
great support
Offering excellent customer support is not essentially limited to the Citrix vs remote desktop checklist; it is an essential factor when choosing any service. In this case, whether you want to reconfigure the software to customize it to your requirements or even learn how to use it more efficiently, you should be able to access quality support from the provider.
Conclusion
Remote Desktop Protocol (RDP) is a Microsoft-developed protocol that is native to Windows, so it's only natural that it performs 'natively' on Windows. Both use their own home-developed protocols as the base of their virtualization services. Though, Citrix's HDS performs better than Microsoft's RDP.
Both methods are outstanding alternatives as long as you grasp and adapt the right tool to the right conditions. Microsoft RDP could be the right option for you If you want to remotely distribute or publish applications with low graphical specifications and you have ample bandwidth.
From the end-user point of view, Citrix XenDesktop provides very similar features to Microsoft RDP. But it is more lightweight, easier to manage, and operates faster than RDS. Now that we have clarified the difference between Citrix vs RDP it is up to you which one you need or want to use.
FAQ
Is Citrix the same as RDP?
RDP provides you with more flexibility; However, Citrix comes with its protocol, HDX, which reduces bandwidth needs and works better with slow network connections.
Which one is more cost-effective, RDP or Citrix?
Comparing RDP vs Citrix prices shows that RDP is more cost-effective. In particular, for those users who need a simple VPS or remote access. Unlike Citrix, RDP offers a free version that can be helpful.
How is Citrix used?
By using Citrix, remote client users will get a unique virtual OS from a hypervisor, allocating them dedicated resources.
Is RDP better than VNC?
Generally, RDP is faster and more practical; however, both can be helpful for particular use cases, making them proper for different users.
Note: You can download the PDF version of this article by clicking on the button:
Download