Best server with full admin access
Lightweight Botting RDP Servers
Premium Botting RDP Servers
Free Setup -- No Extra Charge
Affordable Botting RDP Servers Located All Over the World
Choose Whatever Location Bests Suits Your Needs
Buy a Botting RDP Server with Full Admin Access at 15 Strategic Locations
Use high-performance server
solutions for remote desktop requirements
Are you searching for the most suitable botting RDP? You are in luck; Cloudzy delivers the best botting RDP solutions with full admin access at a reasonable price. So you can easily access the best Remote Desktop Server Solutions hosted on the latest infrastructure for diverse use-cases like Forex trading, SEO tools, etc. Moreover, getting our botting RDP plans enables you to use NVMe storage, DDR4 RAMs, 1 Gbps bandwidth, and other valuable features.
Guaranteed Uptime
Reliable, stable connectivity with our guaranteed 5 Nines Uptime.
High-Spec Infrastructure
Servers on top-tier infrastructure ensure your workload is processed smoothly and on time.
Zero Resource Contention
Optimized Server Solutions providing ultimate hosting isolation and zero resource contention.
Worldwide Data Centers
Servers located at 15 strategic locations around the globe.
Risk-Free
We offer you 7-days moneyback guarantee, in case you didn't like your service.
24/7 Caring Support
Your work is important. We know that and we care -- and so does our customer support.
RDP (Remote Desktop Protocol) is a protocol that provides you with a graphical interface to connect to other devices over the internet. As for the Botting RDPs, you can use them to make most of your activities much more straightforward. RDP offers you admin access to run bot applications 24/7 via boting RDP.
When it comes to doing repeated activities, Bots are faster than humans, which means They help you save time and your business to use the money on human labor. When you buy botting RDP, you and your business can contact many consumers, resulting in a better user experience. Not to mention that botting RDPs are incredibly adaptable and can be used for various things. Not only do we have so many satisfied customers and fantastic reviews, but we will give you a 7-days money-back guarantee at Cloudzy so that you can buy botting RDP without any pressure.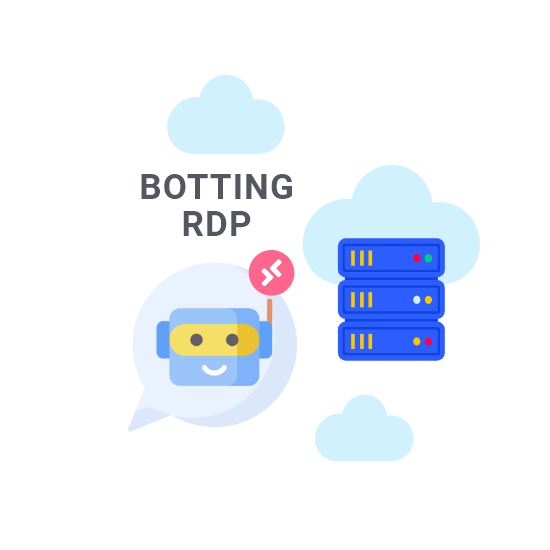 When to choose botting RDP: Use Cases
Bot traffic is internet traffic coming from automated software designed to complete repetitive, mainly simple tasks. In other words, Bot traffic is non-human traffic to a site and is the result of programming applications running automated trials in botting RDP. You can buy botting RDP so that it helps you by performing repetitive works quickly. Please pay attention that we can use bots in the RDP for both great and terrible causes; For example, bots are capable of checking sites to ensure that all associations work, helping you benefit from its powerful facilities.
HitLeap is a traffic exchange service mainly used to increase website traffic, particularly its numerous customers. This traffic exchange administration can connect those who need to advance their business via getting hits and views. In addition to Hitleap qualities that efficiently ensure you get the desired amount of traffic for your site, it would be best if you use it in an RDP. At cloudzy, we offer multiple plans which can help you meet your requirements, so you can go ahead and take the first step: buy botting RDP!
Instagram bots help you perform things such as preferring, remarking, and following various records on Instagram via robotization. Using Instagram bots as your assistant, you can standardize restrictions and flaws. In other words, When you express hashtags or records to a target, the bot is capable of completing the whole process for you. You can always buy botting RDP to present a bot in it and run Instagram bots.
SEO tools can help you improve your website's rank. Whether you are a professional SEO specialist or a busy website admin, getting our botting RDP VPS is the best solution as it helps you achieve the full potential of these tools. In addition to great qualities, using our plans with Hands-off SEO tools such as GSA, Mass Planner, and Jarvee are the perfect combinations because it just requires you to launch the software in it to get results. Of course, with our 99.95% uptime, you will not even need to check on them, so we guarantee to deliver a reliable way to utilize SEO tools at affordable costs.
The primary purposes behind introducing a Botting RDP administration in Forex trading are its abundance, easy usage, and availability. RDP is endeavored to run MT4/MT5 exchanging accounts with no impedance, making Meta-exchanging easier. Moreover, A continuous information boosting cycle running simultaneously with your exchanging RDP administration provides you with reinforcement and Security.
What Our Clients Have to Say

When our company decided to get into the USA's market, we made the mistake of hosting the website using our old VPS provider in France. That made our new site lose a lot of SEO ranking but we were lucky and changed to Cloudzy quickly. Now we use their USA VPS with Windows Server and we are totally pleased.

I run a small design company and before we got a VPS from Cloudzy, rendering graphics took up a lot of time. Our workflow was regularly interrupted because we had to wait for the files to be rendered before starting on another design. All that changed when we bought a Windows VPS from Cloudzy. Now, we can afford to focus on creating better designs without worrying about delays and computation costs.

Since I tried Cloudzy's Windows VPS plan, I have come to understand that the VPS plans of other hosting providers are very overpriced. Good quality but great prices. Thanks, Cloudzy.
Find the VPS Solution that Suits Your Needs
Take a look at our wide selection of VPS hosting solutions and find the one that will really synergize with your company. You can always contact us and we'll help you find the plan you need to make your business a success. Get your VPS Solution right now!
FAQ | Buy Botting RDP VPS
What is RDP (Remote Desktop Protocol)?
RDP makes a secure connection between two computers and lets users access another computer with full multimedia support remotely. Using RDP is to let the end-user control or work on any other system remotely.
What is botting RDP?
Our botting RDP plans are what you can use to run your bot application 24/7 with full admin access. Various applications, including Instagram bots, FB bots, Forex trading, SEO tools, complete node applications, theta tv, and many other things, take advantage of botting RDP, making all activities more robust and easier.
How Botting RDP Works?
You can control your remote Windows machine by botting RDP as if you are working on it locally. So you will take advantage of our resources and latest infrastructure while having full Admin Access with RDP hosting, just like your own desktop.
Which payment methods do you accept?
We accept various payment methods such as Visa, Mastercard, Bitcoin, PayPal, Perfect Money, American Express, Other cryptocurrencies.
Pay with Ease
We accept payment with Bitcoin,
PayPal, PerfectMoney, and all your
favorite credit cards -- and more…
7-Days Money Back Guarantee
You'll have Nothing to Worry About.
Get Started Now