Economic Debian VPS
Premium Debian VPS
Free Setup - No Contract
Debian is a Linux distribution made up of free and open-source software. Debian is developed the community-supported Debian Project and has an active community on the Internet. Our dedicated Debian Virtual Private Servers give you full functionality of the Debian operating system as well as full root access.
You can simply start using Debian Remote Desktop on your VPS and connect to it remotely using VNC or XRDP. We also have a guide for using Debian as a remote desktop.
More than 15 Locations All Over the World
Choose Whatever Location Best Suits Your Business: Get a VPS Closer to Your Users, Remove Latency
Discover our Debian VPS offerings and get your server equipped with the Linux distro that has birthed so many others. Get your Debian VPS on our high-performance architecture, boasting ultrafast NVMe storage and DDR4 RAMs. Instantly set up any version of Debian with the 1-click install feature of your VPS dashboard.
Guaranteed Uptime
Reliable, stable connectivity with our guaranteed 5 Nines Uptime.
High-Spec Infrastructure
Servers on top-tier infrastructure ensure your workload is processed smoothly and on time.
Zero Resource Contention
Optimized Server Solutions providing ultimate hosting isolation and zero resource contention.
Worldwide Data Centers
Servers located at 15 strategic locations around the globe.
Risk-Free
We offer you 7-days moneyback guarantee, in case you didn't like your service.
24/7 Caring Support
Your work is important. We know that and we care -- and so does our customer support.
What is Debian VPS Hosting?
Debian is one of the oldest Linux distros still thriving today. Made from scratch, Debian has been the source for many popular distributions, including Ubuntu and Kali Linux. Aside from its seniority, Debian distinguishes itself as a distro perfect for hosting and efficient enough to be a natural choice as the operating system of a VPS. Our Debian VPS hosting is curated with just the hardware components most compatible with the OS, ensuring maximum optimization and maximum performance. Get an edge over standard VPS solutions using our tailor-made Debian VPS, offered in 14+ global locations.
As two of the most popular server distros, Debian and Ubuntu get compared a lot. They seem very similar at first glance, so many users need a way to decide which is the better OS for their server.
Debian is a super-stable, secure, and fast distro with more than two decades under its belt, and it has proven that experience counts for something. The community-developed distro carefully vets each package for months before releasing a new update, so there is zero risk of updating your server. It can also be implemented as both CLI-only or with a GUI desktop environment.
Ubuntu is a Debian offshoot. That means it uses Debian for its core architecture and builds around it. It has become more popular than Debian in recent years, but it is definitely not stable, and it is filled with so-called bloatware that may slow your server down.
We compare the two distros in more depth and from more angles in this article on Debian vs Ubuntu.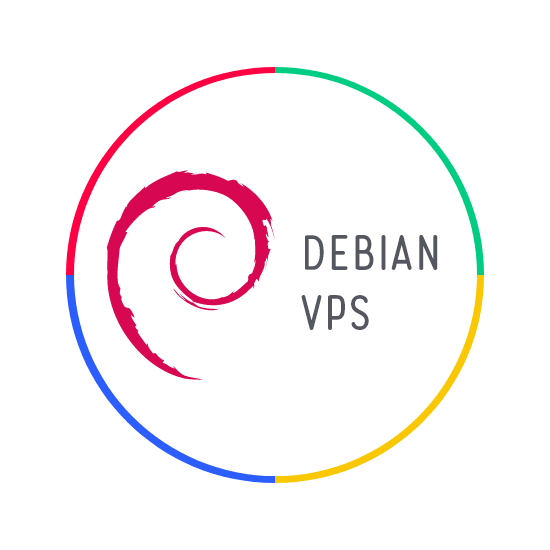 When to Choose Debian VPS Hosting?
What Our Clients Have to Say

Finding Cloudzy has saved my business. I had started a food and cooking website last year and I spent a significant amount of money on professional web design and getting the best content writers. It was slow-going at best and I could not get my website to rank on even the second page of Google searches. I was getting desperate when my friend told me about Cloudzy. Server quality can have an unbelievable impact on your website ranking and SEO, apparently. I immediately switched providers and got a Debian VPS after consulting with the salespeople at Cloudzy. The change has been positive and incredible. Thank you, Cloudzy, for saving my business!

I'm writing an honest testimonial and I will try not to sound like I'm promoting Cloudzy but that's hard. I'm so happy with their servers that it's hard to sound impartial. I started using a Debian VPS about 2 years ago when I first put up my weather prediction app. No matter how much data there is to process, the server has never crashed or slowed down. Thanks to Cloudzy's servers, my web app went from a proof of concept to a sponsored product. If you're thinking about getting a VPS, do not hesitate to contact them.

There is more to choosing the right hosting provider than a shiny website and expensive pricing. I used to get my servers on these criteria before and it cost me, big time! Now, I know better. Cloudzy may not have the prettiest website graphics to package their VPS plans, but it delivers quite decent servers. That's what should matter. I bought a Debian VPS 3 months ago and I only wish I'd done it sooner.
Find the VPS Solution that Suits Your Needs
Take a look at our wide selection of VPS hosting solutions and find the one that will really synergize with your company. You can always contact us and we'll help you find the plan you need to make your business a success. Get your VPS Solution right now!
Is Debian VPS faster or better than a regular VPS
Yes, it is. That's because it has been optimized to perform well with Debian server editions. If you reinstall some other OS, however, it may lose some of its performance efficiency.
Will my IP be shared with other VPS instances on the physical server?
Certainly not! One of the main differences between a VPS and shared hosting is that with a VPS, you get your own fixed, unique IP address. So, you won't have to worry about security problems or being blacklisted because of other users' actions.
Can I host multiple websites on my VPS Debian?
Of course. You can host as many websites as you want — considering, of course, your resources can handle them. If you plan on hosting more than one website, we recommend getting our Debian VPS Best Value plans.
Do you offer a free Debian VPS trial?
Sadly, we do not. If you're looking for a risk-free way to buy a VPS, however, you don't need to look any further. Our 7-day money-back guarantee will give you a full refund if you're not satisfied with your Debian VPS and let us know within a week.
Is Debian VPS the right hosting solution for me?
It actually comes down to what you're planning to do with your server. Generally speaking, if you care about your privacy, it's definitely a good idea to get one. Take a look above for some cases where an Debian VPS plan is a good idea.
How can I connect to my Debian VPS?
The short answer is that you can connect remotely or use a web hosting control panel. You can use many remote desktop clients, including Microsoft's Remote Desktop, the Linux-based Remmina, or TeamViewer. To connect to your Debian VPS you need to use the VNC protocol (and RDP, if you choose Windows as your OS). Since we offer full root access to your server, you can also use SSH to connect and configure your VPS. To connect via SSH, you'll need to use the Linux Terminal or the Windows Command-Line. Unlike VNC, however, SSH only supports a text-based interface, giving you access to the terminal.
What operating systems do you offer on your Debian VPS?
We provide all versions of Microsoft Windows, including Windows Server 2019 and Windows 11. We also offer numerous Linux distributions in different versions, including popular server distros like Debian, Arch Linux, and CentOS. Oh, and the operating system is yours for free! No need to pay for a license: we already got you one!
Pay with Ease
We accept payment with Bitcoin,
PayPal, PerfectMoney, and all your
favorite credit cards -- and more…
7-Days Money Back Guarantee
You'll have Nothing to Worry About.
Get Started Now