Economic Linux Mint VPS
Premium Linux Mint VPS
Linux Mint VPS - No Contract, No Hassle
More than 15 Locations All Over the World
Choose Whatever Location Best Suits Your Business: Get a VPS Closer to Your Users, Remove Latency
Discover the next generation of VPS hosting with NVMe storage and DDR4 RAMs, all optimized for Linux Mint. Get a Linux Mint VPS with the 1-click install feature from your control panel. Access your users faster than ever with 14+ strategically positioned global data centers.
Guaranteed Uptime
Reliable, stable connectivity with our guaranteed 5 Nines Uptime.
High-Spec Infrastructure
Servers on top-tier infrastructure ensure your workload is processed smoothly and on time.
Zero Resource Contention
Optimized Server Solutions providing ultimate hosting isolation and zero resource contention.
Worldwide Data Centers
Servers located at 15 strategic locations around the globe.
Risk-Free
We offer you 7-days moneyback guarantee, in case you didn't like your service.
24/7 Caring Support
Your work is important. We know that and we care -- and so does our customer support.
What is Linux Mint VPS Hosting?
In the top 5 most popular distros for the last decade, Linux Mint has outdone even its parent distro, Ubuntu. As one of the most-downloaded distributions, Mint is mostly aimed at beginners looking for an intuitive desktop experience. At Cloudzy, we offer both Cinnamon and MATE, the major editions of Linux Mint. It is also a decent server distro because it uses Ubuntu's CLI and packages. It can be a good learning distro or a good candidate for users setting up their first LAMP/LEMP stacks using a GUI desktop. On a VPS, Linux Mint makes sense because of its low memory and storage consumption — this is improved by our distro-optimized Linux Mint VPS plans.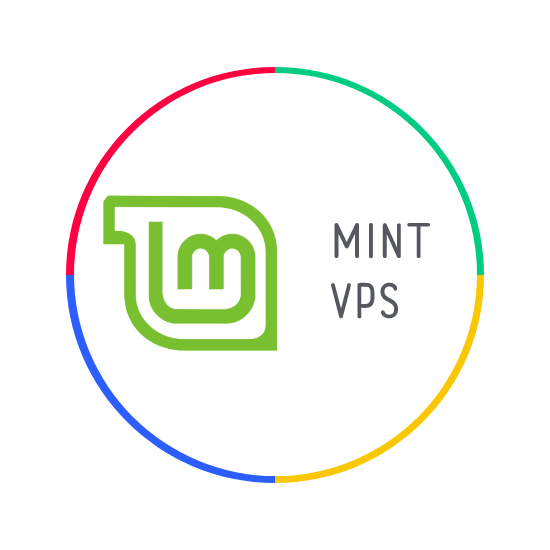 When to Choose Linux Mint KVM VPS
What Our Clients Have to Say

I've been with Cloudzy for three years and I've never heard one of my customers complain that the website was down. Before I buy a Linux VPS from Cloudzy, I was using two other hosting providers and I regret every cent I spent on their services. I wish I knew about Cloudzy sooner.

When I first saw the prices Cloudzy was asking for a Linux VPS with 2 GB memory and 1 Gbps bandwidth, I thought the quality would be just terrible. But since my friend had recommended them, I gave them a try and I AM SHOCKED! Talk about "high-performance"! Awesome service all the way and great customer support too. Kudos!

I was just blown away by the prices Cloudzy was asking for its Linux VPS! I was already paying three times that for a lame service and non-existent customer support so I decided to give Cloudzy a chance. Am I glad I did! Awesome service and polite support personnel. Everyone looking for Linux vps hosting should give it a try.

Having run a crowd-sourcing B2B application for more than five years, my company has had the chance to try various hosting solutions, including dedicated servers. I have been using Cloudzy's HyperSonic Linux VPS for over a year and I believe I have finally found a VPS that outperforms most dedicated servers given a similar price range. Thank you, Cloudzy.

I've been using a Linux VPS I bought from Cloudzy 6 months ago and I use it for machine learning. I am developing my own expert advisor and it's important to run it on a server with powerful computation capabilities and very high uptime. That's what Cloudzy has offered me. I am thankful and I recommend it to every developer like me.
Find the VPS Solution that Suits Your Needs
Take a look at our wide selection of VPS hosting solutions and find the one that will really synergize with your company. You can always contact us and we'll help you find the plan you need to make your business a success. Get your VPS Solution right now!
What is Linux Mint VPS Hosting?
It's a virtual private server with its components optimized to work best with Linux Mint.
What is VPS Hosting?
Virtual Private Servers are a type of affordable but secure hosting. You can learn more about them by reading this post on VPS Hosting.
What Linux Mint versions do you have on offer?
We support all Mint versions, including the recent Mint 20. You can choose any other version or flavor that you want by asking our support team.
What is KVM?
Kernel-based Virtualization is the fastest method for creating virtual servers. We use KVM to accelerate our VPS hosting and offer a better customer experience.
Will my VPS come with Linux Mint pre-installed?
Of course! You just have to mention it and we'll get Linux Mint installed and ready to go right out of the box. If you know your way around Linux, you can even install the distro manually to get a more customized OS experience.
How can I connect to my VPS?
You can use a remote desktop protocol like VNC or connect via CLI using the SSH protocol, depending on how much you know about Linux.
Can I pay for my Linux Mint VPS with Bitcoins?
Sure. We believe that privacy is a natural right and that's why we support payment with cryptocurrencies including Bitcoin, Ethereum, and even privacy coins like Monero.
How long will it take until my VPS gets delivered?
Almost no time at all. Once your payment is confirmed, you'll instantly receive an activation email with details on how to connect to your VPS.
Which Linux Mint Edition do you offer?
We provide both the Cinnamon and MATE editions on our Linux Mint VPS plans, so you can get whichever best fits your needs.
Do you offer a free Linux Mint trial?
Sadly, we do not offer any trials at this point. We do, however, provide a 7-Day Money-Back Guarantee, which is just as good in ensuring there is no risk.
Pay with Ease
We accept payment with Bitcoin,
PayPal, PerfectMoney, and all your
favorite credit cards -- and more…
7-Days Money Back Guarantee
You'll have Nothing to Worry About.
Get Started Now