Hosting your Online Store
Economic Magento VPS
Premium Magento VPS
Free Setup - No Contract
More than 15 Locations All Over the World
Choose Whatever Location Best Suits Your Business: Get a VPS Closer to Your Users, Remove Latency
Start Your eCommerce Success
Looking for the best hosting to start your Magento store? Cloudzy offers optimized Magento VPS hosting plans optimized to help you make the most of your online store. Create your own eCommerce success story using our high-performance, affordable virtual servers. Our Magento VPS comes with NVMe storage, DDR4 RAMs, 1 Gbps bandwidth, and lots of other cool features:
Super-High Uptime
Don't let your customers hanging — guaranteed 99.95% uptime
Install and Modify Anything
Install, remote, and mod anything wiith full root access to your OS
Exclusive Resources
Your storage, RAM, and processing are yours and yours alone, zero competition
You're not Alone
Get support from our dedicated 24/7 team of experts — don't try to solve everything alone!
What Is Magento VPS Hosting?
Magneto is one of the top 3 eCommerce platforms, along with wooCommerce and Shopify. Magento is also an ideal content management tool that lets you build your own eCommerce website. Unlike its competitors, Magento lets you host your own online store for maximum performance and freedom of action. At Cloudzy, we provide optimized VPS hosting so you can get the most out of your new Magento website.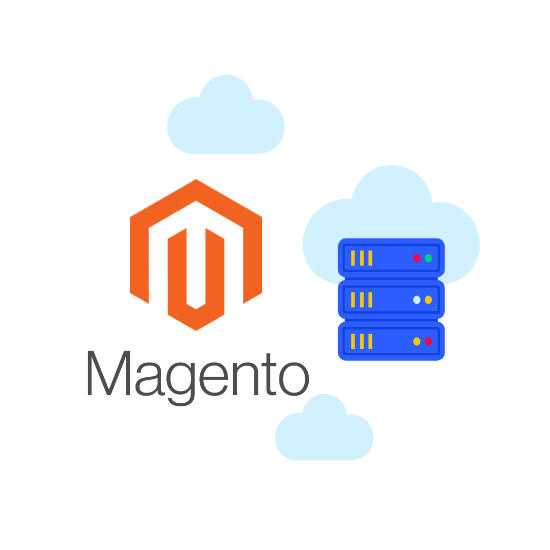 From inventory management to customer database management, Magento brings an impressive array of tools to the table. Whatever your vision of an ideal store is, Magento has the tools to make it happen.
Create eye-catching landing and product pages without having to code. Design pages with just a few clicks with Magento's intuitive content management tools, including the page designer.
Magento is one of the most SEO-friendly eCommerce platforms available because it has been created with SEO in mind from the very first version.
Don't spend big bucks starting an eCommerce website when you can put that money to better use promoting your store. With a free Magento Community Edition and the affordable but feature-rich servers of Cloudzy, you can get more done with your budget.
Magento comes with a host of incredible features that handle every aspect of your online store website, from creating product pages, categories, filters, and more.
When to Choose Magento VPS
What Our Clients Have to Say
I have tried different VPS companies and I can say I am very satisfied with Cloudzy performance. They have treated me well and had a solid uptime and performance. I do recommend them A+.
Great Service, Very Reliable
Cloudzy provides fast and very reliable servers. They were very helpful when we were migrating from our old providers, quickly resolving any issues we have had. Thier support is great I can't recommend them highly enough!

Great customer support and good services at a good price
I have been using their services for about a year now, and except for a small issue, the service has worked very well all this time. Their customer service is very quick and good, and the price is good.
Find the VPS Solution that Suits Your Needs
Take a look at our wide selection of VPS hosting solutions and find the one that will really synergize with your company. You can always contact us and we'll help you find the plan you need to make your business a success. Get your VPS Solution right now!
What is Magento?
Magento is an eCommerce platform that lets you design and host your online store website. Magento is also open-source and free, meaning you just need a Magento VPS hosting plan to get everything started.
Can I Self-Host Magento?
Definitely. Unlike some other eCommerce platforms, Magento can be installed and launched on any hosting of your choice. That means control over your own data and more freedom in how you run everything.
Can I Install Magento on Windows?
Unfortunately, Magento can only be installed on a Linux distro like Ubuntu or Debian. That can be a bit more challenging than installing it on Windows, but once you do, you can just deal with the Magento control panel itself.
Do you offer a free Magento VPS trial?
Not at the moment, unfortunately. With our 7-day money-back guarantee and our numerous 5-star reviews, you can rest easy choosing Cloudzy as your Magento hosting provider. There is literally zero risk.
Pay with Ease
We accept payment with Bitcoin,
PayPal, PerfectMoney, and all your
favorite credit cards -- and more…
7-Days Money Back Guarantee
You'll have Nothing to Worry About.
Get Started Now