Perfect Money VPS Solutions
Windows VPS with Perfect Money
Linux VPS with Perfect Money
Free Setup - No Contract.
More than 15 Locations All Over the World
Choose Whatever Location Best Suits Your Business: Get a VPS Closer to Your Users, Remove Latency
Experience easy payment with our new Perfect Money VPS hosting. Get more things done with NVMe storage, lightning-fast DDR4 RAMs, and 1 Gbps bandwidth. All these and a free OS of your choice — buy VPS with Perfect Money now and get all these features.
Guaranteed Uptime
Reliable, stable connectivity with our guaranteed 5 Nines Uptime.
High-Spec Infrastructure
Servers on top-tier infrastructure ensure your workload is processed smoothly and on time.
Zero Resource Contention
Optimized Server Solutions providing ultimate hosting isolation and zero resource contention.
Worldwide Data Centers
Servers located at 15 strategic locations around the globe.
Risk-Free
We offer you 7-days moneyback guarantee, in case you didn't like your service.
24/7 Caring Support
Your work is important. We know that and we care -- and so does our customer support.
Instant setup Perfect Money Hosting
You don't have to pay with any other method than the one you want. We believe that, and we have made an effort to allow you a truly diverse set of options for payment. If you can't or don't want to use your credit cards, there is always crypto, or web payment services like PayPal. But forcing you to use PayPal or any other service is not our style. We also accept Perfect Money, a popular alternative that's much more affordable and not as oppressive as PayPal. You can use your Perfect Money account to buy your favorite VPS hosting plan and get a server with NVMe storage, DDR4 memory, and super-fast 1 Gbps bandwidth.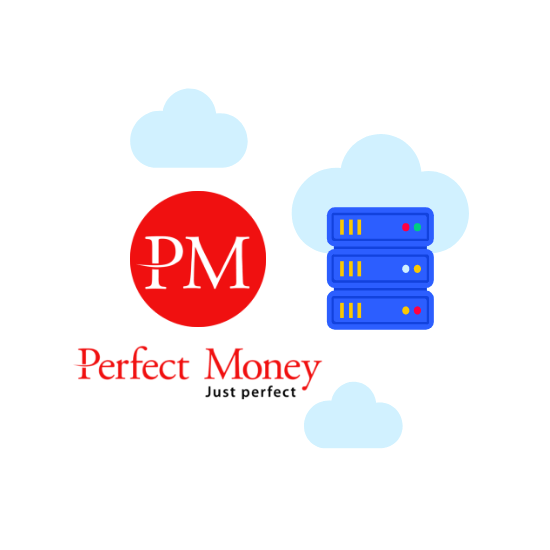 When to Choose Perfect Money VPS
What Our Clients Have to Say
I have tried different VPS companies and I can say I am very satisfied with Cloudzy performance. They have treated me well and had a solid uptime and performance. I do recommend them A+.
Great Service, Very Reliable
Cloudzy provides fast and very reliable servers. They were very helpful when we were migrating from our old providers, quickly resolving any issues we have had. Thier support is great I can't recommend them highly enough!

Great customer support and good services at a good price
I have been using their services for about a year now, and except for a small issue, the service has worked very well all this time. Their customer service is very quick and good, and the price is good.
Find the VPS Solution that Suits Your Needs
Take a look at our wide selection of VPS hosting solutions and find the one that will really synergize with your company. You can always contact us and we'll help you find the plan you need to make your business a success. Get your VPS Solution right now!
What is the total hosting fee?
VPS, Virtual Private Server, is an online hosting solution to host your websites and web applications. Cloudzy gives its users the opportunity to buy vps with perfect money.
Are There Other Ways To Pay Perfect Money hosting?
Yes, that's right! You can buy RDP with Perfect Money, Litecoin, Bitcoin, Ethereum, and standard payment methods. That includes Mastercard, Visa, American Express, Discover, Paypal are also regularly accepted.
How many websites can a user host on Perfect Money hosting?
There is no limit to the number of websites you can host on your Perfect money hosting. But you should know that hosting multiple websites on a single VPS server reduces overall performance.
Do I get a special IP for my VPS?
Yes! As a dedicated server, you will receive a unique IP for your Perfect money hosting.
Is Perfect money hosting cheaper than getting a dedicated server?
Yes, indeed! Cheap Perfect money hosting gives you the same smooth, secure, and fast performance as a dedicated server at a very low cost. At Cloudzy, you can get a cheap VPS server with 2GB of memory, 30GB SSD / NVMe Storage, and 3TB bandwidth for just $ 7.59 per month!
Which OS is supported by Cloudzy VPS servers?
Cloudzy integrates both the operating systems: Linux and Windows. Linux VPS is the best option for professional users who want deep customization. Windows VPS is ready for new startups with no advanced technology background.
Can I review my plan after I have purchased Perfect money hosting?
Yes, you can! Although we use advanced KVM technology to distribute resources to VPS servers depending on changes in their traffic. That helps ensure stable and flexible performance, but users can upgrade or downgrade their plans at any time.
Will you take backups of my Perfect money hosting?
No, we are not responsible for the backup of your VPS servers. However, users can rely on our 24/7 support team to help them with any technical issues.
Can I cancel the Perfect money hosting after I bought it?
Yes you can. We offer you a 7-day money-back guarantee to help you with your purchase decision.
Will I be punished if the other administration violates the rules?
No, each VPS hosting gets an independent IP. This means that if your neighboring VPS server is blocked by its IP, it will not affect your hosting.
How can you buy a VPS with Perfect money?
Cloudzy is the best way for you to buy hosting with perfect money. The VPS Hostings we offer are powered by KVM technology and NVMe / SSD architecture.
Pay with Ease
We accept payment with Bitcoin,
PayPal, PerfectMoney, and all your
favorite credit cards -- and more…
7-Days Money Back Guarantee
You'll have Nothing to Worry About.
Get Started Now