Free Setup - No Contract.
Available All Around the USA!
Choose a location near you, near your customer, or even on the other side of the globe!
Experience what next-gen VPS hosting can do for your Chicago business. Boost customer satisfaction, improve SEO, or improve workflow using our high-performance servers. Your Chicago VPS will run on top-tier infrastructure, featuring NVMe-driven SSD storage, DDR4 RAMs, and 1 Gbps network connections. Get closer to your customers, employees, or broker using our minimal latency Chicago servers located at the heart of the Windy City. Check out all the other phenomenal features below, and remember: our prices are so low, they are utterly unreasonable!
Guaranteed Uptime
Reliable, stable connectivity with our guaranteed 5 Nines Uptime.
High-Spec Infrastructure
Servers on top-tier infrastructure ensure your workload is processed smoothly and on time.
Zero Resource Contention
Optimized Server Solutions providing ultimate hosting isolation and zero resource contention.
Worldwide Data Centers
Servers located at 15 strategic locations around the globe.
Risk-Free
We offer you 7-days moneyback guarantee, in case you didn't like your service.
24/7 Caring Support
Your work is important. We know that and we care -- and so does our customer support.
Want to start a business in Chicago? Maybe you're trading Forex and your broker works out of Chicago? Well, that's what we are here for. Our Chicago VPS hosting solutions offer a minimal latency virtual server with extensive peering and 5-nines uptime, accelerating your business to a whole new level. Without a powerful server located in just the right spot, getting the success you deserve will be hard. So, whether it's hosting a website, running a web app, or maintaining a remote workstation, our high-performance VPS solutions, placed in the financial heart of Chicago, can make all the difference. Cutting-edge server hardware like NVMe storage and DDR4 RAMs combine with phenomenal features like smart DDoS protection and zero resource contention to make the ultimate VPS. Enjoy the best hosting has to offer at unreasonably low prices that start at just $4.95/Month. Not only are the prices unbeatable, we also include a free Windows or Linux-based OS of your choice — emphasis on free! We also have a 7-day full refund policy, so what are you waiting for, order your Chicago VPS now!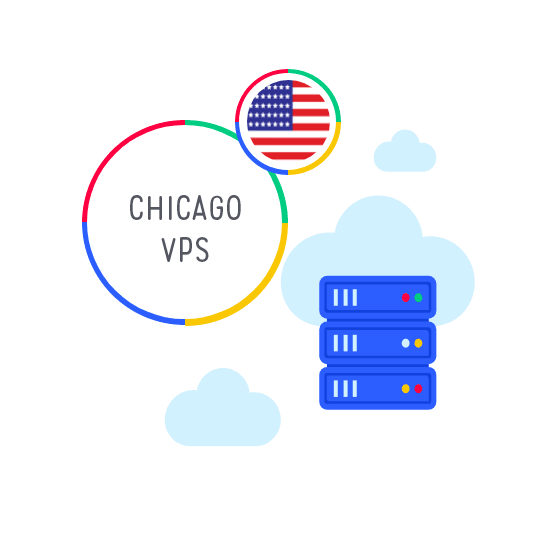 When to Choose Chicago VPS
What Our Clients Have to Say
I have tried different VPS companies and I can say I am very satisfied with Cloudzy performance. They have treated me well and had a solid uptime and performance. I do recommend them A+.
Great Service, Very Reliable
Cloudzy provides fast and very reliable servers. They were very helpful when we were migrating from our old providers, quickly resolving any issues we have had. Thier support is great I can't recommend them highly enough!

Great customer support and good services at a good price
I have been using their services for about a year now, and except for a small issue, the service has worked very well all this time. Their customer service is very quick and good, and the price is good.
Find the VPS Solution that Suits Your Needs
Take a look at our wide selection of VPS hosting solutions and find the one that will really synergize with your company. You can always contact us and we'll help you find the plan you need to make your business a success. Get your VPS Solution right now!
What is Chicago VPS?
It's a virtual server exclusive for you to host your website and web apps on it. The server location is based in Chicago, IL.
Does Cloudzy Offer A Money Back Guarantee?
Yes, it does! No matter what service you purchase, you'll have a 7-day chance to test our Chicago VPS hosting and see if it's suitable for your needs.
Can I Buy A Chicago VPS Hosting With Bitcoin?
Yes! Cloudzy warmly welcomes cryptocurrencies such as Bitcoin. However, you can always make the payment with regular credit cards such as Visa, American Express, Discover, PayPal, and Mastercard.
Will There Be More Charges That Are Not Mentioned at First?
No, all you have to pay are listed in detail, and you will never be asked to pay for any so-called hidden charges later on. You can set your account to be charged by the end of the plan's date. We'll surely notify you before the upcoming charge.
How Much Does A Chicago VPS Hosting Cost?
Cloudzy offers various VPS services, and each of them has its own plan. Our cheapest plan for windows VPS starts at $7.95 per month.
Can I Upgrade My Chicago VPS Plan Later in the Future?
Yes, of course! It's worth mentioning that we use cutting-edge KVM technology to make sure smooth and optimized resource allocation. But you can upgrade your Chicago VPS plan anytime without paying setup fees again. All you'll have to do is contacting our 24/7 customer support team.
Will My OS Be Included in My Space Storage?
Yes, the operating system you choose, whether Windows or Linux, will count. It usually takes 120-300 MB of the storage you get with your Chicago VPS.
Should I Get A Dedicated Server Or A VPS?
Dedicated servers provide the best user experience but they are costly. The Chicago VPS by Cloudzy is the best alternative for a dedicated server at far lower prices. Additionally, getting a Chicago VPS means you have our 24/7 technical support team by your side, so you won't have to deal with the complexity of managing a dedicated server.
What Are The Differences Between A Dedicated Server and A VPS?
VPS servers are hosted on a shared server, but the resources sharing is not interrupted by the neighbor server's surge in traffic. The main server is equipped with a system to allocate the resources independently, so the user experience is quite like a dedicated server.
Pay with Ease
We accept payment with Bitcoin,
PayPal, PerfectMoney, and all your
favorite credit cards -- and more…
7-Days Money Back Guarantee
You'll have Nothing to Worry About.
Get Started Now