DDoS protected VPS Hosting
DDoS-Protected Windows VPS
DDoS-Protected Linux VPS
Free Setup - No Contract.
More than 15 Locations All Over the World
Choose Whatever Location Best Suits Your Business: Get a VPS Closer to Your Users, Remove Latency
>Protect your business or online service from DDoS attacks most easily. Our VDoS Protection system mitigates Distributed Denial of Service attacks trying to disable your website or web service. Get a reliable server performance at the
cheapest price
out there with DDoS-Protected VPS technology. Our
Linux KVM Virtualization
creates versatile VPS machines that can run any Linux or non-Linux operating system you desire with the kernel efficiency of Linux.
Guaranteed Uptime
Never stay behind the doors. Always be there for your customers.
Reliable Connectivity
A good datacenter never lets their connections drop or waver.
Fastest Hardware
With fast, dedicated resources, your services are never throttled.
Dedicated Resources
Dedicated resources ensure you will never compete for computing time.
Small Distance to Exchange Servers
Located at several hubs of the Internet around the world.
No Outages, No Failures
Never-failing powerful new hardware, backed with emergency power sources.
Caring Support Team
Your work is important. We know, we care, and we support you.
Note:
Our Virtual Private Servers run on powerful hardware, and are equipped with NVMe SSD storage, connected at highest speed and best response times at reliable datacenters all around the world.
From Agile Little Virtual Machines to Robust
Performance VMs, Boasting Enterprise SSD, and
Powerful Hardware. Batteries Included!
Manage your VPS resources with ease. Cloudzy's Linux KVM VPS hosting services allow you to doinstant reconfigurations and have full control of your virtual servers, making it a breeze to run your website and services to your heart's desire.
A Denial of Service attack typically tries to disable a server from being able to respond to legitimate requests from normal users and machines. Today, these attacks are easily mitigated using standard firewalls. As soon a suspicious behavior is noticed, its sources are blocked or throttled.

A Distributed Denial of Service or DDoS is a type of DoS attacks that tries attempts attacking from a large number of different addresses on the internet. These attacks are harder to tell from normal traffic, and even when you realize your systems are under attack, there are too many sources to identify and block, therefore standard firewalls are unable to stop them.

A DDoS security system is a distributed network that can identify attacking addresses more efficiently and block them and reroute them away from your main servers or VPS machines.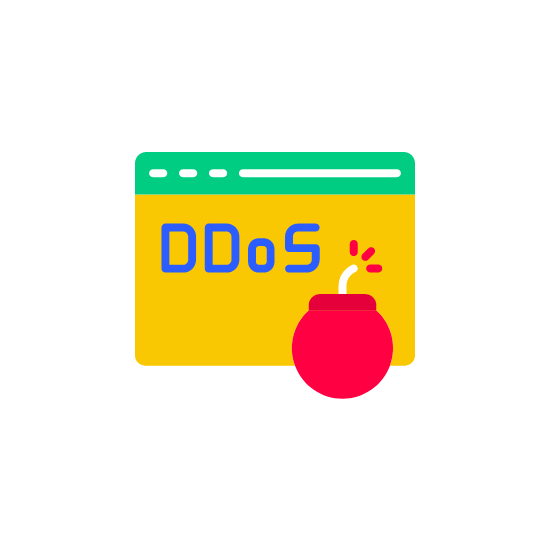 DDoS-Protected VPS Servers
Everything is safe. Nothing is shared. Our DDoS-Protected VPS machines with dedicated high-quality resources bring you the reliability, performance, security, and stability you want. All that, but at a price of shared hosting!

Our US cluster includes 8 datacenters in New York City, Washington DC, Buffalo, Los Angeles – California, Phoenix – Arizona, Dallas – Texas, and Seattle – Washington, and Pittsburg – Pennsylvania.
What Our Clients Have to Say
I have tried different VPS companies and I can say I am very satisfied with Cloudzy performance. They have treated me well and had a solid uptime and performance. I do recommend them A+.
Great Service, Very Reliable
Cloudzy provides fast and very reliable servers. They were very helpful when we were migrating from our old providers, quickly resolving any issues we have had. Thier support is great I can't recommend them highly enough!

Great customer support and good services at a good price
I have been using their services for about a year now, and except for a small issue, the service has worked very well all this time. Their customer service is very quick and good, and the price is good.
Get a Hosting Solution Today!
Get one of our hosting solutions and succeed in your business. We are always there for you with a 24/7 support and brilliant services. Get our plans today!
What is a DDoS secure VPS?
VPS is short for Virtual Private Server. It is a hosting solution between shared servers and dedicated servers that provide the same user experience as dedicated servers at the same price as shared servers. A VPS DDoS protection is a hosting solution that is protected against DDoS attacks.
How can I buy a cheap DDoS-protected VPS?
Can users host multiple websites on a secure DDoS VPS?
Yes. Users can host as many websites and web applications on a DDoS-protected VPS. But it would be good to think that it completely reduces the performance of websites.
Can I get my money back after buying ِDDos Protected Hosting?
Yes, you can. Cloudzy helps you make the right decision by providing a 7-day money-back guarantee. You can request a refund up to seven days after purchasing DDoS-protected VPS hosting and get your money back in full.
Will my IP be shared with other VPS hosting?
No. All VPS servers with Cloudzy receive private IPs that are not shared with any other hosting on that server. That means complete control over your privacy and online activities.
What is the difference between a DDoS-protected VPS and a dedicated server?
A dedicated server, as you describe yourself, is focused on handling your data. It is very expensive and you have to manage the technical management and maintenance. Cheap VPS protected by Cloudzy offers you the same fast, secure and smooth operation at a double price, starting at $ 7.95 per month.
Has my IP been shared with neighboring VPS hosting?
Not at all. Getting a DDoS-protected VPS means privacy and complete control of your data as a dedicated server. You will receive a special IP that is not assigned to neighboring hosting.
Will the OS be installed on my VPS hosting storage?
Yes, it will. Depending on the OS you choose, Linux or Windows, your 120 to 300MB of storage will remain. You should consider this and choose a VPS hosting plan with the right storage.
Can I change my VPS hosting plan over time?
Yes! While getting DDoS protection VPS hosting means you already have flexible, smooth hosting in the palm of your hand, you can upgrade it whenever you think it is needed.
Does Cloudzy take backups from my DDoS-protected VPS server?
No, Cloudzy does not handle that. As the owner, you are responsible for obtaining backups from your secure VPS DDoS. However, you can always rely on our 24/7 support team for any technical issues that may arise.
What is the difference between a DDoS-protected VPS server and a shared server?
Neighborhood hosting negatively affects the performance of a shared server in the event of an increase in website volume. They all share the same IP that makes everyone face each other's tasks. Resources are fully shared on a cheap DDoS-protected hosting with Cloudzy, and you get a special IP.
Will my DDoS-protected VPS hosting be done soon?
Yes, it will. We know that "time is money" in the field of technology. That's why we offer fast performance on our DDoS protection VPS.
Pay with Ease
We accept payment with Bitcoin,
PayPal, PerfectMoney, and all your
favorite credit cards -- and more…
7-Days Money Back Guarantee
You'll have Nothing to Worry About.
Get Started Now