Free Setup - No Contract.
More than 15 Locations All Over the World
Choose Whatever Location Best Suits Your Business: Get a VPS Closer to Your Users, Remove Latency
Get closer to your customer base or improve your office workflow by getting a VPS in Florida. Our Florida data centers are extensively peered, providing minimal latency across the state. All Florida VPS hosting plans come with NVMe storage, DDR4 RAMs, and 1 Gbps bandwidth. Check out our other features below.
Guaranteed Uptime
Reliable, stable connectivity with our guaranteed 5 Nines Uptime.
High-Spec Infrastructure
Servers on top-tier infrastructure ensure your workload is processed smoothly and on time.
Zero Resource Contention
Optimized Server Solutions providing ultimate hosting isolation and zero resource contention.
Worldwide Data Centers
Servers located at 15 strategic locations around the globe.
Risk-Free
We offer you 7-days moneyback guarantee, in case you didn't like your service.
24/7 Caring Support
Your work is important. We know that and we care -- and so does our customer support.
Fast and Powerful Servers in Florida
Discover the unique features of our Florida VPS hosting and use them to your advantage. Get closer to your customer base, Forex broker, or employees by setting up a minimal-latency virtual server in Florida. Whether you plan to host your own website, a Minecraft server for your friends in Florida, or an RDP virtual office, the minimal latency, and top-tier infrastructure we offer on all our Florida VPS plans will be invaluable. We have multiple data centers across the state, including several at the center of Miami.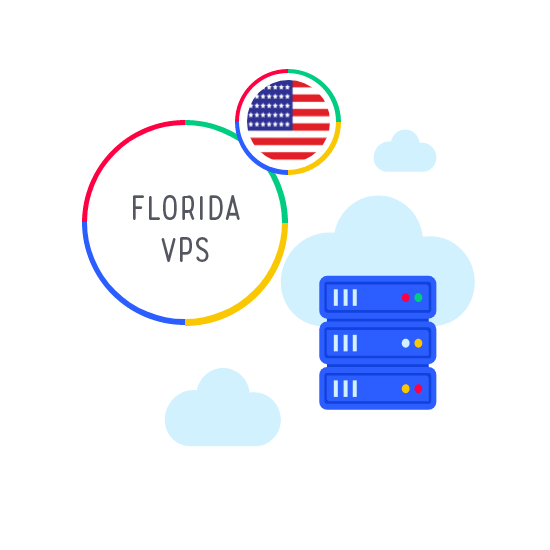 When to Choose Florida VPS Hosting
What Our Clients Have to Say
I have tried different VPS companies and I can say I am very satisfied with Cloudzy performance. They have treated me well and had a solid uptime and performance. I do recommend them A+.
Great Service, Very Reliable
Cloudzy provides fast and very reliable servers. They were very helpful when we were migrating from our old providers, quickly resolving any issues we have had. Thier support is great I can't recommend them highly enough!

Great customer support and good services at a good price
I have been using their services for about a year now, and except for a small issue, the service has worked very well all this time. Their customer service is very quick and good, and the price is good.
Find the VPS Solution that Suits Your Needs
Take a look at our wide selection of VPS hosting solutions and find the one that will really synergize with your company. You can always contact us and we'll help you find the plan you need to make your business a success. Get your VPS Solution right now!
What is VPS Florida?
VPS is the abbreviation of Virtual Private Server. It is a hosting solution that stands between shared servers and dedicated servers with the same user experience as dedicated servers at the same price as shared servers. Florida VPS hosts that the server is located in Florida.
How can I buy a cheap VPS Florida?
Cloudzy takes a variety of payment methods. We accept cryptocurrencies like Bitcoin, Litecoin, and Ethereum. Common payment methods are also available, such as Mastercard, Visa, American Express, Skrill, Perfect Money, Discover, and Paypal.
Can users host multiple websites on VPS Florida?
Yes. Users can host as many websites and web applications as they would like to host on a Florida VPS. But it would be good to think that it ultimately reduces the performance of websites.
Can I get my money back after buying a VPS Florida?
Yes, you can. Cloudzy helps you make the best decision by providing a 7-day money-back guarantee. You can request a refund up to seven days after you purchase the Florida VPS hosting and get your money back in full.
Will my IP be shared with other VPS hostings?
No. All VPS servers with Cloudzy receive private IPs that are not shared with any other hosting on that server. That means total control over your privacy and online activities.
Is a Florida VPS faster than a usual VPS?
Yes, that's right! VPS Florida has enhanced KVM technology to ensure efficient resource allocation and NVMe / SSD storage architecture to give you the highest speed performance.
Will I be re-charged if traffic increases?
No, there are no additional charges for our services. All users who have to pay are clearly defined in the VPS hosting plans. That means there will be no other payment.
Does VPS Florida hold more expensive than dedicated servers?
Windows VPS Florida with Cloudzy is much cheaper than standard dedicated servers, starting at just $ 7.95 per month. Cheap VPS hosting in Florida also requires no technical management as the 24/7 advanced support team is there for you.
Is the entire VPS server charged if one hosting violates the rules?
No never. Each VPS hosting in Florida has a private IP address that acts as their online identity. If another hosting is penalized, it will not harm other hosting on the same VPS server.
Will the OS take up my VPS hosting?
Yes, depending on which OS you go with, Linux or Microsoft Windows, 120-300 MB of storage will be stored. But no worries about running out of storage after creating your website; you can upgrade your Windows VPS Florida plan anytime you want.
Pay with Ease
We accept payment with Bitcoin,
PayPal, PerfectMoney, and all your
favorite credit cards -- and more…
7-Days Money Back Guarantee
You'll have Nothing to Worry About.
Get Started Now