Roubaix VPS server is not available!
Unfortunately, because of some changes, we do not provide VPS servers in Roubaix at the moment but you can still get from our US, UK, and Germany locations!
Free Setup - No Contract.
More than 15 Locations All Over the World
Choose Whatever Location Best Suits Your Business: Get a VPS Closer to Your Users, Remove Latency
At the Center of the
World!
Get your own Roubaix VPS in one of great hubs of business and connectivity in the world, connecting East and West. High-performance VPS machine available at highly reliable data centers in Amsterdam, London, and Frankfurt. Be where the business is! Supersonic servers with great specs, enterprise-level NVMe SSD storage, with ensured uptime and connectivity. All of that, at the
cheapest price
out there.
Guaranteed Uptime
Never go offline. Always be there.
Reliable Connectivity
Good datacenters never lets their connections drop or waver.
Fastest Hardware
Fast and powerful hardware ensure enjoyable performance.
Dedicated Resources
Dedicated resources ensure you will never compete for computing time.
Convenient Locations
Available at several hubs of the Internet around the world.
No Outages, No Failures
Never-failing powerful new hardware, backed with emergency power sources.
Caring Support Team
Your work is important. We know, we care, and we support you.
From agile little virtual machines to robust
performance VMs, boasting Enterprise SSD and

powerful hardware. Batteries included!
Virtualizor Control Panel
All our Windows VPS servers are equipped with a fully automated Virtualizor Control Panel. This includes Windows 10 VPS plans.
You can instantly activate a Windows 10 VPS and it is very easy to manage. You can do almost anything with your VPS server. Connect to your Windows 10 VPS server via VNC or RDP. Have full control over your machine, or even perform hard reset.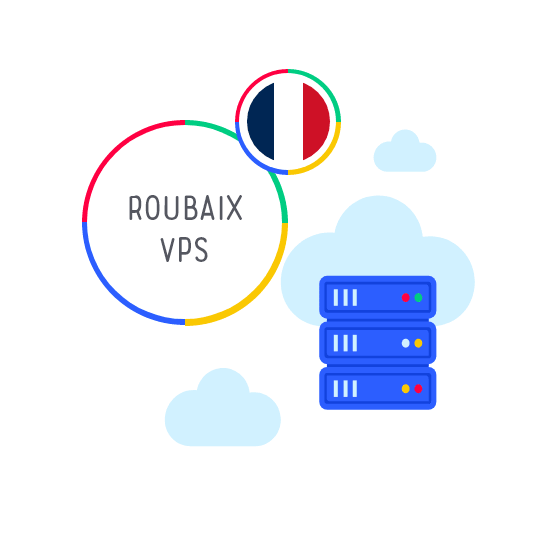 Powerful Hardware and
Reliable Connectivity

Virtualizor Management
Panel

Dedicated Windows or Linux VPS Servers in Roubaix
We share nothing. Our VPS machines with dedicated high-quality resources bring you the reliability,performance, security, and stability you want. All that, but at the price of shared hosting! Our Europe cluster includes 3 datacenters in
London
,
Amsterdam
, and
Frankfurt
; three major hubs of business and internet in
Europe
.
What Our Clients Have to Say
I have tried different VPS companies and I can say I am very satisfied with Cloudzy performance. They have treated me well and had a solid uptime and performance. I do recommend them A+.
Great Service, Very Reliable
Cloudzy provides fast and very reliable servers. They were very helpful when we were migrating from our old providers, quickly resolving any issues we have had. Thier support is great I can't recommend them highly enough!

Great customer support and good services at a good price
I have been using their services for about a year now, and except for a small issue, the service has worked very well all this time. Their customer service is very quick and good, and the price is good.
Get a Hosting Solution Today!
Get one of our hosting solutions and succeed in your business. We are always there for you with a 24/7 support and brilliant services. Get our plans today!
What's a Roubaix VPS?
VPS (Virtual Private Server) is a web hosting solution that stands between dedicated servers and shared servers. It offers a dedicated-like user experience at a price close to shared servers. A Roubaix VPS is hosting with servers located in Roubaix, France.
How can I buy a cheap Roubaix VPS Hosting?
Cloudzy accepts several payment methods. We receive cryptocurrencies such as Bitcoin, Litecoin, and Ethereum. Typical payments such as Mastercard, Visa, American Express, Discover, Perfect Money and Paypal are also available.
Can I host multiple websites on a Roubaix VPS?
Yes. You can host as many websites and web apps as you want on a Roubaix VPS  hosting. But it would help if you consider that it significantly lowers the performance of your websites.
Can I ask for a refund after I buy a Roubaix VPS?
Yes, you can. Cloudzy helps you make the best decision at ease by offering a 7-day money-back policy. You can ask for your money back until 7 days from the date you buy a Roubaix VPS hosting.
Is the IP shared with the other VPS hostings?
No, it's not. Each Roubaix VPS by Cloudzy has an exclusive IP that is not shared with anyone. That means complete control over your privacy and online activities.
Is a Roubaix VPS faster than a regular VPS?
Definitely! The Roubaix VPS by Cloudzy is powered with KVM technology to ensure perfect resource allocation and NVMe/SSD storage architecture to provide the highest speed performance.
Does Cloudzy charge users again if their website traffic increases?
No, there are no extra charges in our VPS hosting plans. All you have to pay is explicitly described in our VPS hosting plans, and there will be no more payment. 
Is a Roubaix VPS hosting more cost-effective than a dedicated server?
The cheap VPS hostings by Cloudzy are offered to you at prices that are so much lower than a typical dedicated server, beginning at just $7.95 per month. A cheap Roubaix VPS also saves you the stress of technical management as a 24/7 expert support team is by your side.
Pay with Ease
We accept payment with Bitcoin,
PayPal, PerfectMoney, and all your
favorite credit cards -- and more…
7-Days Money Back Guarantee
You'll have Nothing to Worry About.
Get Started Now