If you need to access a computer that is not physically accessible, what would you do? That's when technology steps in. There are many ways to connect to a computer or server remotely, from software to protocols. RDP and VNC are two of those remote access solutions you can utilize. The critical question is, what are the differences between VNC and RDP? In this article, we will mainly talk about VNC vs RDP comparison, so you have a better understanding of Remote Desktop Protocol and Virtual Network Computing and can easily pick the one that is most suited for your remote access needs.
What Is RDP?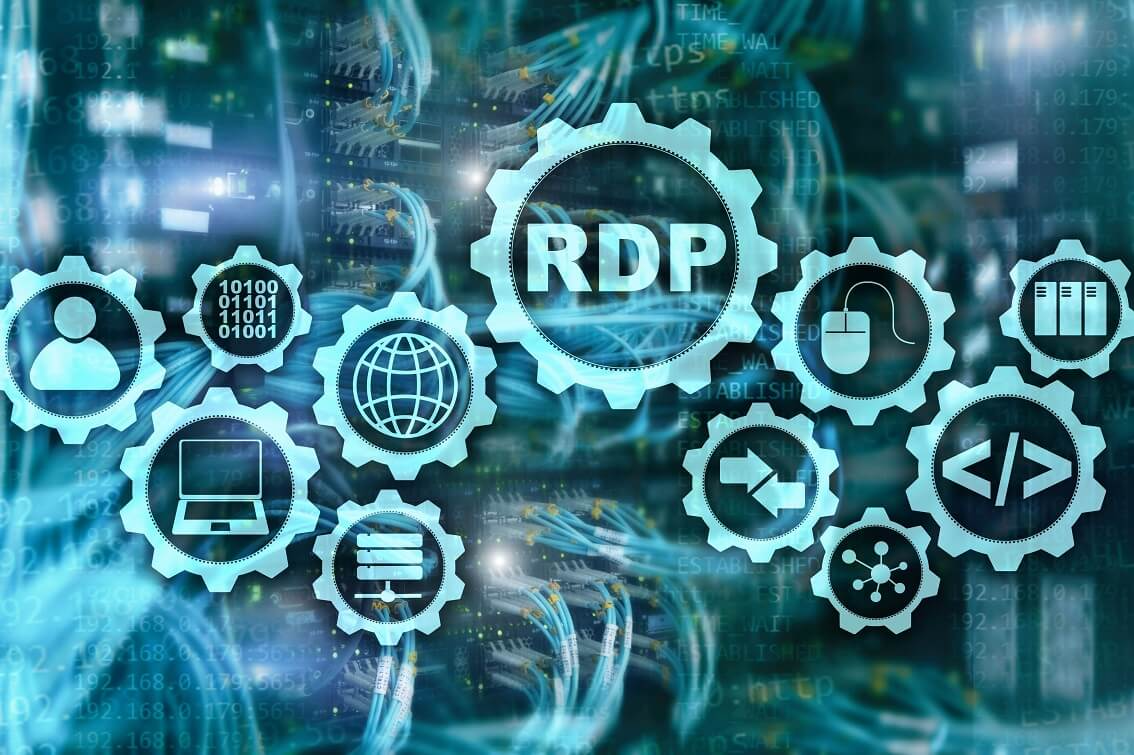 Remote Desktop Protocol (RDP) is a protocol developed by Microsoft that provides clients with a remote graphical control to access another computer or server. RDP is a built-in Windows feature, but it also works with other operating systems like Linux and macOS. If you are a fan of technical definitions, it's highly recommended to check out our article, "What is RDP".
RDP is a secure protocol because it uses the RC4 (Rivest Cipher 4) encryption and smart card authentication and supports Transport Layer Security. With RDP, you can run applications and edit files on a remote server or computer as if you were sitting behind that device. Some RDP clients have bandwidth reduction features which accelerate data transfer rate and execution speed even on low-speed connections.


Need a Remote Desktop?
Reliable, high-performance RDP servers with 99.95 uptime. Take your desktop on the go to all the major cities in the US, Europe, and Asia.
Get an RDP Server
What Is VNC?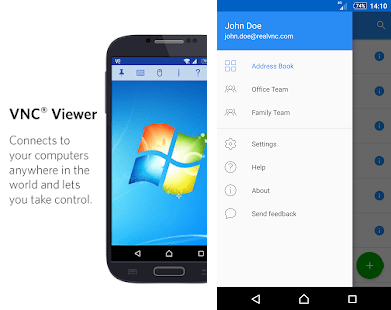 Virtual Network Computing (VNC) is a desktop-sharing system that utilizes a protocol named RFB. Using VNC allows you to remotely control a computer while the primary user can watch and interact. VNC is pixel-based, which means it barely gets involved with the underlying graphic layout, making it a flexible but less efficient alternative. VNC is used mainly for technical support and educational purposes. For example, if you work as a technical customer support agent and want to help a client install software, you can use VNC to connect to their computer. You will have access to their desktop and can teach them step-by-step as you install the software yourself. VNC is platform-independent. Moreover, you can use many cross-platform apps, including TightVNC and RealVNC, to share your desktop across different computers. With this introduction in mind, let's talk about the VNC vs RDP comparison. Now, let's start the VNC vs RDP comparison. 
What Are the Differences between RDP and VNC?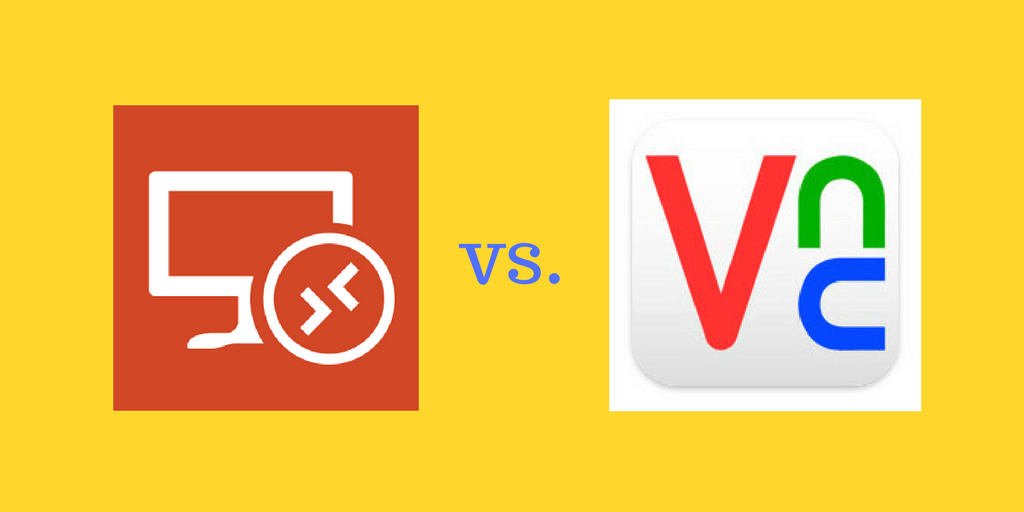 It's not right to say RDP is better than VNC or the opposite because these solutions have different features and use cases. 
Here are some key differences between RDP and VNC:
 VNC vs RDP: Functionality & Speed
As referred to earlier, VNC is a pixel-based protocol, so the data is transferred across the network in what is essentially called an image exchange, which makes VNC slower than RDP. However, it is worth mentioning that this also makes cross-platform sharing easier regarding VNC vs RDP comparison. 
On the other hand, RDP is involved with the underlying graphic layout; therefore, RDP is much more efficient as the data is more compressed. With RDP, you can also log into a computer, creating an actual desktop session, which means you can share the resources of the same computer between remote users through different profiles.
VNC vs RDP: Use Cases
VNC is used as a screen-sharing platform that allows users to control remote devices. So, VNC is an excellent option for remote customer support and educational demonstrations, as all users share the same screen. Whether it's solving technical issues or regular maintenance, VNC is an excellent tool for IT experts. The tech guys can get the job done much faster compared to the old days when all they could do was talk customers through the process, which took so long and 90% of the time was not fruitful. 
However, RDP is not a screen-sharing platform but rather a resource-sharing platform. A single user is connected from their device to another device, whether a computer or a server. If 10 users are connected to a remote server through RDP, they are all independent from each other and can use that remote server's resources individually. But with VNC, a single desktop would be shared between these 10 users, and they all have access to the mouse, keyboard, and screen simultaneously. 
VNC vs RDP: Performance
With RDP, you can connect to a Windows computer and use it virtually, no matter where it is physically. It is fast and easy to work with. That's why it's used for connecting to virtual private servers; many users can access the same physical server's resources and data and use it separately.
VNC, on the other hand, is used for sharing the same desktop between two or more users, so speed-wise speaking, it can get pretty slow and encounter latency issues or bugs, especially when the number of accounts associated goes higher than two.
VNC vs RDP: Supported Platforms
RPD comes pre-installed on Windows computers. But there are client-side applications that let you use RDP on platforms such as Linux, macOS, iOS, and Android.
VNC is platform-independent and can be used across platforms. There are VNC applications for different operating systems, and there are no limits to using them to connect to different computers on different platforms with different operating systems.
5. VNC vs RDP: Security Issues
Security is a significant factor in our lives, so it is essential to compare VNC vs RDP from this perspective. RDP operates within an encrypted channel, and each update improves the encryption methods. Pay attention that the older versions of RDP are vulnerable to an attack named 'man-in-the-middle' that can result in the attacker gaining unauthorized access to your session. You can use RDP securely through SSL/TLS on Windows Vista, Windows 7, Windows 8, Windows 10, and Windows Server 2003/2008/2012/2016/2019/2022. 
VNC can use an SSH tunnel; however, this is not a universal feature in VNC software. Additionally, It gives full access to the remote user, which can be an issue if the remote user is not someone you entirely know and trust or if you have confidential information on your computer.
 Also, if you use a VNC software that is not protected by a strong password, the chances of your device being infected by malware or other cyber threats increase significantly.
When Should I Use RDP and When Should I Use VNC?
✅ When to Choose RDP:
Sharing the resources of one computer (e.g. A physical server) with other users.

Accessing a computer remotely without needing to share the screen.

When you need Multi-monitor support.
✅When to Choose VNC:
Support services in which the technician and user both need access to the computer.

Educational purposes when the teacher wants to show the steps to a student.

When the server is on a different platform than Windows.
We now understand the VNC vs RDP comparison better and in what situations we should use each one. You can also use our brief VNC vs RDP comparison table to help you quickly remember their dissimilarities.
RDP vs VNC quick comparison
| | | | | | | |
| --- | --- | --- | --- | --- | --- | --- |
| Remote Access Solution | Virtualization Support | Flexibility | Fast | Main Use Cases | Supported OS | Connection Protocol |
| RDP | ✅ | ❌ | ✅ | Resource/data sharing | macOS, Windows, Linux, Unix, Android, and Apple iOS | T-120 family of protocol standards |
| VNC | ❌ | ✅ | ❌ | Screen sharing | macOS, Windows, Linux, Raspberry Pi, Android, and Apple iOS | RFB |
What Are Some RDP and VNC Alternatives?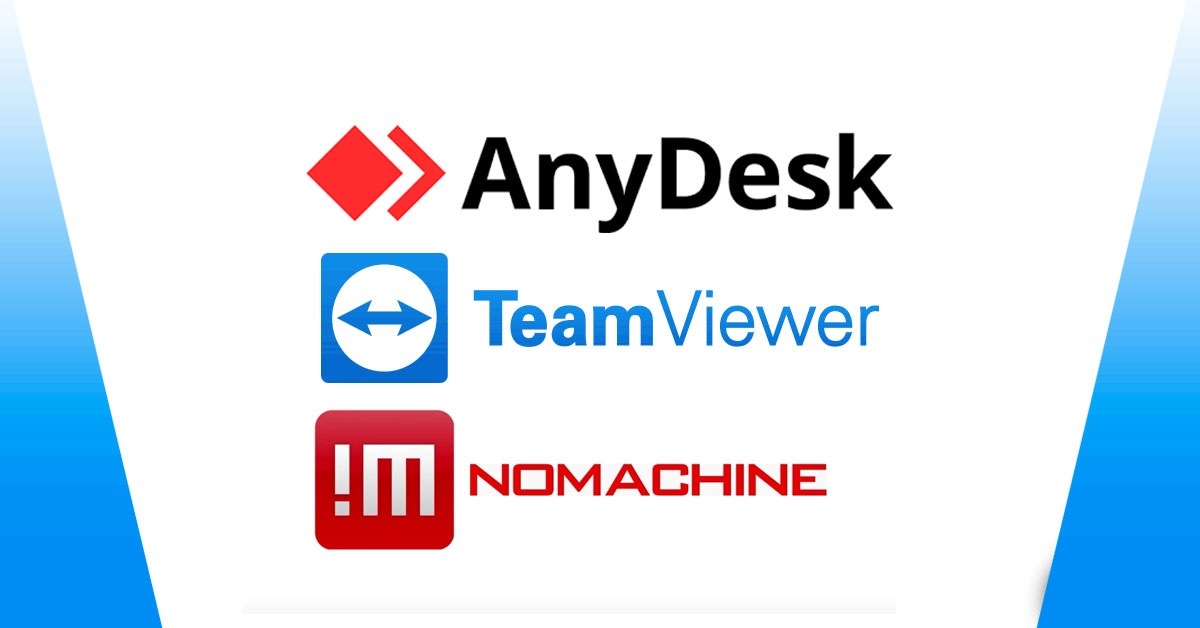 Here are some alternative solutions you may want to consider instead of VNC and RDP:
The free version of TeamViewer r is fast and reliable software to connect to any device remotely, edit files, and host 3D meetings. To benefit from TeamViewer's remote printing and security updates, you must opt for its premium version (starting at $24.90). TeamViewer is well known for its partnership with +100 leading Android original equipment manufacturers (OEMs).
NoMachine is free with 0 ads and uses NX technology to establish the remote connection. NoMachine is accessible across all popular platforms, and it's an excellent tool for remote file transfers, live audio/video streaming, and session recording.
AnyDesk is another popular and accessible tool for computer cross-platform remote access. AnyDesk is also known as a competitor to TeamViewer. You can use AnyDesk for screen sharing, instant messaging, real-time file sharing, monitoring, maintenance, etc. AnyDesk is secure and monitors connections through the RSA 2048 asymmetric encryption method
Buy RDP Server with Maximum Performance & Zero Security Risks
Using RDP, even though it is one of the safest remote access protocols, can be risky because there is always a hacker lurking in the corner, and all it takes is one security loophole or your system to become the perfect bait. So we recommend using RDP in a secure and protected environment that is heavily guarded against DDoS attacks and online snoopers.
Cloudzy RDP VPS offers you the ultimate RDP experience, with zero lags and dedicated and powerful resources such as NVMe SSD storage and DDR4 RAM. With our RDP VPS, you won't have to worry about slow data transfer and can access any remote device within minutes. You will also get RDP pre-activated on your RDP VPS and can use two different users to connect to your VPS through RDP.
We offer our services at budget-friendly prices, and as a bonus, we install your preferred version of Windows for free as soon as your payment comes through.  
If you have any questions, please talk to our expert support team so they can help you purchase the best plan.
Recap: VNC vs RDP comparison in 2023
Both RDP and VNC are prominent and outstanding platforms that you can use for different use cases. This article mainly focused on the VNC vs RDP comparisons, hoping to guide you in the right direction to choose the best remote access approach. It all comes down to what you need remote access for. Moreover, you can use our RDP Server solutions to provide stable, reliable, fast remote connections with minimal latency. you can get detailed information from my article about the best RDP providers.  Go ahead and access the most incredible resources at affordable prices as low as $7.95.
FAQ
What is the main difference between RDP and VNC?
There are several differences between RDP and VNC. However, the main difference is that RDP creates virtual desktop sessions while VNC will only show the physical display of what the remote user sees.
Is XRDP faster than VNC?
When it comes to comparing XRDP vs VNC speed-wise, we should consider that the primary goal of XRDP is resource sharing, not screen sharing, and because of this, it provides you with a much faster and more productive way of accessing a remote computer.
XRDP vs VNC, which one should I use?
Both XRDP and VNC can be really helpful for users. However, VNC holds some advantages over XRDP, such as its ease of use and the consistency of VNC sessions, which makes it in more demand (especially between newbie users).
What is XRDP?
XRDP is an open-source and free implementation of Remote Desktop Protocol used in operating systems other than MS Windows (like Linux and its distributions). XRDP allows you to establish a Remote Desktop Connection to your Linux server from a Windows machine.
Can I use RDP on my Linux?
Yes. RDP was originally developed for Microsoft Windows. But, as it became so popular over time, it is now available on Linux, Mac, iOS, and even Android.
VNC vs Remote Desktop, which one is better?
In general, Remote Desktop Protocol is known to be more functional and faster than VNC. However, both RDP and VNC can be the best option for different users with different purposes in mind. For more information about the specific usages of RDP and VNC, see the "When should I use RDP and when should I use VNC?" section on the above article.
VNC vs Remote Desktop, which one is safer?
Although both of these services provide acceptable security for users, RDP is more powerful and secure against outside attacks than VNC. This is because of the inscrutable encryption of RDP sessions.
XDMCP vs VNC, are they different?
XDMCP is a remote desktop protocol, but it is not safe because it doesn't encrypt your traffic, and anyone accessing your network can see your activity and record your keystrokes.
Similar to VNC, XDMCP uses a lot of bandwidth, but it can be used to make the VNC server login procedure easier.