Free Setup - No Contract.
Available All Around the Europe!
Choose a location near you, near your customer, or even on the other side of the globe!
Explore the true capabilities of next-gen VPS hosting and expand your business into the heart of European finance with Germany VPS. Our virtual servers run on powerful infrastructure, featuring the latest NVMe storage technology and DDR4 RAMs, optimized to give you the ultimate hosting experience. Extensive peering and ultrafast network connections give your German customers a better user experience at minimal latency. So, use Germany VPS solutions to host a website or an app, or to improve your Forex and crypto trading. Check out more cool features below.
Guaranteed Uptime
Reliable, stable connectivity with our guaranteed 5 Nines Uptime.
High-Spec Infrastructure
Servers on top-tier infrastructure ensure your workload is processed smoothly and on time.
Zero Resource Contention
Optimized Server Solutions providing ultimate hosting isolation and zero resource contention.
Worldwide Data Centers
Servers located at 15 strategic locations around the globe.
Risk-Free
We offer you 7-days moneyback guarantee, in case you didn't like your service.
24/7 Caring Support
Your work is important. We know that and we care -- and so does our customer support.
Want a powerful virtual server in Germany, the beating heart of Europe's finance? Do you want to make better trades, both automatic and manual? We have the perfect solution for these and other use cases and it's yours for extremely competitive prices. Our Germany VPS solutions run on top-tier hardware in the most strategic cities of Germany, including Frankfurt, the seat of German finance and home to numerous international banks and corporations. Claim your share of the German market by hosting your websites and apps on our servers and use their extensive peering and ultrafast network connections to serve a better user experience at minimal latency to your German customers. Together with Kernel-based Virtualization, our unique allocation algorithm creates fully isolated VPS instances so you won't have to compete for the resources you have paid for. Germany VPS provides you with these and many other outstanding features, offering you all the tools you need to make your website or app a blazing success. Order your favorite Germany VPS plan and receive your choice of a Windows or Linux-based operating system entirely for free.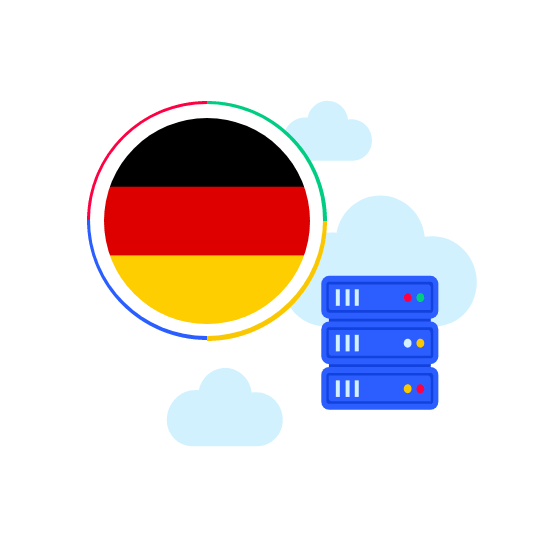 When to Choose Germany VPS

Powerful Hardware and
Reliable Connectivity

Virtualizor Management
Panel

Dedicated Windows or Linux VPS Servers in Germany
We share nothing. Our VPS machines with dedicated high-quality resources bring you the reliability, performance, security, and stability you want. All that, but at the price of shared hosting! Our Europe cluster includes 3 datacenters in
London
,
Amsterdam
, and
Frankfurt
; three major hubs of business and internet in Germany.
What Our Clients Have to Say
I have tried different VPS companies and I can say I am very satisfied with Cloudzy performance. They have treated me well and had a solid uptime and performance. I do recommend them A+.
Great Service, Very Reliable
Cloudzy provides fast and very reliable servers. They were very helpful when we were migrating from our old providers, quickly resolving any issues we have had. Thier support is great I can't recommend them highly enough!

Great customer support and good services at a good price
I have been using their services for about a year now, and except for a small issue, the service has worked very well all this time. Their customer service is very quick and good, and the price is good.
Get a Hosting Solution Today!
Get one of our hosting solutions and succeed in your business. We are always there for you with a 24/7 support and brilliant services. Get our plans today!
What's a Germany VPS?
VPS (also known as Virtual Private Server) is an innovative solution for web hosting that stands between dedicated servers and shared servers. It offers a dedicated-like user experience at a price like shared servers. A Germany VPS is a hosting that its server is located in Germany.
How can I get cheap German VPS?
Cloudzy accepts several payment methods. We welcome cryptocurrencies such as Bitcoin, Litecoin, and Ethereum. Regular payments such as Mastercard, Visa, American Express, Discover, and Paypal are also available.
Can I host multiple websites on a Germany VPS?
Yes, you can. You can host as many web apps as you want on a Germany VPS hosting. But you should take into account that it severely damages the performance of your websites.
Can I ask for a refund after I bought a Germany VPS?
Yes, you can. We help you make the best decision at ease by offering you a 7-day money-back guarantee. You can ask for your money back seven days after the date you bought a Germany hosting from us.
Will Cloudzy share my IP with the other VPS hostings?
No, we won't. Your VPS hosting Germany gets an independent IP that is not shared with other hostings. That gives you total control over your privacy and online activities.
Is a Germany VPS faster than a regular VPS?
Surely! The Germany VPS by Cloudzy takes advantage of KVM technology to make sure of ideal resource allocation and NVMe/SSD storage architecture to provide top-quality performance.
Will users be charged again if their website traffic increases?
No, there are no additional charges for our VPS hosting Germany. All users have to pay is explicitly explained in detail on our plans, and there will be no extra payment. 
Is a Germany VPS hosting cheaper than a dedicated server?
The VPS hosting Germany by Cloudzy is at a price that is significantly lower than a regular dedicated server, starting at just $7.95 per month. You don't have to deal with technical management with cheap Germany hosting as a 24/7 skillful support team is by your side.
Is the entire server penalized if one VPS hosting violates the rules?
No. Each Germany VPS has an independent IP address that works like their identity over the internet. Your VPS will not be affected in case any of the neighboring hostings breaks the law.
Does the OS count as a part of the storage of my VPS hosting plan?
Yes, it does. Whether you use Linux or Microsoft Windows, 120-300 MB of the storage is going to be occupied. But running out of storage after starting your website won't be a problem; you can simply upgrade your VPS hosting plan anytime.
Is it challenging to work with a VPS hosting panel?
No, it's not. The VPS Control Panel we've designed is absolutely user-friendly that guarantees you a smooth, easy, and enjoyable user experience.
Pay with Ease
We accept payment with Bitcoin,
PayPal, PerfectMoney, and all your
favorite credit cards -- and more…
7-Days Money Back Guarantee
You'll have Nothing to Worry About.
Get Started Now