Undoubtedly using Cpanel is one of the most sensible choices that you can benefit from establishing a significant business asset to develop your business step by step. Now, CentOs helps you land CMS built from a free, open-source, cross-platform content management system.
Yet the real issue is to learn how to install Cpanel on centos 8, which is compatible with upstream source Red Hat Enterprise Linux as CentOS Linux provides a free and open-source computing platform. So it's undeniable how beneficial it could be to use Cpanel on CentOs in your marketing strategy. This tutorial walks you through some practical definitions and then shows you how to install Cpanel/WHm on CentOs 8.
What is cPanel?
Cpanel is a kind of control panel that allows website owners to manage their web hosting server operations and Linux-based hosts. Web hosting providers present this powerful control panel to configure their services, including Database, File manager, email account creation and management, dynamic information backup, Subdomains creation, WordPress installation in one place.
cPanel consists of two different user interfaces; one is a client-based interface that you can log in to do your website requirements. The other is a server management interface that is not available for you. This most popular Linux-based web hosting platform outstands among the web developers community. due to two precious advantages that it is free and easy to use.

The Ultimate Minimal Server
Get CentOS 7 or CentOS 8 on your Cloudzy CentOS VPS and run an efficient Linux-based server with minimal resource consumption.
Get a CentOS VPS
What is WHM?
WHM stands for Web Host Manager, is a web hosting admin panel that allows the hosting provider to manage their clients' accounts. In fact, it manages multiple websites that work based on cPanel at the same time.
WHM can sell hosting space to other users; this server can provide you with more valuable features than your expectations, such as high bandwidth, large space.
By using WHM, you can divide your server into multiple hosts and sell each one-to-one user to benefit from administrative access that brings more flexibility and control while managing different sites.
Key Features and Functions of cPanel and WHM
cPanel and WHM are tools designed for Linux OS to help you automate hosting web tasks through a user-friendly graphical user interface.
Now let's get into the features and functions of each individually
cPanel Advantages
Provide great user interface
Is easy to use
Offer many educational resources
Serve software automatically installation
Support IPv6
Is easy to learn
Has fully support
Compatible with all web browsers
Increase loading speed
A create subdomains, domain parks, and additional domains
cPanel Features
1. Manage files
File manager
FTP connections
FTP accounts
Disk usage
Backup
File and directory restoration
2. Create databases
MySQL databases
PHP my admin
Remote MySQL
3. Manage domains
Add or remove Subdomains
Redirects
Create Aliases
Manage DNS
Use the redirects
4. Launch email and calenders
Use mailing list
Has email routing
Suggest global email filtering
Has calendars and contact applications and interfaces
5. Support MySQL 5.7
Also Read: Best cPanel Free Alternatives
WHM Advantages
Security
Privacy
Easy management
Affordable price
WHM Features and Functions
Offer easy and simple cPanel migration
Has customized dashboard or panel
Include advanced monitoring tools
Deliver multi-level system security
Create cPanel user accounts and hosting packages
Manage notifications for AutoSSL
Ability to use documentation to work with cPanel
Check the server information and its status
Provide strong security: Monitor and manage sites and passwords.
ManagecPanel accounts: Create, delete and suspend cPanel accounts.
Pre-requirements to install cPanel on CentOS8
Minimum 1 GB RAM up to 2 GB is needed.
Minimum 20 GB free disk space up to 40GB
Valid cPanel license from cPanel
Standard hostname "FQDN": Fully Qualified Domain Name
64-bit operating system, CentOS / RHEL / CloudLinux
Also Read: How to install WordPress on a Virtual Private Server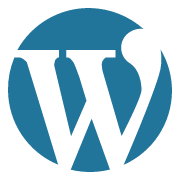 Start Blogging
Self-host your WordPress on top-tier hardware, featuring NVMe storage and minimal latency around the world — choose your favorite distro.
Get WordPress VPS
How to Install cPanel/WHM on CentOS 8(Step by Step)
It is not an obligation for website administrators or full-on tech teams to design a website for their business. All the tools are available in the control panel of your browser; however, how to install Cpanel on centos 8 is essential to admins for cPanel in the right way.
Step 1: Create your server hostname

If your host server does not have an "FQDN." Set a hostname for that like "Hostname.yourdomain.com"
hostnamectl set-hostname cPanel.Roterhosting.lan
Step 2: Check the installation of Perl on Your Server

As Cpanel is written in Perl, you need to ensure whether the Perl is installed on your server or not. If it has not been set up , install it by this small code:
yum install perl
Step 3: Download and install the cPanel script


You don't require any command; you just can need a cURL control. If you don't have a Curl command installed, download the cPanel installer script with the cURL command, first install it like:
yum install curl
Step 4: Download and run the recent installer script

Type this command to change your directory to home and download the most recent installer script to the home directory.
cd /home
curl -o latest -L https://securedownloads.cpanel.net/latest
sh latest
Now, run the auto-installer script typing the below command:
# sh latest


Sample Output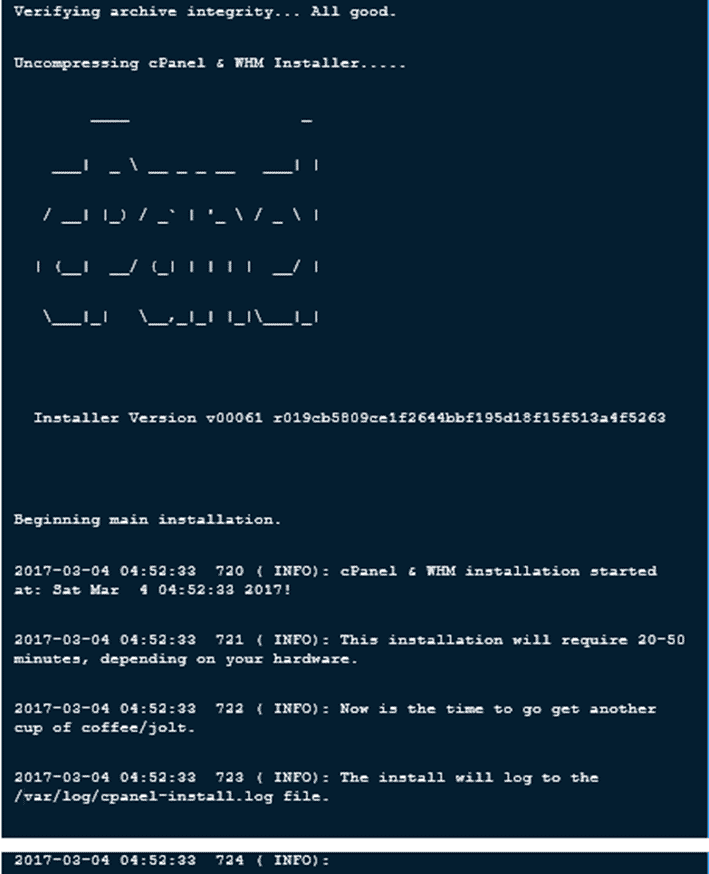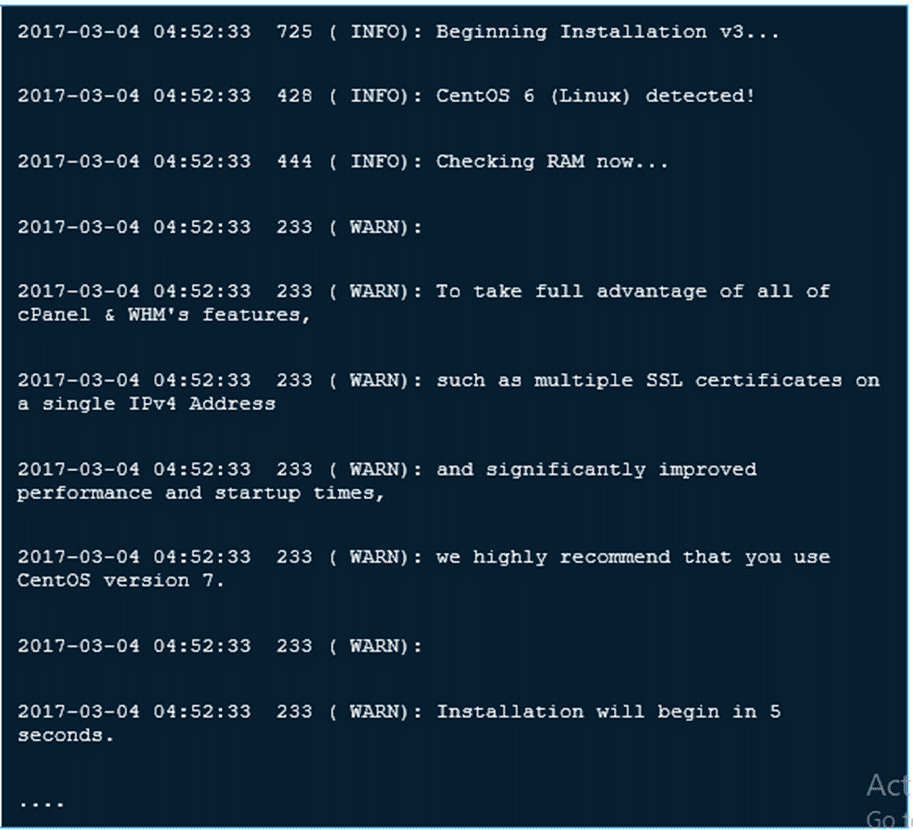 Note: if you use SSH protocol to connect your server, it is recommended to run the cPanel auto installer script in screen mode that creates a shell session that is consistently active during a network disruption.
screen
If you want to know your os has a screen in your path, run the screen command. The system will return /usr/bin/screen if a screen exists on your system and whether it exists in your path.
If it does not have a screen, you can install it with the yum install screen command.

The Ultimate Minimal Server
Get CentOS 7 or CentOS 8 on your Cloudzy CentOS VPS and run an efficient Linux-based server with minimal resource consumption.
Get a CentOS VPS
Step 5: Access to cPanel WHM
Whenever the installation is finished, complete the installation wizard from its web-based interface, and then access WHM with this URL:
https://SERVER_IP:2087
Note: In this step, log in with the user "root" and the password. Some more clicks are remaining to complete the cPanel installation.
Step 6: Verify the end-user agreement
Now, you should skim the license agreement and accept the terms.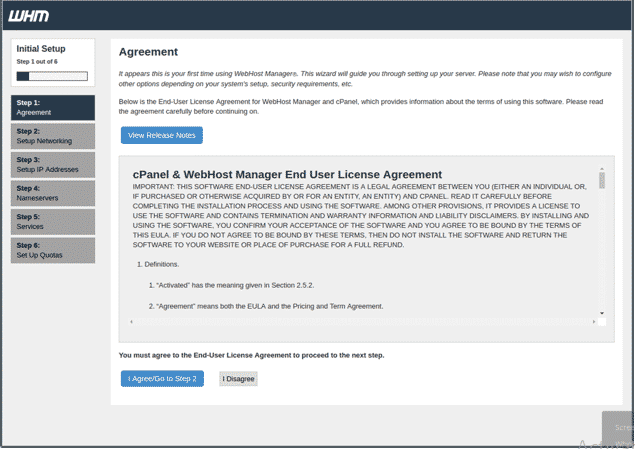 Step 7: Active the cPanel
After accepting the term, go to et up Networking and add your server email address and contact SMS address for receiving SMS.
Note: This task allows cPanel to deliver all necessary notifications to your email.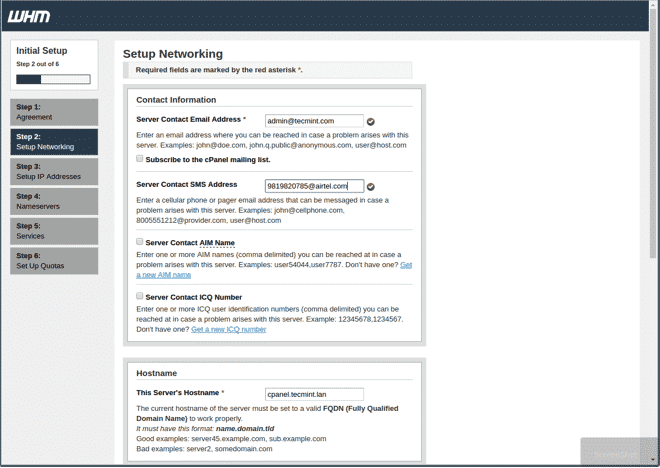 Step 8: Add your ISP resolver
After that, navigate to the "Hostname" section, go to the Networking section, and put in the valid FQDN and server resolver values.
Step 9: Move on to the Main network/Ethernet device
Next, select the Main Network/Ethernet Device the pre-defined Ip address is the same as your server's primary server Ip address.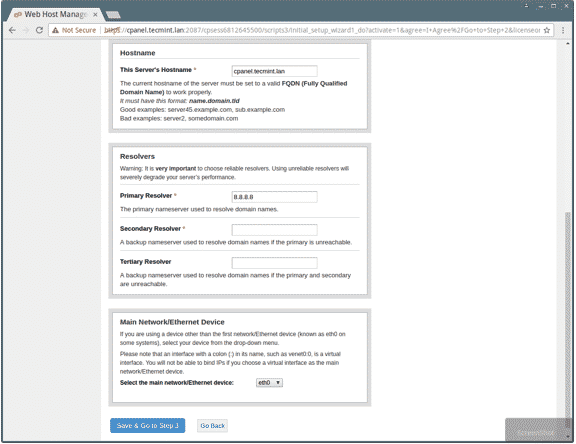 Step 10: Set your server static IP Address
If your network interface has several Ip addresses, you need to add a specific IP for your main server.
Select the IP from the drop-down list and click on "Go to Setup 4".
Next, add the "A Entries" for Nameservers (DNS) if you need them in the empty fields: ns1/ns2.example.com, and then add your server's hostname. You can also add an entry for your hostname and nameserver by selecting the check box, Then click on the "Save & Go to Step 5" button.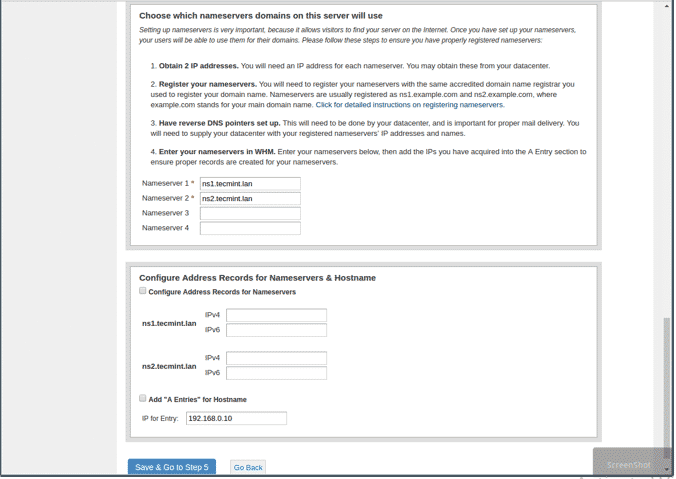 Step 11: Enable Quotas and completing the cPanel/WHM on CentOS 8 installation
Enabling quotas helps you to check the disk space usages. Click on "Use file system quotas" and then "Finish setup wizard" to finish the installation process.
Now you have successfully installed cPanel.
Also Read: How to install Gnome on CentOS 8?
Can I install cPanel on localhost?
When cPanel/WHM software is defined for web hosting businesses, with this in mind, there is currently no available personal licenses software to install on localhost.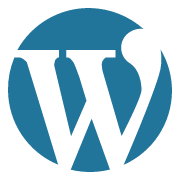 Start Blogging
Self-host your WordPress on top-tier hardware, featuring NVMe storage and minimal latency around the world — choose your favorite distro.
Get WordPress VPS
Conclusion
Knowing how to install cPanel on Centos is one of the most important tasks to optimize your website.cPanel is a commonly known control panel for web hosting and the best and intuitive commercial control panel for web hosting services. We offer bothcPanel VPS and CenOS servers for beginners and advanced users.
So, this plays a critical role for small businesses to simplify hosting websites because it provides an easy and secure interface to manage their business quickly. Overall, it is best to use cPanel on Centos for having server stability with the maximum amount of server resources. CentOS end of life does not invalidate my article, You can still use the power of Centos8.
FAQ
Can I install cPanel CentOS 8?
If you're on CentOS, and you probably want to have either cPanel or WHM, the good news is you can now install cPanel/WHM version 94 on CentOS 8 without having any trouble.
Does cPanel work on CentOS?
cPanel will work without difficulty on CentOS. You can easily install cPanel/WHM on CentOS 7 and 8.
Does cPanel support CentOS Stream?
In their cPanel Support For CentOS 8, cPanel has officially announced that they won't support CentOS Stream, but CentOS 8 users can maintain through 3rd parties updates.
What operating systems does cPanel support?
cPanel supports many Linux operating systems like: CentOS 7 and 8; Red Hat Enterprise Linux 7 and 8; CloudLinux 6, 7, and 8; AlmaLinux 8; Ubuntu 20.04 LTS.