Economy Monero VPS
Premium Monero VPS
Free Setup - No Contract
More than 15 Locations All Over the World
Choose Whatever Location Best Suits Your Business: Get a VPS Closer to Your Users, Remove Latency
Go Anonymous! Get Your Hands on a VPS with Monero
Boost your hosting's reliability and security using Monero VPS! This VPS hosting solution enables you to get your hands on safe, high-performance technology. Getting access to top-tier infrastructure is one huge advantage of using the Monero VPS that Cloudzy offers. You can get NVMe storage, DDR4 RAMs, and a 1 Gbps Internet connection for no cost.
Guaranteed Uptime
Reliable, stable connectivity with our guaranteed 5 Nines Uptime.
High-Spec Infrastructure
Servers on top-tier infrastructure ensure your workload is processed smoothly and on time.
Zero Resource Contention
Optimized Server Solutions providing ultimate hosting isolation and zero resource contention.
Worldwide Data Centers
Servers located at 15 strategic locations around the globe.
Risk-Free
We offer you 7-days moneyback guarantee, in case you didn't like your service.
24/7 Caring Support
Your work is important. We know that and we care -- and so does our customer support.
Monero (XMR) VPS, founded in 2014, is a dedicated and reliable server hosting platform and currency that provides a secure and private environment for cryptocurrency miners and traders. The server is equipped with a great set of features such as 24/7 monitoring and support to ensure that your mining rigs are always running optimally. It is an excellent option for those who want to buy VPS with privacy coins, or people looking for an extra layer of security and privacy when using the internet. Monero VPS is also a great way to host websites and applications that you want to keep confidential. Cloudzy offers one of the most excellent Monero VPS you can ever find. Our VPS uses bleeding-edge technology to provide reliable, high-performance, fast, and secure services. When looking to buy a VPS with Monero, it is essential to find a provider that accepts Monero, as this will ensure that you can pay for the service in cryptocurrency. Another thing to consider when buying a Monero VPS is the location of the provider. Some providers are based in countries that have stricter internet regulations than others. It is necessary to find a provider that is based in a country with no internet regulations so that you can be confident that your data will be protected. And finally, when choosing a VPS provider, make sure to compare prices and features between different providers. This is why Cloudzy is the best option for purchasing Monero VPS. With the price of less than two Big Macs, you can enjoy the highest quality possible!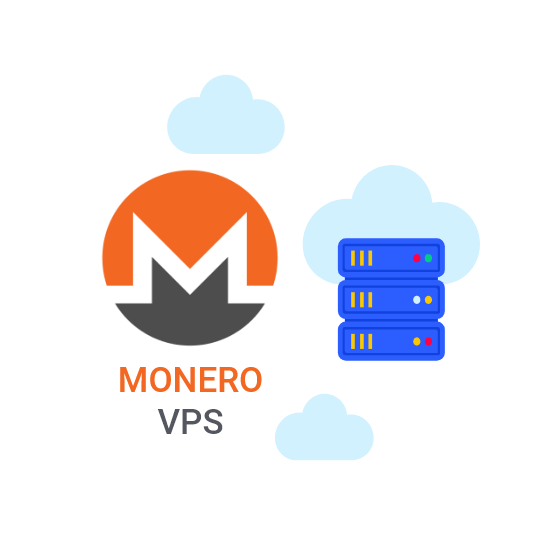 When to Choose Monero VPS
Are you looking for a secure and untraceable way to host your website? Look no further than Monero VPS. Most current cryptocurrencies, such as Bitcoin and Ethereum, are transparent, which means anyone in the world may verify their transactions. Monero, instead, utilizes various privacy-protecting technologies to enable the anonymity of its users. Here are the benefits of using the anonymous VPS hosting Monero:
What Our Clients Have to Say
I have tried different VPS companies and I can say I am very satisfied with Cloudzy performance. They have treated me well and had a solid uptime and performance. I do recommend them A+.
Great Service, Very Reliable
Cloudzy provides fast and very reliable servers. They were very helpful when we were migrating from our old providers, quickly resolving any issues we have had. Thier support is great I can't recommend them highly enough!

Great customer support and good services at a good price
I have been using their services for about a year now, and except for a small issue, the service has worked very well all this time. Their customer service is very quick and good, and the price is good.
Find the VPS Solution that Suits Your Needs
Take a look at our wide selection of VPS hosting solutions and find the one that will really synergize with your company. You can always contact us and we'll help you find the plan you need to make your business a success. Get your VPS Solution right now!
What Is a VPS?
Virtual Private Server (VPS) is a kind of hosting. However, the security, privacy, and performance it provides far exceed those of shared hostings.
What are the Advantages of Using a VPS?
Well, you have all the advantages of using dedicated physical servers while paying the price of shared hostings.
Why Do You Need to Use a VPS?
There are many reasons you might need a VPS. You can host websites, trade, and host multiplayer games using a VPS.
Why Should You Buy VPS with Monero?
If you're looking to buy a virtual private server (VPS) with privacy protection in mind, Monero is for you. Use a Monero VPS to host your website or store your data without having to worry about your identity being revealed.
How Can You Buy a Monero VPS?
A few different options are available to you to buy a Monero VPS. The first option is to use cryptocurrency services that allow you to buy Monero with a credit or debit card. The second option is to use an exchange like Binance, which allows you to buy Monero with Bitcoin.
Do You Offer a Monero VPS?
Yes, indeed! Cloudzy is one of the most prominent VPS providers on the market. It provides the fastest, most reliable Monero VPS you can get your hands on.
Do You Offer Free Monero VPS Trial?
Although we do not offer free trials at the moment, we provide you with a 7-day money-back guarantee. This enables you to try Cloudzy's Monero VPS with no risk.
Pay with Ease
We accept payment with Bitcoin,
PayPal, PerfectMoney, and all your
favorite credit cards -- and more…
7-Days Money Back Guarantee
You'll have Nothing to Worry About.
Get Started Now