VNC is usually using to troubleshoot your VPS server. It is easy to connect your VPS through a VNC client or an HTML5 VNC. Here we will explain to you how to use VNC and VNC troubleshooting.
How to Use VNC and VNC Troubleshooting by Cloudzy
There are a couple of situations where you might want to use remote desktop software to connect to your VPS. Either you have lost access to your VPS server, and you want to connect to the server to fix it, or you are using a Linux distro with a GUI, and you want to use your VNC client, in which case you may want to use VNC Client and VNC HTML5. In this article, we will tell you how to use VNC and VNC troubleshooting. But before that, let us explain some basic definitions.

Need a Remote Desktop?
Reliable, high-performance RDP servers with 99.95 uptime. Take your desktop on the go to all the major cities in the US, Europe, and Asia.
Get an RDP Server
What is the VNC?
VNC (Virtual Network Computing) is a very comprehensive tool that has been in development since the 1990s. It operates on a very refined but simple protocol called the Remote Frame buffer Protocol.
VNC is essentially a stand-alone platform because the mechanism used to transfer desktop pictures and keyboard presses back and forth exist under the operating system.
However, VNC needs a specific operating system client and server application, but there are currently VNC client and server applications for virtually every operating system anyone has ever seen, including mobile phones. This post will show you how to connect to VNC and via a VNC client.
Virtual Network Computing (VNC) allows users to control the computer as if they were sitting in front of it, providing remote control of a computer at some other location.
Any available resources on the remote computer, such as printers and network drives, are also available. Remote site users could see, and even interact with, what the remote user is doing.
VNC is mainly used in two ways these days: to remotely access work desktops from another location or to allow remote technical support staff to take over a computer for support functions.
Also Read: What are VNC Alternatives?
Common Uses of VNC
1. Remote workers
Many companies allow employees to remotely access their desktops while away from the office using VNC.
This gives some safety because employees do not need to take business information and e-mails with them to react to after-hour issues. Instead, they could always login to their work PC, and the company data will never have to leave the workplace.
2. Business Continuity Process (BCP)
Many tragedies may occur that make physical access to the work environment impractical. Having VNC access to work computers eliminates the need for physical access to a computer and can help to continue working during these times.
It's also common today for parts of a company's networking infrastructure to be located off-site; sometimes far away in a cloud. When access to servers is completely remote, it is likely to lose access to the server by normal means.
Some cloud providers offer the ability to launch a temporary VNC instance to allow remote access to the console in such cases.

Need a Remote Desktop?
Reliable, high-performance RDP servers with 99.95 uptime. Take your desktop on the go to all the major cities in the US, Europe, and Asia.
Get an RDP Server
3. Remote technical assistance
Note: VNC is a troubleshooting tool rather than a simple connection client. You need an RDP to access your VPS server for regular use.
VNC is the perfect solution to support remote technology. It allows a remote technician to control a desktop remotely and requires almost no understanding regarding a person who needs support.
Many businesses use VNC in their internal IT departments to assist with routine tasks, and many third-party support corporations use VNC as well.
VNC is particularly useful for support because the person receiving the support can observe what is going on and even interact when required, such as entering a password that the support person does not realize.
As mentioned, VNC is not what you use for connecting to your Windows VPS. It is best suited for rescue mode and troubleshooting. Some people may complain about the connection speed with VNC, this is solved by using RDP (Remote Desktop Connection) to connect to their Windows VPS server, instead of VNC.
How To Use VNC and Connect to It?
There are two ways to connect to the VNC. You can use our in-house HTML5 VNC that gives you the power to troubleshoot any problem, or you can install your VNC client (like TightVNC Viewer). The local clients usually are faster than the HTML5 version.
How to Use VNC (HTML5 VNC Viewer)?
Step 1: Logging in to CP
First, log in to your Control Panel from:
https://support.cloudzy.com/clientarea.php
Then, click on Services: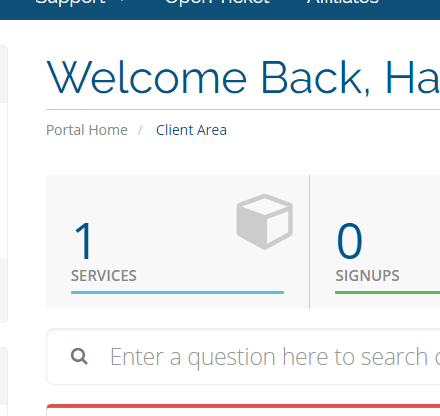 In the Services section, click on your VPS server to which you want to connect VNC (if you have multiple VPS servers, please make sure to select the right VPS).
Step 2: Launch HTML 5 VNC Client
On this page, you will see your VPS control panel that you can manage your VPS servers. There are lots of things you can do from here. In your Control Panel, click on VNC. A popup will open. Then click on 'Launch HTML 5 VNC Client' like the screenshot below. Now a new window opens up, and you will see your server screen.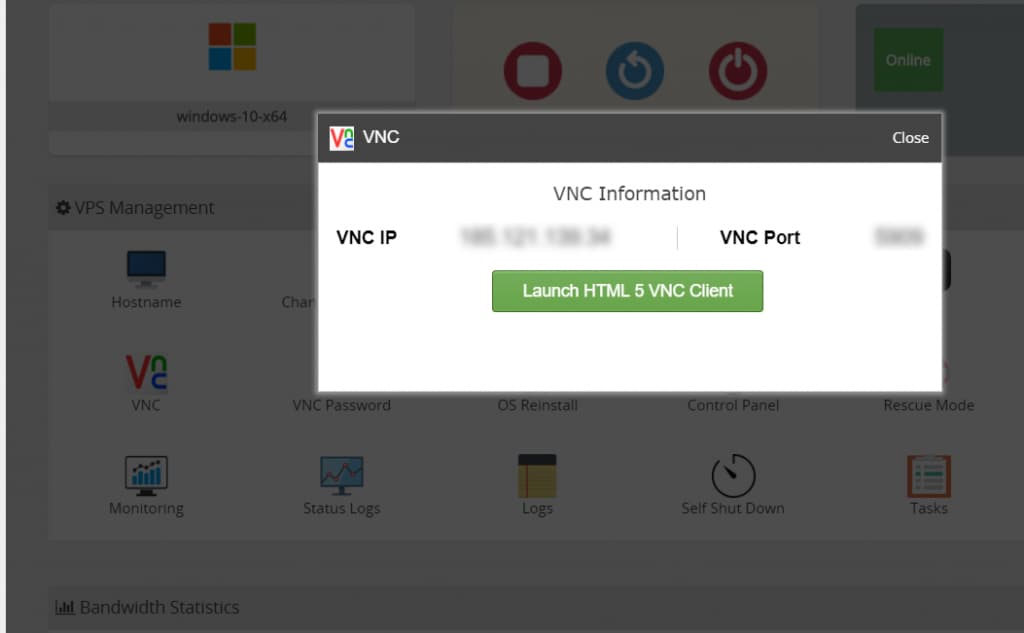 How to Connect via a VNC Client?
You can install your desired VNC client, such as TightVNC Viewer. Enter the login detail of your VNC(you can find the details in the welcome email we sent you right after your purchase). Now connect to the VNC.

Need a Remote Desktop?
Reliable, high-performance RDP servers with 99.95 uptime. Take your desktop on the go to all the major cities in the US, Europe, and Asia.
Get an RDP Server
Troubleshooting
I cannot connect to the VNC and receive the Authentication Failure error. It usually happens when the VPS will turn off. The first step is to make sure the VPS runs and is online. You should see the "Online" icon at the top.
If it is online and you still receive the message, click on Stop and then click on Start in your VPS Control Panel and later try to connect to the VPN again.