If you are a Forex trader, even a beginner one, you've probably heard about the benefits of the MT4 platform for trading in the flourishing market of FX. As stats revealed, most of the professional FX traders use Metatrader for their own Forex exchanging, and that's the reason for their professionalism. For the same reason, almost all of the Forex traders decided to install Metatrader on PC.
We also considered it our duty to provide the below knowledge-based article examining the different steps of the Meta Trader installation process. In the following sections, we will fully explain how you can install Meta Trader on a PC. Plus, as it is expected that adept FX traders read the article on this page, we prepared a quick overview shedding light on Cloudzy Forex VPS and its outstanding advantages for FX trading. So, please stay with us till the end.
Forex VPS Hosting
Get yourself an effective and easy-to-manage Forex VPS for running your trading bots and remote desktop, at the cheapest price out there. Machines Running on powerful hardware with NVMe SSD storage for increased speed, located in best data centers close to Forex hubs for improved latency and connection speed.
Check Out Forex VPS Plans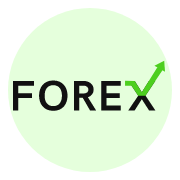 What is MT4 (Meta Trader 4)?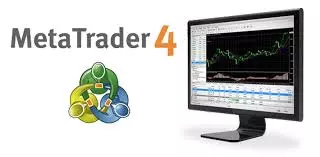 Meta Trader 4, abbreviated as MT4, is a highly beneficial FX trading platform that can be installed on both Windows and Linux. Meta Trader becomes so famous and popular among FX traders because of the amazing advantages that it is offering for FX trading. As a result, professional traders regard MT4 as a necessary gear that can lead to successful and prospering Forex exchanges. Major advantages of Meta Trader are listed below for your consideration:
Multiple trading options for professional traders

Real-time access to the prices and liquidity of the market

Let traders have an automated trading

Providing tools for technical analysis

High-speed trade execution

The high degree of versatility 

Uncomplicated to learn and use
What are the system requirements for using MT4?
For installing MT4 on Pc, in the first place, your system should meet the following requirements:
Windows 2000 or later

2000 MHz or faster CPU

512 MB RAM at least

60 MB Hard Disk
As you see, to install Meta trader on a PC, you won't need the highest system requirement. Actually, the above-mentioned requirements are easily feasible, especially in today's era of high technology. Please note that Meta Trader was initially and originally released only for the Windows platform but over time it has become accessible for Linux and Mac users through emulation. And as emulation is not entirely stable we didn't account for Linux and Mac system requirements for MT4. However, step by step guide for installing Meta Trader on Linux is included in the following sections.
Forex VPS Hosting
Get yourself an effective and easy-to-manage Forex VPS for running your trading bots and remote desktop, at the cheapest price out there. Machines Running on powerful hardware with NVMe SSD storage for increased speed, located in best data centers close to Forex hubs for improved latency and connection speed.
Check Out Forex VPS Plans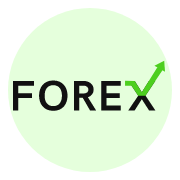 How to install Meta Trader on PC: Windows OS
1- Download MT4 installer 
First of all, you need to have the installer file on your computer. You can easily download the Meta Trader installer from HERE for free.
2- Run the MT4 installer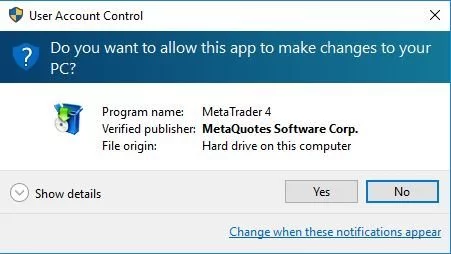 After downloading the Meta Trader installer, run it by double-clicking.

If the User Account Control is enabled, the below window will be shown to you, click Yes.

Accept the terms after you read them.

Click Next, if you want the installation to be continued with the default setting. If not, click settings and change them based on your desire. 
Note that, you will only be capable of changing the following settings: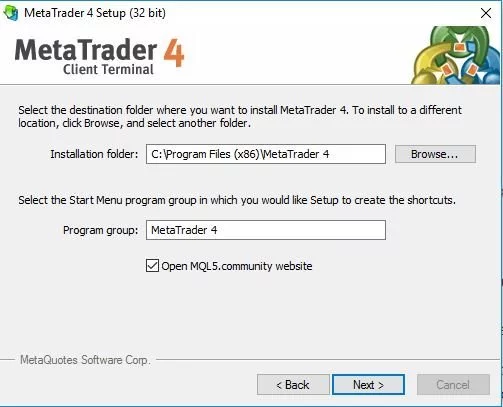 Installation folder: The location where the software will be installed.

Program group: Software's group name in the windows' Start Menu.

Open MQL5.community website: By selecting or deselecting this option you can decide whether the installer opens the MQL5 website after the installation or not.

3- Installation loading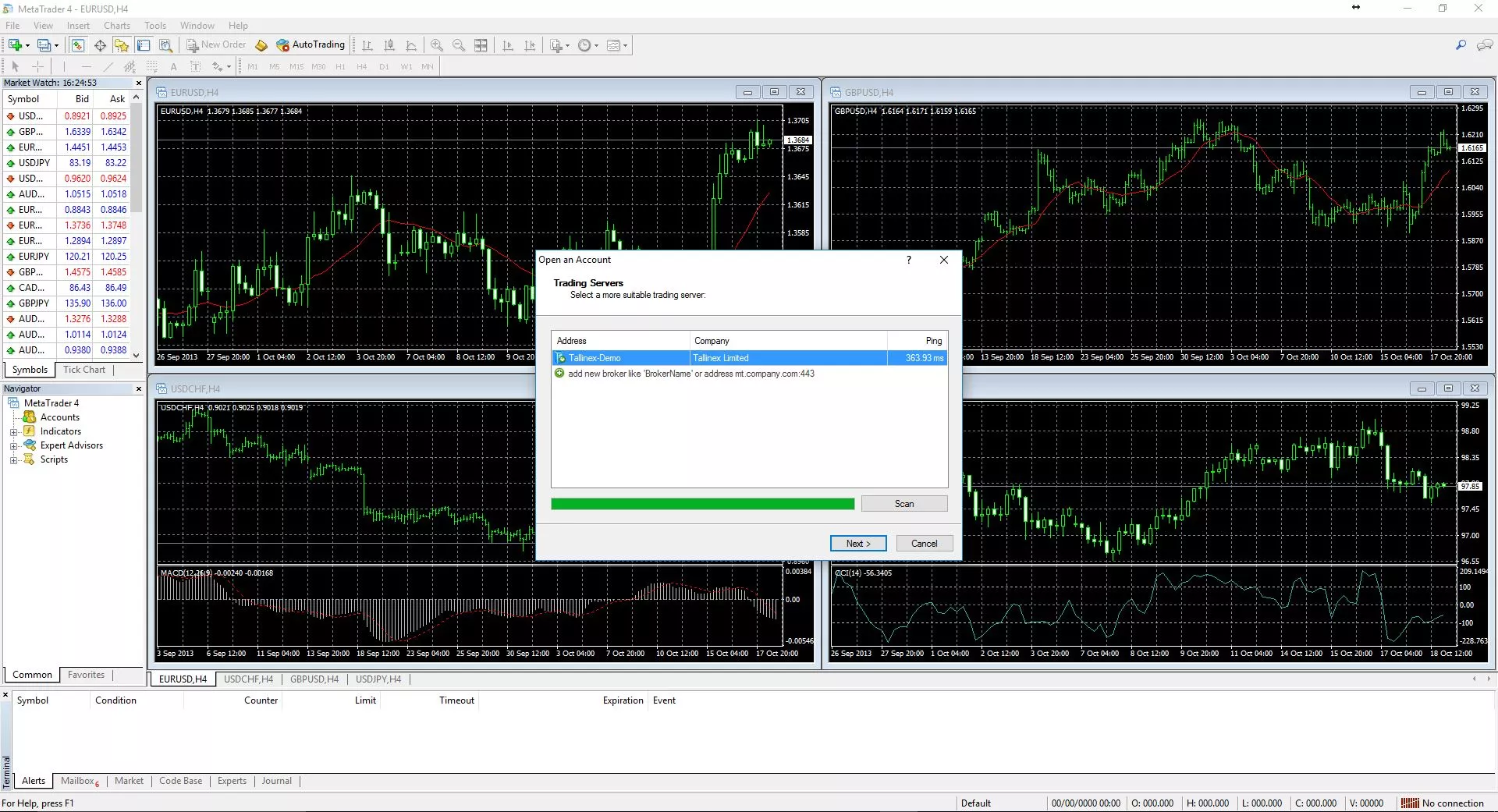 From this on, the installation process will proceed on its own. Depending on your computer, the installation may take 10-200 seconds to be completed. Once it is finished, the Meta Trader terminal will run and you can see the Open Account window.
By clicking Help, the software's version and date of the build will be displayed.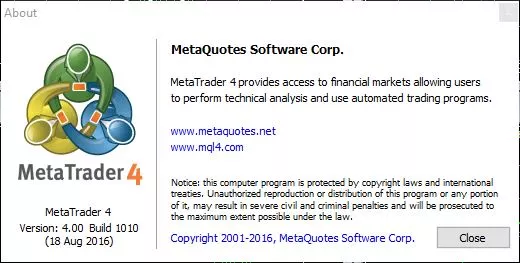 Congratulation, now you have successfully installed Meta Trader on your computer. At this time, you can purchase the demo account and start practicing using the MT4 for FX trading (if needed). 
Also Read: How to install multiple instances of MT4?
How to install MetaTrader on PC: Linux OS
Before we get started, please note that the following steps may vary depending on your chosen distribution of Linux; however, they are nearly the same. In this guide, we consider the Ubuntu distribution of Linux to give you a view of MT4 installation procedures on Linux 
1- Install Wine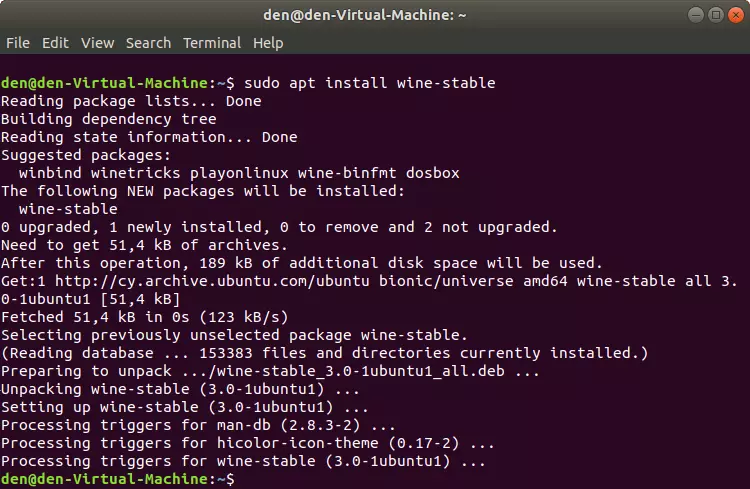 To install Meta Trader on Linux, you need to have the Wine software on your system. You can easily install Wine in the software center if you haven't already installed it. Just open the software center, search for Wine, and install the software. 
Alternatively, you can also install Wine with the following command line (also known as terminal in ubuntu) 
sudo apt-get install wine-stable
2- Download the Meta Trader Installer 
Clearly, you need to download the MT4 installer to continue the installation. You can find the download link mt4setup.exe HERE.
3- Run the mt4setup.exe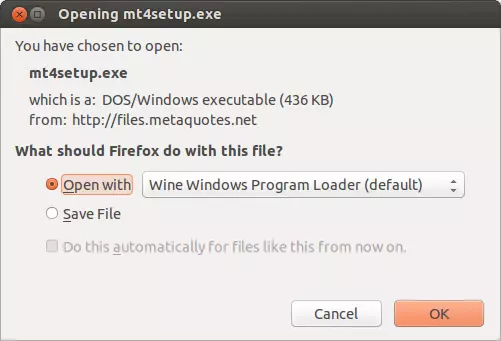 Once the download is completed, find the installer in your download folder and run it with the Wine software. In this stage, the system automatically recommends you open the mt4setup.exe file with Wine. Select open with and click OK. 
4- Complete the installation process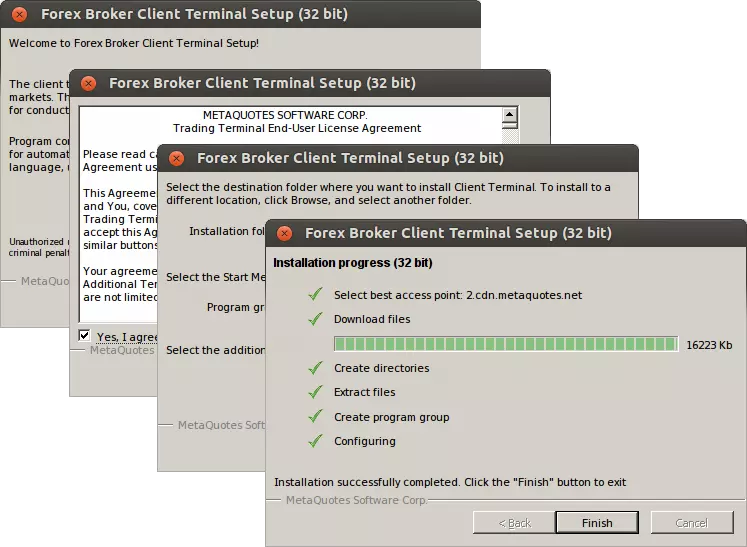 After you launched the installer via Wine, the client terminal installer will run. You will have to complete the further steps including accepting the terms, selecting the installation folder, choosing the program group name, and so forth according to the directions. 
You can also copy the folder of previously installed files of the terminal from MS Windows to install MT4 on ubuntu. Once the copying procedure is finished, just launch the termina.exe (the executive file of the terminal) via Wine.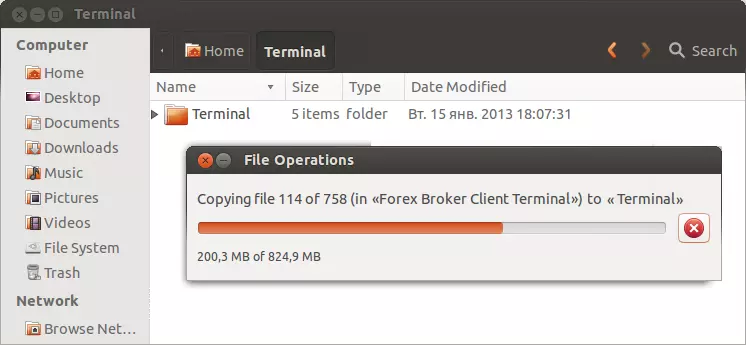 Congratulation, you have successfully completed the MT4 installation procedure. Now, you can start using this trading platform on your Linux and enjoy its benefits for your future FX trading.
Word of caution
As we stated, Meta Trader 4 is originally created for Windows and some of its features may work incorrectly on Linux. However, most of these malfunctions have been identified and got corrected through updates. For this reason, we highly recommend you to use the latest versions of Wine and Ubuntu (or any other Linux distribution you have) to achieve the best result.  
Word to the wise- a quick value judgment of Cloudzy Forex VPS
As we mentioned earlier, MT4 is known as a necessary tool, or even the best Forex trading platform, for professional FX trading. It means that one of the properties of professional Forex traders is that he\she use Meta Trader. How about the other requirements for having both professional and profitable trading in Forex?
According to top-of-the-class Forex traders, VPS (Virtual Private Servers) services are playing a key role in the Forex market and can bring you numerous profits. A qualified Forex VPS helps traders to have a 24\7 uninterrupted attention of the market with no effort from their side. Moreover, Forex VPS will reduce the latency time that allows the trader to execute their orders in no time. But the important question here is which Forex VPS should you trust and get for yourself, why? 
This is where Cloudzy topnotch Forex VPS came to play. A noticeable number of Forex traders, from all regions of the world, currently use our best-in-class VPS for Forex exchanging. Our international customers always show their highest satisfaction working with RoutherHosting Forex VPS and mention it as one of the best in the world. Below, you can see only some of the exceptional advantages of our Forex VPS that our customers are gifted with:
Dedicated resources

Full admin access

Compatible with RDP connection (Remote Desktop)

Lowest latency time

Uninterrupted 24\7 view of the market

24\7 support from a team of experts

Support MT4 \ MT5\ cTrader 

Guaranteed uptime

Optimized server for trading
Become interested in our outstanding VPS service? If not, maybe you need to read more details about it on the forex VPS page. On the mentioned page, you can also investigate our most affordable yet first-rate VPS plans and purchase one for yourself. Above all, we have a 7-day money-back guarantee for our services for ensuring our customers that they had chosen the best VPS provider.
Forex VPS Hosting
Get yourself an effective and easy-to-manage Forex VPS for running your trading bots and remote desktop, at the cheapest price out there. Machines Running on powerful hardware with NVMe SSD storage for increased speed, located in best data centers close to Forex hubs for improved latency and connection speed.
Check Out Forex VPS Plans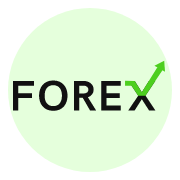 Conclusion
Due to the high importance of MT4 software in Forex trading, we have fully examined the steps you should take to install Meta Trader on PC in the above sections. We have also informed you about the requirements that your system needs to have for running and installing MT4.
Now, we can conclude that not only the installation procedure of Meta Trader on PC is not really difficult, but also the system requirements for it is easily achievable. We firmly believe that by reading the above comprehensive, article all your questions regarding the installation procedures of MT4 are answered. However, if you still require more guidelines, you can easily contact our online team and ask for further assistance. We will be very glad to be of help. 
FAQ
Can I run Meta Trader on Linux?
Yes. Different distributions of Linux, such as centos and ubuntu, are supporting Meta Trader software. However, users of Linux may face some problems with this software on their system which is not the case for Windows users.
Can I run Meta Trader on Windows 10?
Yes of course. In fact, Meta Trader software has specifically designed for Microsoft Windows and it is supported by Windows 2000 and all its later versions.
Is Meta Trader good for beginners?
Meta Trader is really simple to learn and use. There is nothing complicated in this software. These features allow even beginner traders to use this platform for Forex trading.
Is Meta Trader safe?
Meta Trader software is completely secured and safe for Forex trading. By encrypting the data and concealing the users' IP addresses while trading, MT4 offers a highly secured environment for the users.
Is Meta Trader good for Forex?
Actually, it is way more than good. Nearly all the professional Forex traders use Meta Trader 4 benefiting from its advantages in their trades.